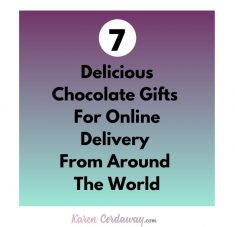 There might be affiliate links in this post. If you click on a link and make a purchase, I receive a small commission. Read my disclosure policy here.
Chocolate gifts for online delivery go beyond just giving a convenient gift. They're edible and appeal to the masses!
Chocolate is one of the best gifts to get your spouse, boyfriend, girlfriend, best friend, kid's teacher, coworker, mom or any member of your chocoholic family.
Get a bunch of chocolate bars or boxes in bulk, pair them with a gift card or put them together to make one of the best chocolate gift baskets. It's faster than shopping at the mall or any store. That's for sure.
When you give a chocolate gift, everyone on your list will do a happy dance. And, chocolate gift boxes, baskets and bars make the best "any time" presents that can be given just because. No matter if the recipient likes dark chocolate or milk chocolate, this is a tasty gift they will surely love.
If questions like "What is the best chocolate to give as a gift?","Can I order chocolate online?" or "Where can I buy good chocolate online?" are swirling around in your head, this post has you covered.
1. One of the best "made in Vermont" chocolate gift boxes to give as a gift
Though Lake Champlain is known for being the lowest point in the Adirondacks, it's also known for its tasty chocolate. I just recently tried some and they are delicious. It's like heaven in a box.
I especially liked how the design of the chocolate corresponds with matching illustrations and descriptions of the chocolate on the packaging. It's a nice touch and I would be thrilled if this was under my Christmas tree or given to me for any occasion.
It's nice to give something that looks and tastes like a lot of thought and love went into making it. If you want to take the yum factor to the next level and go down in history as a great gift giver, pick up a box of chocolates made in Vermont at Whole foods or other places online.
2. Vermont Nut Free Chocolate to Put in a Gift Basket
It can be hard to find sweets that aren't made in facilities that contain certain allergens such as nuts. Luckily, if the person you're shopping for has a sweet tooth, but needs to avoid nuts, check out these Vermont nut free chocolates. They are 100% peanut and tree nut free so they can satisfy a chocolate fix worry free.
3. Divine Chocolate Bars to Buy in Bulk Online
Divine Chocolate Bars are made from Ghana grown cocoa. They contain natural ingredients and no artificial flavors.
Outside of making tasty chocolate, the company is committed to empowering women farmers and improving gender equality.
Rich dark chocolate with rasberries and bars with toffee and sea salt are popular. The Chocolate with Pink Himalayan Salt is known to be another best seller. Combine it with a mug, add it to a gift basket or put it in someone's stocking for Christmas.
4. Belgian Chocolate make a perfect gift
Why is chocolate so popular in Belgium? According to BBC.com, "The country's love of chocolate goes back to the 19th Century. The Belgian chocolate industry became world famous following the invention of the praline, a chocolate shell with a soft center."
If the flavor of cocoa is what you're after, there's nothing like Belgian chocolate, which usually has a higher amount of cocoa.
You don't have to go to Belgium to taste Belgian chocolate, access chocolate delivery online.
5. Consider Swiss milk chocolate for online chocolate delivery
If the person on your list likes chocolate that tastes creamier and is typically smoother, then Swiss chocolate has their name written all over it. Who need gift tags when that's the case?
Make any occasion sweeter with some Swiss chocolate. Pick up some Swiss milk chocolate with a honey nougat center for your honey. coworker, kid's teacher or loved one.
6. What is Chocolate Truffettes de France?
Wikipedia explains how it's a type of chocolate confectionery, "traditionally made with a chocolate ganache centre coated in chocolate, cocoa powder, coconut, or chopped toasted nuts (typically hazelnuts or almonds), usually in a spherical, conical, or curved shape."
Truffettes de France isn't just a delicious bag of fancy treats, it's a brand that takes it's ingredients seriously.
According to ChocMod.com, "uses and processes non-controversial ingredients (100% palm-free chocolates), certified organic, and derived as much as possible from fair trade and sustainable agriculture."
You can buy Truffettes de France here.
7. Taza Mexican Chocolate is stone ground chocolate
After a trip to Oaxaca, Mexico, Alex Whitmore learned how to make stone ground chocolate from a molinero. Together with his wife, they founded Taza Chocolate out of Massachusetts.
They make a new type of American chocolate inspired by the traditional Mexican style. A sampler pack makes a nice gift. Plus, it's organic and vegan.
If you want to try something different, this is a nice change of pace for your palette. You can easily break off a little wedge for portion control purposes and share them with your sweetheart. It has a more granular texture with hints of unique flavors such as chipotle chili, guajillo chili, coffee and more.
Conclusion for Best Chocolate Gifts for Delivery
You can order any of these chocolate gifts mentioned above online. No matter if you personally tie the present with ribbon or have it shipped all fancy, the recipient would be over the moon to receive it. And, if you can't decide which is best, it can't hurt to get more than one to resolve the debate. They're even great to get around the holidays when you need to serve some goodies.