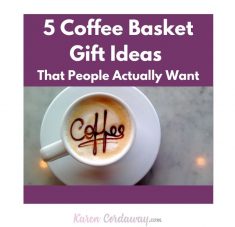 There might be affiliate links in this post. If you click on a link and make a purchase, I receive a small commission. Read my disclosure policy here.
Coffee basket gift ideas are a big hit. Unlike giving other presents such as trendy clothes or the latest gadget, gifting coffee will never go out of style. However, picking out what to put in a coffee gift basket can be both fun and frustrating. There are so many options out there, it can be overwhelming.
Though choosing the perfect coffee gift basket might seem hard, I put together some ideas to make the selection process simpler. If you're wondering what are good things to put in a gift basket, you landed on the right blog post. Here are 5 coffee basket gift ideas that will inspire you to create your own.
Best Coffee Gift Basket Ideas
Before we dive into the actual ideas, here are a few things to consider first.
Think about the basket or container you will give.
When making DIY coffee gift baskets, you can approach this two ways. The first way is to choose the basket or container and then buy items that will fit inside of it.
The second way is to buy all of the items in advance and then get the basket or container afterwards. If you end up buying a coffee maker of any size, it might not fit inside of your average basket or it will leave little room for other items. It's just something to think about beforehand.
Decide what coffee to choose.
Pick the coffee out first. This seems like a no-brainer, but there are a few questions you'll have to answer to select the right one.
Questions to ask yourself:
Does the recipient prefer ground coffee?
Or does the person grind their own beans?
If they don't currently do that, might they have interest in the future?
If you aren't sure, ground coffee is a safer bet.
Once you determine that, then decide the type of roast they might like.
Also, figure out if they prefer caffeinated or decaf.
Here are some different types of coffee to put in your coffee gift basket:
Ground Coffee
Ground coffee is an all-time favorite among coffee lovers worldwide. From its rich aroma to its taste, it's like no other coffee you've tasted before. It's the best way to enjoy coffee in its purest form. So why not gift a bag of ground coffee? They'll surely love it! If you think the recipient is open to trying coffee from around the world, pick up this sampler.
2 lb Bags (32 oz) of Coffee
12 oz Bags of Coffee
Whole Bean Coffee
Who loves super fresh coffee? If you've answered yes to this question, then consider gifting whole bean coffee to your loved ones. No more guessing about the quality of the product; the aroma, taste and feel of fresh roasted coffee will be appreciated in full by them. To add on, a whole bean coffee is a great gift idea because it has thousands of possibilities to present.
Here are a variety of roasts to choose from:
2 lb Bags (32 oz) of Coffee
12 oz Bags of Coffee
Here are 5 coffee gift basket ideas:
If you're wondering what items are good to put in a coffee gift basket, I highlight some ideas below.
Standard Coffee Gift Basket Idea
Coffee Gift Basket Idea with Coffee Related Items
Starbucks Coffee Gift Baskets
Pampering Gift Basket with Coffee
Healthy Gift Basket
1. Standard Coffee Basket Idea
If you don't readily know what the person might like and you don't have the time to find out or search all over, I put together some gift basket staples that are still special and most people will enjoy to cut back on shopping time. These are safe bets.
ETSY prides itself on having "handmade, vintage, custom and unique gifts". Supporting small business owners is something I try to do whenever possible.
Here's a mug I picked up from a woman-owned ETSY business. Outside of enjoying the simple pleasure of using a new mug and drinking a favorite beverage, it reminds me to support other small business owners.
Also, getting a gift on ETSY makes the gift a little more special.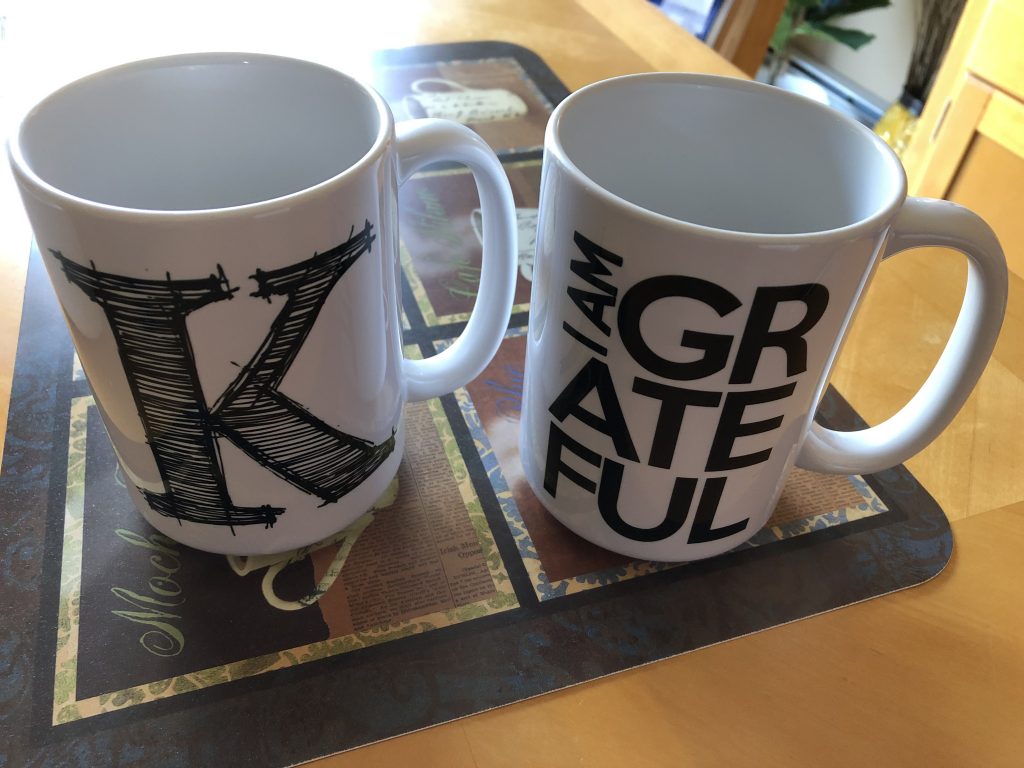 2. Coffee Basket Idea with Coffee-related Items
If you already selected the coffee to put inside the gift basket, you may still wonder, "What can I put in a coffee gift basket?"
If the person you're shopping for absolutely loves coffee, you can't go wrong adding coffee-related items along with coffee inside their basket.
There are so many coffee lovers gift ideas you can put in a coffee gift basket, you just have to decide what's best.
Keurig offers a slim coffee maker for 8 to 12 Oz. brew sizes. I know people that have purchased one in addition to their regular coffee maker. It's useful when they just want to have a cup or two and not waste a whole pot.
Also, consider a coffee grinder. I'm more of a tea drinker myself, but my husband swears that grinding the coffee fresh each day makes it more flavorful.
He thinks it's fresher and tastes 10x better! If grinding your beans has been something you've been wanting to do, it's a perfect bucket list example to weave into everyday life.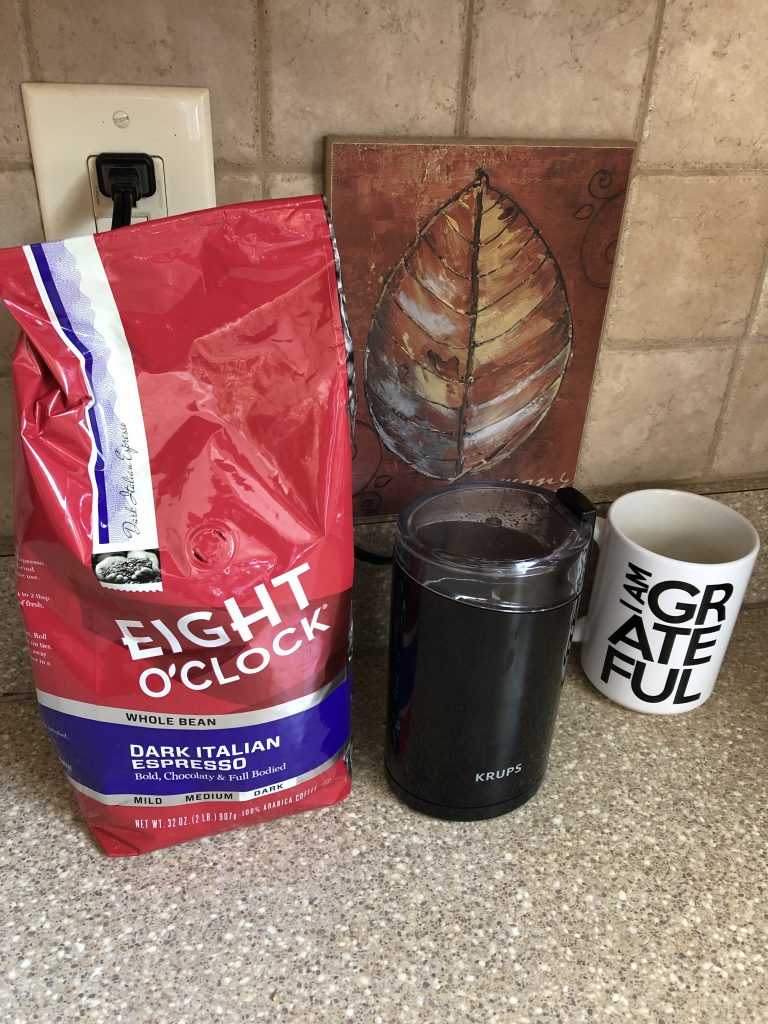 3. Starbucks Coffee Gift Baskets
Many coffee drinkers are brand loyal to Starbucks. If you're wondering if Starbucks does gift baskets? I'm sure they do, but putting one together yourself is more meaningful.
If you're looking to make a Starbucks themed gift basket, consider getting a bag of their coffee. You can add in a Starbucks gift card if they want to get a seasonal drink at another time such as pumpkin cold brew in the fall, a peppermint hot chocolate in the winter or warm weather drinks during spring and summer.
Though most Starbucks coffee shops sell bags of their coffee right in the store, if you're anything like me, I find it time-consuming to drive to stores in-person. Save yourself a trip and order more efficiently online. Buy the recipient's favorite coffee or choose a new one that they might like to try.
Pair it with a cool personalized reusable Starbucks cup. This holds both hot and cold beverages. Adding their name on it gives it a special touch.
Put these items together with some seasonal merch or throw in items they can use year round such as a coffee t-shirt, coffee-themed socks and a treat and you're good to go.
If you still need a little something extra, include a Starbucks gift card. I like to have a few on hand so I can easily add it to any gift. The recipient can go off the beaten beverage path or put it toward a fancy treat the next time they visit.
4. Coffee Gift Basket Ideas for Pampering
Creating a gift basket for pampering is greatly appreciated. Show your love and support with a little TLC in java form along with other items.
What do you put in a pampering gift basket?
"Me time" is always important and sometimes we just forget to schedule it for ourselves. If you know the recipient loves all things pampering or they're stressed out and can use a "pamper me day", here are some items you can include along with the coffee. Though you can readily mix and match any of these items, here are ones that align with a relaxation theme.
Relaxation
Use any of the gift basic staples that I mentioned:
Then you can throw in some of the following:
Something to eat:
Maybe throw in a few guilty pleasure snacks like some chocolates, candies or cookies. Lenny & Larry's makes cookies from plant protein that that are vegan and non-GMO. Try salted caramel soft baked or an assortment of snicker doodle, lemon, vanilla chai and good old chocolate chip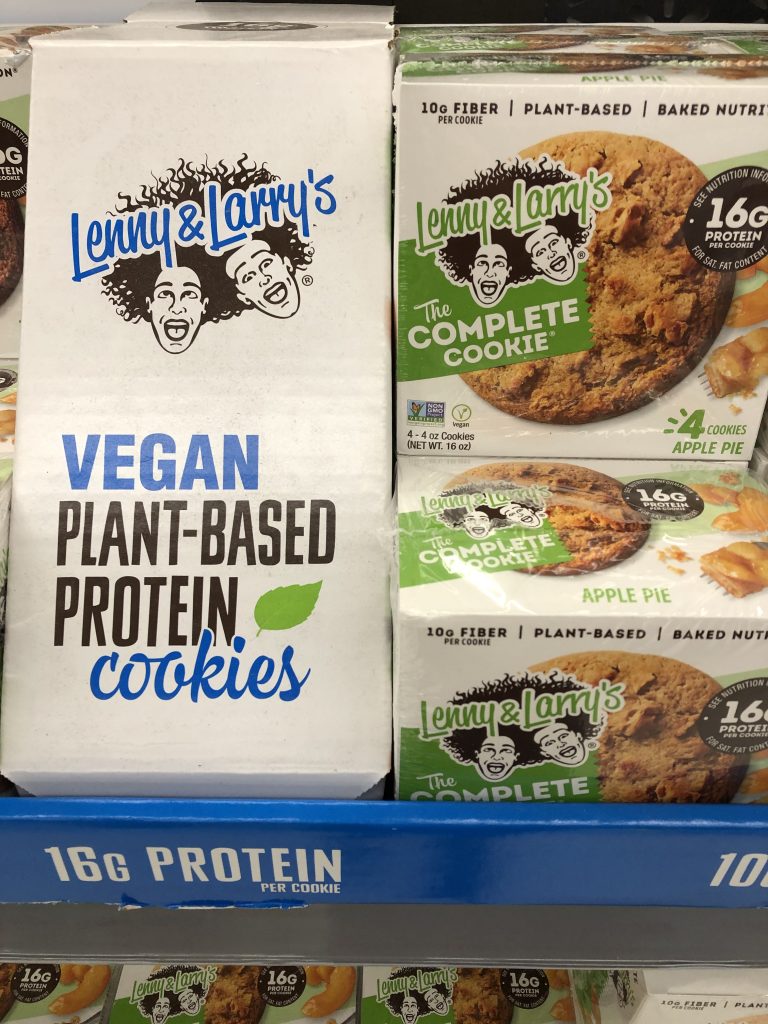 Something to rejuvenate:
Bath bombs
Face mask
Any type of scrub such as a body scrub, foot scrub or lip scrub
Loufah
Aroma therapy infuser
Essential oils
Lotion
If the recipient is a mom, coupon for free babysitting or other gift of time ideas!
If they find like other physical gifts that allow them to enjoy a special experience, indirectly give them permission to do so with these gift ideas under 30 dollars.
Something to read:
Yes, I'm shamelessly plugging my own book. The Everyday Bucket List Book helps people plan big bucket list adventures as well as everyday bucket list ideas that are both cheap and free using the FILL method.
It also teaches the reader how to prioritize what to do and helps people maximize the happiness they feel from their experiences. Additionally, it's perfect for focusing on what we can do now or in the near future. Grab a copy today.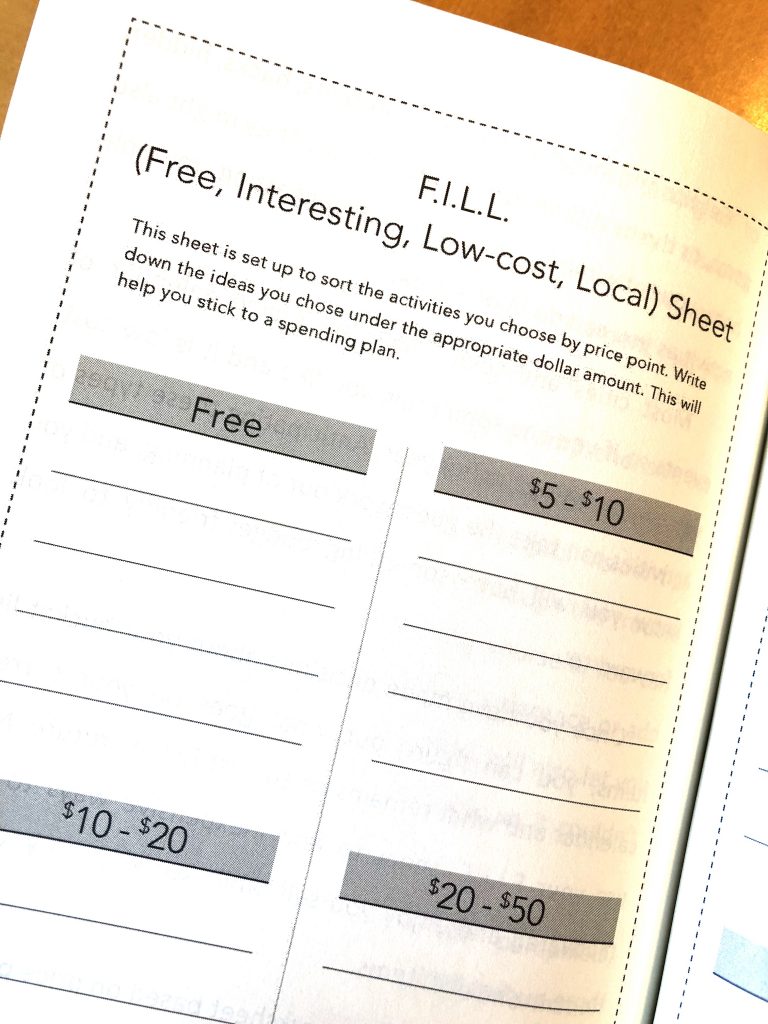 5. Healthy Basket Idea
When you reach for a snack, it's nice to grab a healthy alternative. It's also great to have on hand to avoid getting hangry in between meals. Along with the coffee, you might ask yourself, "What should I put in a healthy gift basket?"
Here are some ideas:
The Eat This, Not That website listed some of these as healthy snacks with less than 250 calories. Add some of these to a healthy gift basket.
Conclusion for Coffee Gifts
In brief, the best coffee gift baskets can be customized from beginning to end. Giving a gift like this, complete with coffee and a few of the person's favorite things, can show your support and appreciation. It can also provide a much-needed caffeine boost.
Related Gift Ideas