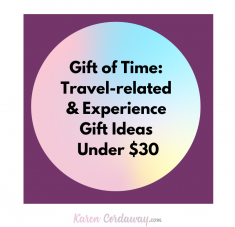 There might be affiliate links in this post. If you click on a link and make a purchase, I receive a small commission. Read my disclosure policy here.
There are many "gift of time" ideas and travel-related items for under $30. However, finding the right ones can be a little tricky.
People have specific interests and the challenge is picking out just the right affordable gift. Experience gifts are considered a gift of time.
They do exist. You just have to be a little creative and search for them. To assist you with your shopping needs, I put together the best "gift of time" and travel-related gifts for under $30.
In this post, there are gift ideas for people of all ages. In addition, I give ideas for unisex gifts. I also suggestions for men, women and youth. These may also come in handy for people who have everything!
Gift of Time: Travel Related and Experience Gifts for Under $30
If you're wondering about the gift of time meaning, I'll explain.
What is a gift of time?
In short, a gift of time is meant for the recipient to have an experience. For example, road trips or tennis lessons are gifts of time. Perhaps you do something special together or the person you give it to can do it separately. Or gift them something to do on their own with others.
In other words, it provides an opportunity to do something fun that maybe the person wouldn't otherwise plan this on their own.
Gift of Time: Cool Things to Buy on Amazon for Under $30 Dollars for Him or Her
There are many ways to give a gift of time. For instance, paying for movies and restaurants are gifts of time examples. Additionally, paying for classes or gift cards can count too.
Giving the gift of time in the form of an experience is immensely popular! Put it together with a physical item to make it the perfect combination.
Gift of Time Example #1: Hiking
Taking a long walk on a path is an enjoyable experience. It's also great exercise and a chance to connect with the recipient and Mother Nature. Furthermore, hiking can be low-key or more intense. It all depends on the preferences of the people involved.
Gift of Time Example #2: Camping
Whether you're camping in your own backyard or at a National Park, camping themed gifts can be a big hit. Also, it's a fun way to get outside and create memories to cherish for years to come.
Gift of Time Example #3: Any Type of Travel
A day trip, road trip or weekend getaway surely makes for a fun outing. Pair the experience with a physical gift such as a travel bag, cooler or backpack. Also, it can be just as fun to gift the idea as it is to receive it.
Simple Gift of Time Examples
Gift of time examples don't have to be over-the-top or extravagant. Moreover, doing something simple can be just as meaningful as a far away adventure. Consider some of the ideas below.
Visit an animal farm.
Go to a sunflower farm. Check out #2 of this post, for my tips when visiting sunflower farms.
Make tie-dye together.
Try some at-home bucket list ideas such as attempting a special art project, getting a tattoo or even just a temporary one.
Go on a day trip close by. I did this in my own state. In this post, there are unique things to do in CT.
Passes or Memberships to place like zoos, museums and aquariums.
Gift cards for ice cream shops, frozen yogurt, bakeries or coffee shops.
Brainstorm some coffee lovers gift ideas so they relax at home
Play miniature golf.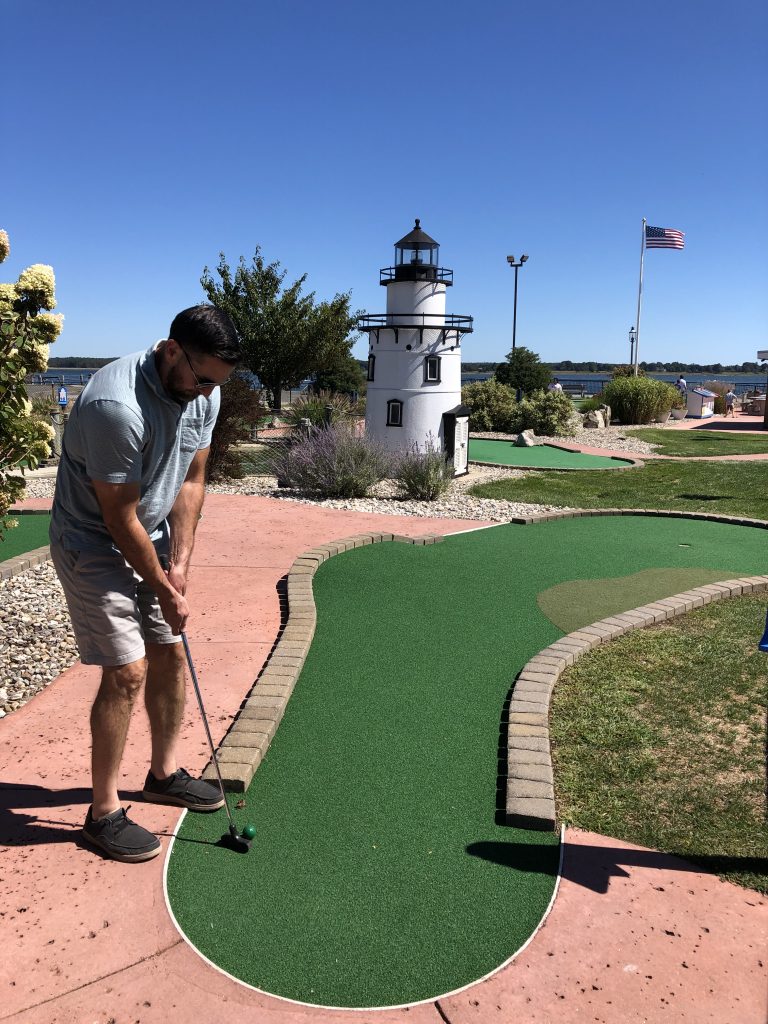 No matter what you decide, here are some gift ideas to go along with them.
Great Unisex Gifts for Him or Her Under $30
What should I get for $30?
Many of the ideas I listed go nicely with a physical gift. For example, if you go with a hiking or camping theme, purchase items such as t-shirts, gear, etc. to go with it.
Gifts for Him Under $30
T-shirts are surely useful and practical for everyday use. They can also potentially be worn on the day of the experience and even after. Without a doubt, selecting one that reflects one of the recipient's interests or hobbies can be meaningful too.
These shirts are for men, women or children. However, the images show the men's version. If you click on different photos shown, there are also t-shirts sized specifically for women and children. There are different color choices as well on the same link.
More Unisex Gifts for Under $30
Unisex Travel-related and Everyday Tech Gifts Under $30
In this section, I highlighted some tech gifts and other tech-related items. People may like an extra charger cord or two, but don't get around to buying them.
Surprise them with a 5 pack of cords with varying lengthens, especially for those who are on the go. It certainly can't hurt to have extra cords in different places. Put one in a vehicle, another at home and one in your work space.
Along with additional cords, a portable power bank can help mobile devices stay fully charged. If charging is needed and there's no outlet in sight, this portable power bank can do the trick.
Air pods are also great when you're on the go. Listen to music or catch up on an audio book while in transit. However, they can get misplaced easily. Be sure to store them safely in a case like the one below.
Great Travel-related Gifts for Her Under $30
If you're planning a day trip or you need a gift for an avid traveler, consider some practical and stylish presents that hold all of the essentials. It can't hurt to have some new gifts to store identification, credit cards, money, etc. The following are some practical items for travel or everyday use.
Slim wallet with clip – Perfect for those who want to pair down their wallet while traveling and just bring the essentials. This is also great for those who want to keep their purse streamlined and tidy.
Neck pouch wallet Keep your money and important information safe, close by and easily accessible while traveling.
Purple purse If the neck pouch isn't your thing or you want to bring another option with you, this purse is the perfect size for travel. It can also be used for everyday life too.
Ballet flat In addition to a pouch or purse, ballet flats make a unique gift. They're perfect for those who need to switch out their shoes throughout the day. Moreover, if you wear fancy shoes or heels and don't want to throw on flip flops or tennis shoes, these ballets flats have you covered. You can still look polished and comfortable with a lightweight, easy to store pair of shoes.
Gifts for Under $25
There are many awesome gifts for under $25. Sometimes you just have to be creative when you're sticking to a spending limit.
Many of these ideas will make great gifts. If you want to pair them with a little something extra, consider adding a framed photo, homemade cookies or a small box of chocolates.
What is a good gift for $25?
Like any amount you can spend, a good gift for $25 is something the person will use and like. Go super practical and they can get a lot of use out of the item you buy. A travel power strip is a clever idea. It's great for vacation or when someone has to work in a different setting.
Unisex Gifts Under $20
Finally, here are some unisex gifts for under $20. These are perfect for any travel enthusiasts, especially for those who enjoy planning adventures or writing about them afterwards.
Firstly, I found some decorative banks to help you stay motivated to save and watch the money pile up in the process. Secondly, I included a thermos. It's is super useful, portable that helps you stay hydrated.
Last but not least, I chose a bucket list book that can help you plan and carry out your adventures. In addition to coming up with ideas, it provides tips to boost your happiness before, during and after the experience.
Thermos If they will most likely fill up their thermos with coffee, consider adding a few coffee gifts too.
Conclusion for Gifts of Time
In brief, gifts of time can make a lasting impression. No matter what you choose, giving experience gifts along with physical ones that reflect personal interests can be very meaningful. I hope these travel- related & experience gift ideas under $30 mentioned help you find that just right gift for the just right price.
Related Articles for Other Gift of Time Ideas