Berkeley, California: Fun Things to Do w/ Jeremy Sherman
Find fun things to do in Berkeley, California! It is a diverse and exciting city to visit. Whether you're looking for something fun, adventurous or relaxing; there's no shortage of activities in the Bay Area. Take a stroll through some of our favorite spots that make this charming college town such an irresistible destination. From restaurants where you can indulge your inner foodie, to parks perfect for escaping from urban life, to world band music venues; these are just a few reasons why Berkeley should be on your travel bucket list!
Prefer to listen elsewhere? Here's the same episode on: Apple or Spotify!
It takes a great deal of time and energy to create episodes. In order for me to make great content for you, some of the resources below have affiliate links. If you purchase something through a link, I would make a small commission at no additional cost to you. Also, consider working with me.
Today's Everyday Bucket List Guest
I'm happy to welcome Jeremy Sherman to the Everyday Bucket List Podcast!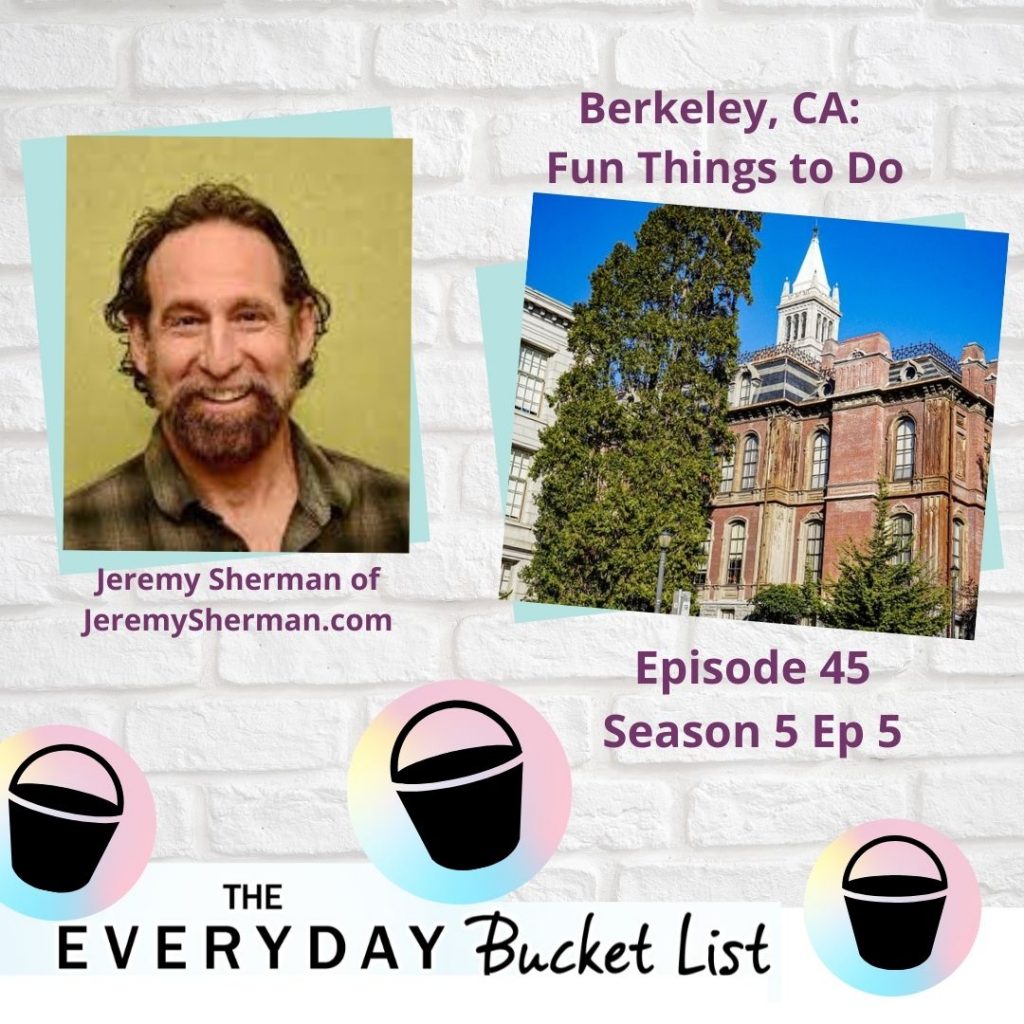 Today we have Jeremy Sherman of JeremySherman.com
Jeremy Sherman, Ph. D., MPP is the quintessential Berkeley guy, a former elected elder of the world's largest hippy commune, a founder of a national environmental lobbying organization. He works on the chemical origins of life and just wrote a book called What's Up with A**holes? How to Spot and Stop Them Before Becoming One. In his spare time, he is a bass player and vocalist in world music bands.
What You'll Learn About Fun Things to Do in Berkeley, California
What Berkeley, California is known for
How to spend a day or two in Berkeley, CA
Discover great restaurants and hotels
Hotels in Berkeley, California
Where will you be staying? Berkeley has a number of hotels to choose from. Whether you want to be right downtown or further out, there are a variety of places to stay.

Restaurants & a Fabulous Grocery Store in Berkeley, CA
The restaurants near the Basketball Hall of Fame are a great place to grab some food and enjoy an evening with friends or family. There are a variety of places to eat such as some chain restaurants like Pizzeria UNO or Plan B Burger.
Chez Panisse
Chez Panisse is a wonderful, upscale French restaurant in the heart of University Village. The staff are friendly and welcoming to all customers with an elegant atmosphere that will make you feel at home while enjoying your meal on one their many cozy tables or inside standing room only during dinner time!
The Cheese Board Collective
the cheeseboard collective is a one-stop shop for all your desires to eat and drink cheese. They have an excellent selection ranged from Italian varieties like gorgonzola or cheddar, as well English sorts such was brie with pear flavor! Not only that but they also carry plenty more exotic types that you can't find anywhere else including Camembert's blue mould which runs throughout its surface due in part because it has been left out on top tier shelves longer than other kinds during handling procedures at some point before sale.
The Butcher's Son
The Butcher's Son vegan restaurant in Berkeley is a haven for meat- abstaining eaters, with its eclectic menu ranging from breakfast tacos and schnitzels to veggie bake loafs.
99 Ranch Super Market
If you are looking for a good grocery store to buy your groceries from, then I recommend 99 Ranch Supermarket. They have everything and anything there is!
There is a 99 Ranch Super Market near the University of California, Berkeley. This store sells all sorts and varieties Asian foods including rice dishes made with chicken or vegetables!
Answers to Basic Questions about Things to Do in Berkeley, California
Though we answer some of these questions on the show, you can take a peek at what most people typically want to know.
What is Berkeley, California famous for?
Berkelely is known for its diversity. From the students who founded it to now, this place has always been a hotbed of intellectual activity with people from all over coming here looking at things in fresh ways and contributing their own share towards making up what we know as reality today!
The University of California at Berkeley is a world-renowned institution that was first founded in 1868. It's commonly known as one the best universities for academic excellence and produces some great minds who help shape our society into what it has become today!
Is Berkeley worth visiting?
Is this college town worth a visit?
This may be your chance to see the famous Berkeley Marina before it changes its name! The city is home of UCB (the University Of California At Berkely), so there are plenty more opportunities for educational activities than just classwork. And with all these historic sites from around 200 years ago still standing tall today – you'll get an idea about what life was really like back then when people were settling down into routines here in Northern California's Bay Area.
How do I spend a day a Berkeley?
Berkeley is a charming college town with plenty of green space and history. For an affordable day trip, take the ferry from San Francisco to Oakland for shopping at hello ra Cups or Whole Foods!
The people of Berkeley are always up for something. As if their town was made from the most caffeinated soil in all California, this place offers a day full of adventure and entertainment every time you walk down Mission St or go on one (or 10) of those famous regional bike rides through Strawberry Canyon!
In a day, you can do so much in one of my favorite cities. You'll start off by visiting the campus and gaining an understanding for how great it is that UCB has been able to foster such creativity there!
Then head over across Alcatraz Island where I think everyone should stop at least once during their trip – even if they don't go inside because some people say its haunted… Ahh!
But maybe just take pictures or sketches instead? Afterward continue on towards Telegraph Hill which offers gorgeous views from its heights as well delicious coffee shops like Peet's Coffee & Tea House before ending up downtown near Shattuck Avenue around nighttime time when all these street performers show themselves out.
Conclusion for Things to Do in Berkeley, California
Berkeley is a great place to visit, and there are many fun things you can do while here. For one, stop by the Chez Panisse for a delicious meal–it's well worth the wait! If food is your thing, then head over to The Cheese Board Collective as well as an ever-changing list of other gourmet eateries. Another suggestion would be heading out on a hike at Tilden Park or King Canyon Regional park. And if all this still doesn't sound like enough adventure for you, make sure you check out some live world bands playing around town too!
Subscribe on Apple Podcasts , Spotify or Stitcher today!
Related Episodes