Utah Bucket List: Ideas for The Best Places to Visit w/ Heidi Alldredge
If you're hoping to cross places to visit in Utah off of your bucket list, you're in luck. In the session of the Everyday Bucket List Podcast, I chat w/ Heidi Alldredge. She shares what Utah is famous for from a local's perspective. Discover some of the prettiest places outdoors, including the popular national parks. Plus, find out what there is to do besides parks and hiking. Also, she tells us what sauce is unique to Utah and much more.
Prefer to listen elsewhere? Here's the same episode on: Apple or Spotify!
In order for me to make great content for you, some of the resources below have affiliate links. If you purchase something through a link, I would make a small commission at no additional cost to you.
Today's Everyday Bucket List Guest
I'm happy to welcome Heidi Alldredge to the Everyday Bucket List Podcast!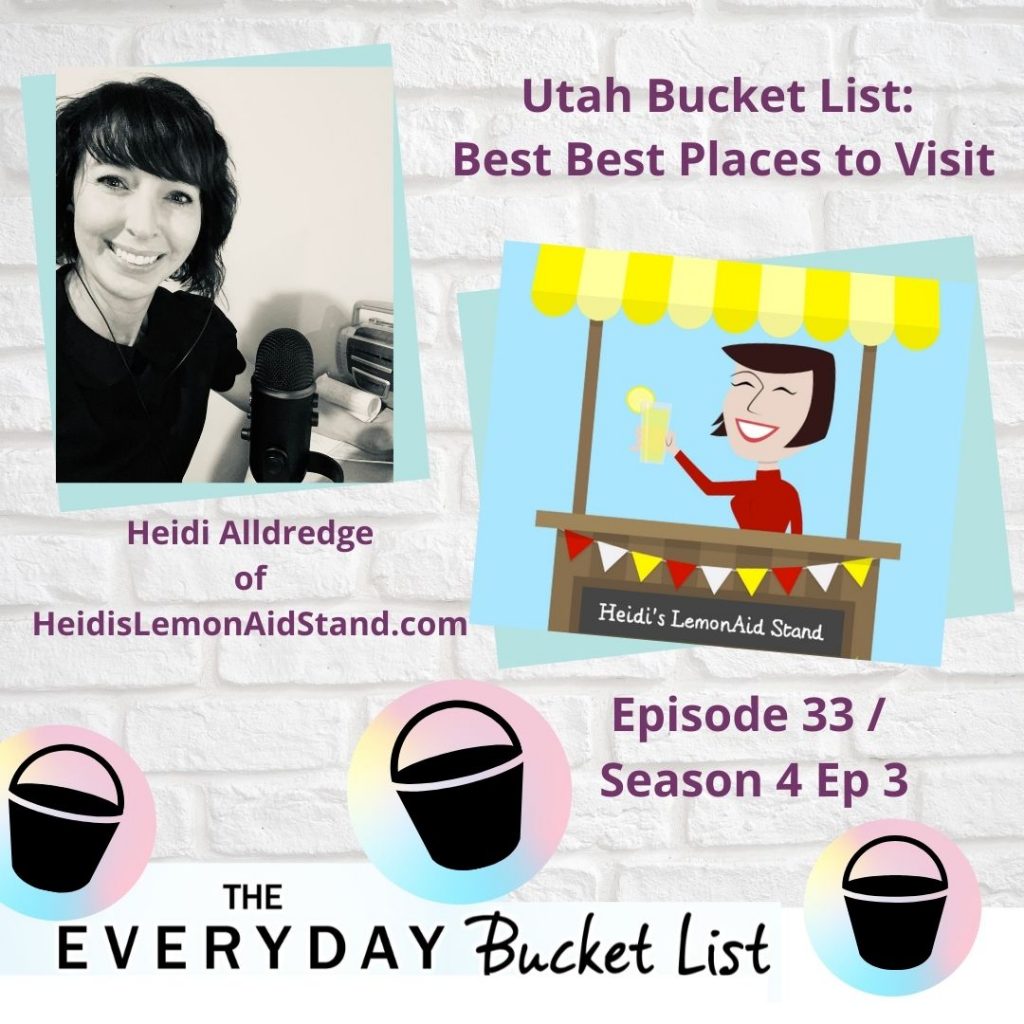 Heidi Alldredge of HeidisLemonAidStand.com
Heidi Alldredge: wife, mother, grandmother, aunt, friend, care giver, realtor, motivational speaker, teacher and podcaster! (Heidi is still deciding what she wants to be when she grows up!)
Heidi has been married since 1992 to Christopher, the love of her life. She has 3 children (age ranging from 20 to 28—two of her children are married now) And has hosted 5 foreign exchange students -whom she now claims as her own children. She loves spending Friday nights (or any other time) with her grand-babies.
Other hours of the day she is recording great inspiring interviews for her podcast, searching online for inspirational quotes, shopping for bargains, traveling with her family, lunch dates with friends, serving and helping others, going to concerts, and writing-either in her journal, notes to friends, or her own motivational speeches! Heidi is a recovering "why-me-er" and is currently learning and teaching the art of positive thinking!
What You'll Learn About The Best Places to Visit in Utah
What Utah is famous for including it's natural beauty. It's hard to choose just one spot, but if you like the look of red rocks and beautiful landscapes, then the National Parks are some of the prettiest places to visit in Utah.
Heidi explains how Utah is also known for an awesome quality of life, low crime rate and a beautiful landscape.
What is the #1 attraction in Utah? National Parks are a top attraction. All of them are a day's drive within the state.Heidi mentions some that were listed in U.S. News and Planetware. (See resources below for more details.)
Heidi also highlights things to do in Utah besides parks and hiking. Take a look at a map of Utah here to map out your plans.
Discover the types of activities you can do since Utah has all four seasons
Find out about a certain kind of sauce that's kind of a big thing in Utah. I also attached a list of popular Utahn food & beverages here.
One of her own unique bucket list ideas that happens right in her own home
Resources for The Best Places to Visit in Utah
CityPASS is a way to "spend less and experience more top attractions" an area has to offer.
Heidi's podcast is called Heidi's Lemonade Stand. It's not really about a sweet drink, it's about aid and how we can uplift each other and help each other.
What is Though it might be a matter of opinion, U.S. News rates different areas based on "attractions, value & accessibility" to determine what they consider best. Planetware has a different order for the same places, so you be the judge. Heidi mentions 5 that were listed, all of them are a day's drive within the state.
Hotel Recommendations
Heidi explains how Utah pretty much has a variety of hotel chains from budget to high-end.
Here are places to stay in near:
Tuacahn Amphitheatre is where Brian Regan performed his latest Netflix special in Ivins, Utah. Heidi mentions how it's a pretty outdoor theater.
Also, take a peek at Salt Lake City hotels here.
Some of Heidi's Everyday Favorites
Book(s)
Other Book(s):
If for whatever reason, you're still having trouble connecting the dots, grab a copy of the The Everyday Bucket List Book it's available on Amazon and be sure to type in my name Karen Cordaway too if you can't find it.
Connect with Karen on Twitter
Subscribe on Apple Podcasts , Spotify or Stitcher today!
Related Episodes