Things to Do in Ventura, California & Other Bucket List Adventures with Eric Rosenberg
Looking for fun things to do in Ventura, CA? This episode has you covered. Whether you're searching for what to do this weekend or you're planning a warm weather vacation, there are plenty of options for everyone. Check out the best outdoor activities & top attractions to visit such as the beach, pier, restaurants, Channel Islands and more.
Prefer to listen elsewhere? Here's the same episode on: Apple or Spotify!
Some of the resources below have affiliate links. If you purchase something through a link, I would make a small commission at no additional cost to you.
Today's Podcast Guest
I'm excited to welcome Eric Rosenberg to the Everyday Bucket List Podcast!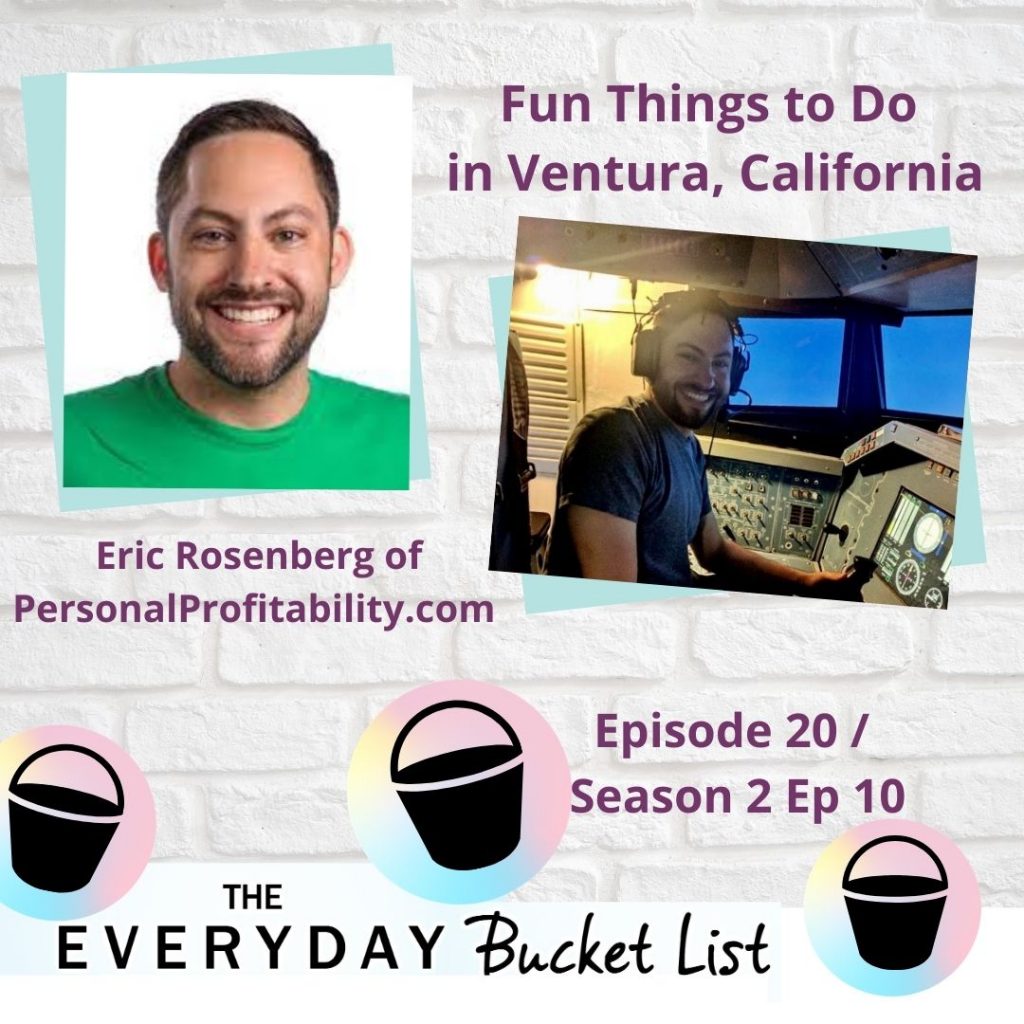 Eric Rosenberg of Personal Profitability EricRosenberg.com
Eric Rosenberg is a financial writer, speaker, and consultant based in Ventura, California. He holds an undergraduate finance degree from the University of Colorado and an MBA in finance from the University of Denver. After working as a bank manager and then nearly a decade in corporate finance and accounting, Eric left the corporate world for full-time online self-employment. His work has been featured in online publications including Business Insider, Nerdwallet, Investopedia, The Balance, HuffPo, Investor Junkie, and other fine financial blogs and publications. When away from the computer, he enjoys spending time with his wife and three children, traveling the world, and tinkering with technology. Connect with him and learn more at EricRosenberg.com.
What You'll Learn about Things to Do in Ventura, California
What is Ventura, CA known for?
Is Ventura worth visiting? Sounds like it to me!
What are some of the top attractions to visit in Ventura?
What are the best outdoor activities in Ventura?
Resources for Things to Do in Ventura, California
Flying, writing, podcasting can be one of the coolest hobbies for men and women.
Higher end: Ventura Beach Marriott (probably nicest hotel in town), Four Points by Sheraton Ventura Harbor Mid-budget (for Ventura): Crown Plaza, Holiday Inn Express Ventura Harbor, Pierpont Inn Lower-budget: Vagabond Inn (across from a park that can be a bit sketchy). Eric says to avoid the Motel 6. Take a peek here to a book a place to stay.
Here's an exclusive for the listeners. Gain access to Eric's rap song below.
Some of Eric's Everyday Favorites
Podcast(s)
S Town
Throughline from NPR– That one's a history podcast where they talk about all sorts of different topics.
This is Actually Happening – People share terrible things that have happened in their lives, but then explain how they overcome it. Eric says it's "an interesting psychological listen, because there's so many people who've been through such diverse and different things from us."
Book(s)
No matter where you go or how you choose to get there, take a look at these travel essentials before you head out.
Connect with Karen on Twitter
Related Episodes