What Are The Best Travel Credit Cards?
If you're wondering" How do travel credit cards work?" or "What are the best travel credit cards?", Lee Huffman is back for round 2 and I think this might go down as one of the best episodes so far! He's the go-to person for travel tips and tricks since he writes all over the internet about travel credit cards such as Chase, Discover, cards for hotels, airlines and more using rewards, points, miles, cash back, etc. Lee shares a wide array of ideas so you can figure out what's right for you.
Prefer to listen elsewhere? Here's the same episode on: Apple or Spotify!
Some of the resources below have affiliate links. If you purchase something through a link, I would make a small commission at no additional cost to you.
Today's Podcast Guest
I'm happy to welcome Lee Huffman to the Everyday Bucket List Podcast!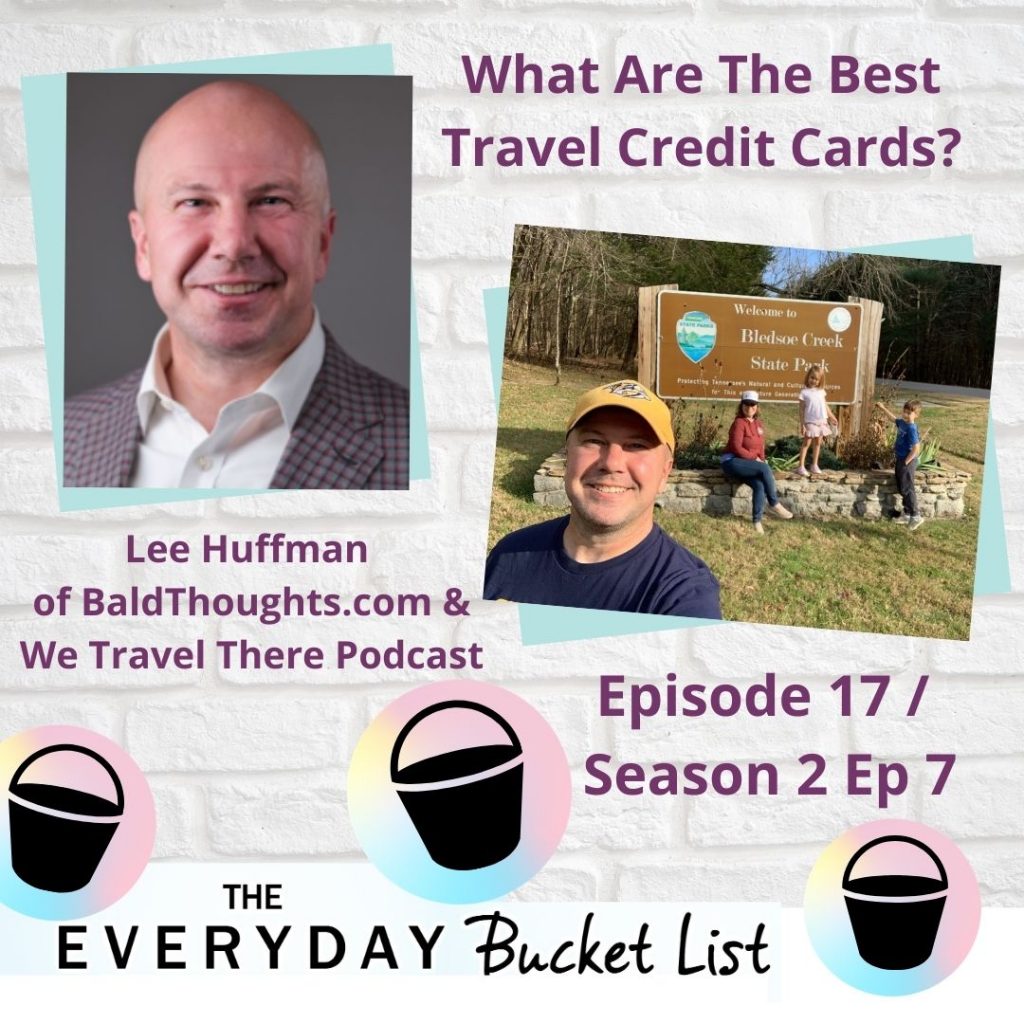 Lee Huffman of BaldThoughts.com & The We Travel There Podcast & Website
Lee Huffman spent 18 years as a financial planner and corporate finance manager before quitting his corporate job to write full-time in 2018. Lee has been writing about early retirement, credit cards, travel, insurance, and other personal finance topics since 2012. He enjoys showing people how to travel more, spend less, and live better through the power of travel rewards.
When Lee is not getting his passport stamped around the world, he's researching methods to earn more miles and points towards his next vacation. His writing can be found on many popular travel and credit card websites such as The Points Guy, Forbes Advisor, and NerdWallet. You can follow Lee's travels at BaldThoughts.com or listen to his weekly travel podcast at WeTravelThere.com.
What You'll Learn
What are the best travel credit cards and how to maximize the benefits
Get the scoop on travel credit cards with no annual fee versus ones that do have them
Find out about portals that help you get more out of your purchases
Take a look at hotels in and near Nashville, Tennesee here such as The Moxy Hotel (Downtown), The Westin, Hilton, Holiday Inn and more.
Whether you're working on easy personal bucket list ideas in everyday life or planning your next trip or want to take up credit card hacking as a cool hobby.
Connect with Karen Cordaway
Twitter @KarenCordaway
Related Episodes