Bucket List Adventures in & Near Mooresville, North Carolina with Ashley Patrick
Looking for exciting things to do in Mooresville, North Carolina? I chat with Ashley Patrick of BudgetsMadeEasy.com. Whether you like the mountains, visiting a lake, going to the beach or just trying barbeque, there are plenty of options for everyone. Find out what it is known for and discover some of the best outdoor activities & top attractions to visit including beaches, Lake Norman, The Outer Banks of North Carolina & more. Plus, hear about her hotel recommendations.
Prefer to listen elsewhere? Here's the same episode on: Apple or Spotify!
Some of the resources below have affiliate links. If you purchase something through a link, I would make a small commission at no additional cost to you.
Today's Podcast Guest
I'm happy to welcome Ashley Patrick to the Everyday Bucket List Podcast!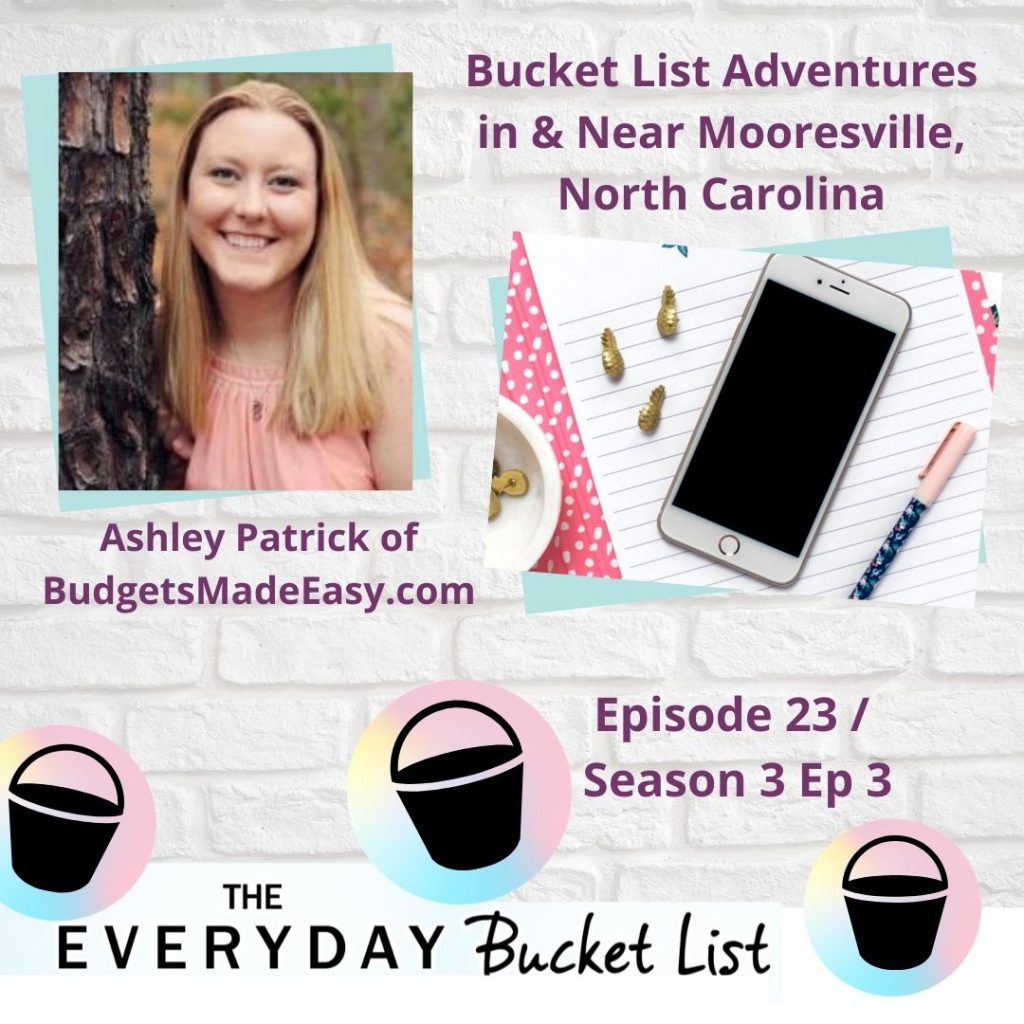 Ashley Patrick of BudgetsMadeEasy.com
Ashley Patrick is a personal finance expert, and founder of Budgets Made Easy. She helps busy moms create systems to save money and pay off debt so they can reach their big dreams faster and easier.
Ashley was able to pay off $45,000 in just 17 months including $25,000 in student loans in just 10 months. She is a Master Financial Coach and has a bachelors degree in psychology and will help you get to the root of your money problems.
Her site has been featured on Fox Business, Yahoo! Finance, Food Network, USA TODAY, MSN, CNBC, NerdWallet, and many others. Check out her free budget starter kit.
What You'll Learn About Bucket List Adventures in and Near Mooresville, North Carolina
What is Mooresville, North Carolina known for??
Discover what there is to do in Mooresville, North Carolina today, this weekend or in the near future.
Find out how far Mooresville, North Carolina is from the beach
Learn about the Biltmore Estates, The Outer Banks of North Carolina and other beaches that are close by.
Resources for Bucket List Adventures in and Near Mooresville, North Carolina
Morrisville, North Carolina Hotels
Ashley mentioned the Hilton, Hampton Inn and Fairfield Inn. Help support the show and take a peek here to a book a place to stay.
Some of Ashley's Everyday Favorites
Podcast(s)
School of Greatness with Lewis Howes
Online Marketing Made Easy with Amy Porterfield
Jasmine Star Podcast about Social Media
Book(s)
Other Books and Resources:
Also, check out The Everyday Bucket List Book if you're hoping to get serious about making your bucket list happen or you want to come up with unique bucket list ideas that you can do in everyday life. There are worksheets to help you prioritize what to do when and make it work financially.
If you're looking for different ways to plan your bucket list goals or goals in general, here a link to my ETSY shop (EverydayPlannerShop) mentioned on the show.
Connect with Karen on Twitter
Related Episodes