Things to Do in Sarasota, Florida This Weekend or Anytime with Lorraine Ladish
Need things to do in Sarasota, Florida this weekend or months down the road? If you're headed that way for a trip, there are options for all types of planners. Some people may do an internet search to plan months in advance looking for "What is in Sarasota, Florida?" Or they look through a Sarasota calendar of events months before hoping to come up with an outline for an itinerary. Others may arrive there and type in "Sarasota events next 3 days" and the very last minute types may search for "events in Sarasota today." No matter what kind of planner you are, there are many options for things to do in Sarasota, Florida.
This episode is includes ideas for Sarasota, Florida restaurants, things to do with kids, beautiful beaches and much more.
Prefer to listen elsewhere? Here's the same episode on: Apple or Spotify!
Some of the resources below have affiliate links. If you purchase something through a link, I would make a small commission at no additional cost to you.
Today's Podcast Guest
I'm excited to welcome Lorraine Ladish to the Everyday Bucket List Podcast!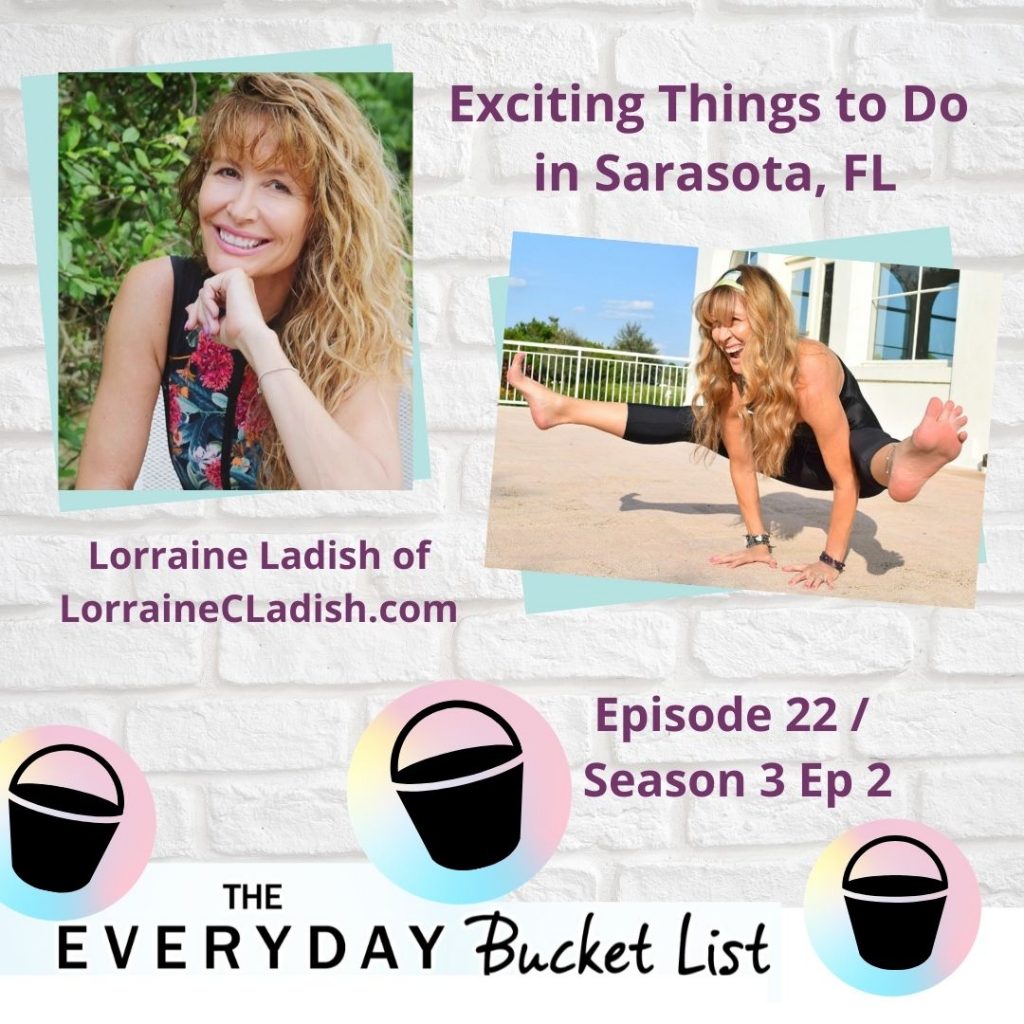 Lorraine Ladish of VivaFifty.com
Lorraine Ladish is a 21st. Century Communicator, helping empower women and others to achieve their goals. She is the founder and CEO of Viva Fifty! a bilingual community that celebrates being 50+. She's worked as an editor and social media coordinator for a number of online publications. Ladish is a content creator and regular contributor to NBCNews, Huffpost, AARP, Babycenter and Mom.me. She's contributed to People en Español, La Palma of The Palm Beach Post, Purple Clover, Latina Magazine and Redbook. Her latest book on embracing age was published by HarperCollins in 2017.
But most of all she's a woman, a mom, a wife, a daughter, a sister, a friend, a writer, an entrepreneur, a yogini.
What You'll Learn About Fun Things to Do in Sarasota, Florida
What is in Sarasota, Florida?
Discover what there is to do in Sarasota, Florida today, this weekend in the coming months, different times of the year or anytime. Plan in advance or get there and plot out activities or events for the next 3 days or more
What is Sarasota, Florida known for?
What is there to do today, this weekend or down the road in Sarasota, Florida?
Resources for Fun Things to Do in Sarasota, Florida
Atlanta Georgia Hotels and One AirBNB Recommendation
If you'd like to support that show, take a peek here to a book a place to stay in Sarasota, Florida.
Some of Lorraine's Everyday Favorites
Podcast(s)
Any podcasts by Seth Godin
Book(s)
Other Books:
Take a peek at Lorraine's book in Spanish called Your Best Age.
Also, check out The Everyday Bucket List Book if you're hoping to get serious about a travel bucket list or other types of unique bucket list ideas that you can do in everyday life. There are worksheets to help you prioritize and connect the dots financially.
Connect with Karen on Twitter
Related Episodes