Best Bucket List Ideas in & Near Phoenix, Arizona w/ Chris Peach
Looking for fun experiences or bucket list ideas to do in & near Phoenix, Arizona? In this session of The Everyday Bucket List Podcast, I speak with Chris Peach of The Money Peach podcast. Listen to this show and you'll want to make an Arizona adventure bucket list or at least a Phoenix bucket list after hearing this episode! Get details about the Grand Canyon, breweries, wineries, resorts, hotels, places to stay downtown and more.
Prefer to listen elsewhere? Here's the same episode on: Apple or Spotify!
It takes a great deal of time and energy to create episodes. In order for me to make great content for you, some of the resources below have affiliate links. If you purchase something through a link, I would make a small commission at no additional cost to you. Also, consider supporting the show by getting my bucket list book. It makes a perfect gift. Or you can always consider working with me.
Today's Everyday Bucket List Guest
I'm happy to welcome Chris Peach to the Everyday Bucket List Podcast!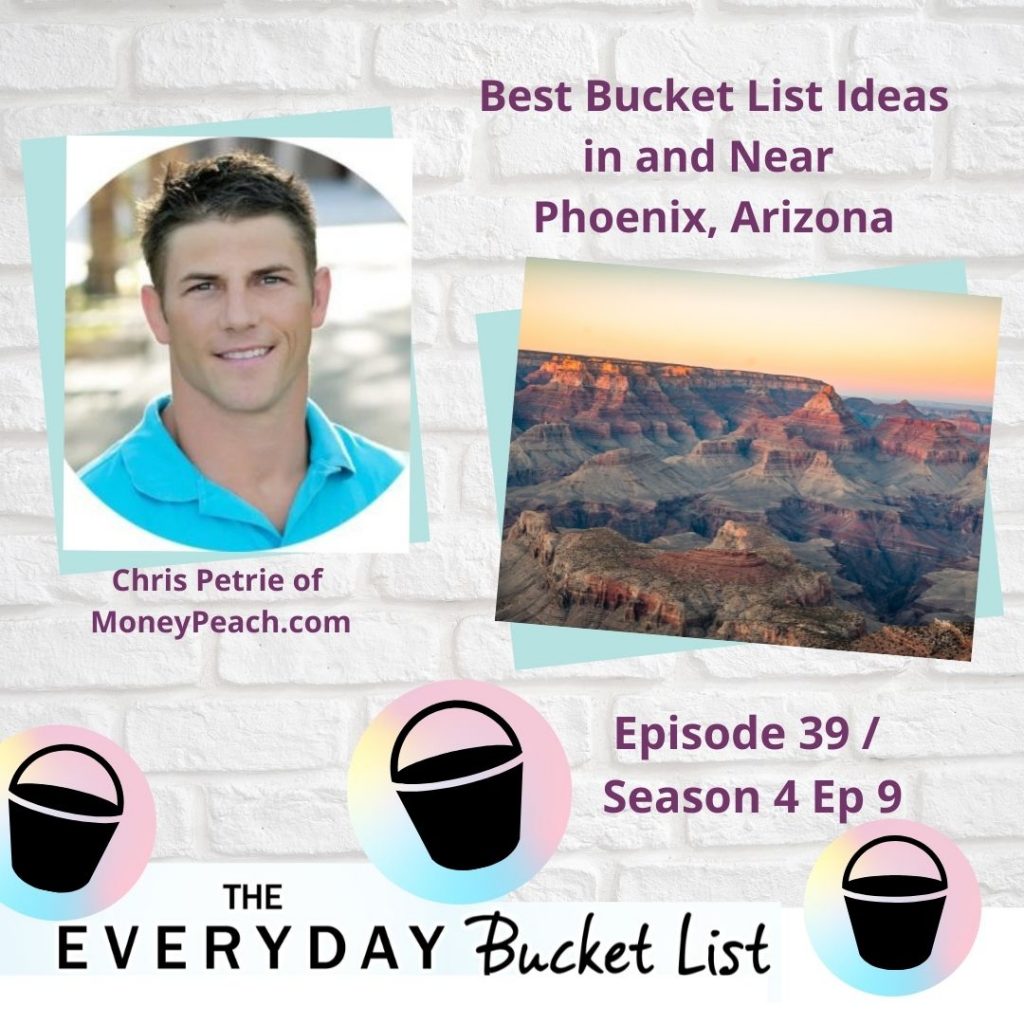 Chris Peach of MoneyPeach.com
With money, one has the power to make their life better. Chris Peach is an expert in helping people with this area and his wealth of experience can help you too!
What You'll Learn About Bucket List Ideas in & Near Phoenix, Arizona
Get the best tips for hiking the Grand Canyon from a local
Discover other bucket list things to do in Phoenix, Arizona such as visiting microbreweries, wineries & more
Find out the best time to visit Phoenix, Arizona so it doesn't feel like you're getting hit with a blow dryer as you get off the plane
Find the best areas for fun experiences, restaurants, hotels & more in & near Phoenix, Arizona
RESOURCES FOR BUCKET LIST IDEAS IN AND NEAR PHOENIX, ARIZONA
The Grand Canyon is a must-see. It's the largest canyon in the world and one of America's national parks! There are many places to stay near Phoenix, Arizona including hotels, resorts, campgrounds and cabins. In addition to visiting the Grand Canyon, there are lots of other attractions for you to explore such as Camelback Mountain or hiking trails from South Mountain Park. Downtown Phoenix has great restaurants with lots of variety! And don't forget about Scottsdale if its shopping that interests you most – it boasts plenty of upscale shops and boutiques along with some excellent eateries too.
Grand Canyon Hike and Places to Stay
Grand Canyon is a must-see for any traveler. The hike down to the bottom of this huge hole in the ground will take your breath away, and if you don't want to camp there are many hotels nearby that offer comfortable accommodations with amenities such as hot water heaters!
There's a community just to the south of the Grand Canyon by about two or three miles. It's called Tusuyan. It's the tribe that lives up there. The Grand Hotel is located in this town. It's about an hour and a half from Flagstaff, Arizona (about 90 miles). There are tons of restaurants and places to stay in Flagstaff.
So as far as where to stay, where to eat, that's going to be your best bet because you're so close. There's a resort there and if you're going to do the Grand Canyon, you want to start first thing in the morning. So you want to be literally two, three miles away.
Another place where people stay is about 45 minutes south of the entrance to the Grand Canyon. It's called Williams, Arizona. And kind of fun fact, if you've ever seen the movie cars, cars kind of takes the form of Williams Arizona. So if you were to drive down Main street and Williams, it would look a lot like what you see in the movie cars going down main street.
Phoenix Arizona Best Restaurants
Phoenix is home to some of the best restaurants in Arizona. It is a mecca for fresh cuisine, with many different options to choose from. From some good old fashioned American food, to new Mexican cuisine, to Middle Eastern kebabs and Chinese dim sum amongst other delicacies Phoenix has it all!
The most amazing restaurants in Phoenix are found at the peak of its beauty. These venues offer lush landscapes, inspiring architecture and mouthwatering cuisine from around the globe that will make your taste buds sing for joy!
Here's a list of popular places to visit:
Phoenix is a mecca for fresh cuisine, with many different options to choose from. If you're looking for some good old fashioned American food or want some authentic Mexican dishes then this article will get you started!
There are so many delicious restaurants in the city that there's no way I could cover them all here (or even do them justice). However, these three spots deserve a mention:
1) Pita Jungle – Their tagline boasts "From vegan to meat eater, this place has something for everyone." The site also explains how they make fresh food daily. Try a wood-fired pizza, healthy burgers, pitas, wraps, bowls and more.
2) Trompo Taqueria & Hookah Lounge – If you love Mexican food, this place serves breakfast, lunch, dinner and dessert. Grab some huevos rancheros in the morning or a taco for lunch. If you have room for dessert, grab a banana split or malteadas de nieve.
3) Restaurant Progressive – "Serving new American fare inspired by classic recipes, the Progress menu is complimented by a meticulous bar program and wine list, curated by their own Montecito Bottle Shop next door."
Phoenix, Arizona Breweries
Microbreweries are popping up all over the place. So, 10 years ago you had your commercialized breweries in Phoenix. It was places like BJ's brew house that you see across the country. Well, now you're seeing little, teeny, tiny mom and pop breweries pop up all over. So if you're into breweries and that kind of scene, try out a brew crawl.
Phoenix Arizona Hotels
The best hotels in Phoenix are the ones with a view of its beautiful surroundings. It all depends on what you like. Phoenix is known for having tons of golf courses and golf resorts. People from all over the world really come to Phoenix because you can literally play non-stop golf on some of the nicest courses imaginable. So if you are a golfer, Phoenix has that.
Downtown Phoenix, Arizona
If you want to just maybe stay downtown, there's some really chic hotels down there such as the Westin, Renaissance and The Clarendon Hotel and Spa. If you are looking for like spa treatments, there's a lot of really good spots. Your Camelback mountain paradise valley. There's just so many good spots. You can't really go wrong.
And if you want to do something downtown, Chris recommends the Kimpton Palomar hotel. It's walking distance to all the shops, the stadium and all the bars and restaurants. You wouldn't need a car and it's a great place to stay. There's tons of restaurants right there.
If it's family friendly, I would say something like the JW Marriot. They have a lazy river. They have multiple pools, water slides, activities for the kids, which is really good. For a romantic weekend, I'd probably say something like it's called the Sanctuary and it's in paradise valley and it's one of the nicer places.
Phoenix, Arizona RV Parks
The perfect place to get away from it all, Phoenix Arizona RV Parks offer scenic views and peaceful surroundings. Whether you are looking for a destination near the city or want an escape with nothing but open space nearby – Phoenix has what you need!
Phoenix, Arizona Water Parks
Phoenix is a mecca for those looking to cool off this summer. With water parks that offer everything from adventurous slides and wave pools, lazy rivers with floating rafts or inner tubes – there's something perfect no matter what you're in the mood too!
Even More Fun Things to Do in Phoenix, AZ for Families
Phoenix has a ton of fun things for everyone to do! Play at one of the many places, or check out some museums. There are also outdoor adventures like hiking through the desert and checking out all sorts of neat geological formations that you can find right outside. There's nothing better than being outdoors when it's hot because then everything feels cooler (even though technically speaking…it isn't). Plus we're only an hour away from the Grand Canyon so make sure not miss seeing this natural wonder while visiting AZ as mentioned above.
Subscribe on Apple Podcasts , Spotify or Stitcher today!
Conclusion for Phoenix, Arizona Bucket List Ideas
Phoenix is a city that offers many opportunities for adventure seekers. Whether you're looking to hike the Grand Canyon, explore Arizona's diverse landscape, sample some of the best food and drink in America, or take your kids to an awesome water park–Phoenix has something for everyone! If you need more ideas on what bucket list items to do near Phoenix AZ, we've got you covered with this podcast episode!
Related Episodes