Chattanooga, Tennessee: Restaurants, Hotels & Fun Things to Do w/ Liz Pessaran
In this session of The Everyday Bucket List Podcast, I speak with Liz Pessaran. Find out why Chattanooga Tennessee is definitely worth a visit. You'll also hear a little snippet about what it's known for from a local's perspective, the many popular and unique things to do for adults, couples, families and more. Also, my guest gives her opinion about the best areas to stay while there. Get the scoop on restaurants and hotels too. If you need things to do today, this weekend or for a trip down the road, listen to this episode.
Prefer to listen elsewhere? Here's the same episode on: Apple or Spotify!
It takes a great deal of time and energy to create episodes. In order for me to make great content for you, some of the resources below have affiliate links. If you purchase something through a link, I would make a small commission at no additional cost to you. Also, consider working with me.
Today's Everyday Bucket List Guest
I'm happy to welcome Liz Pessaran to the Everyday Bucket List Podcast!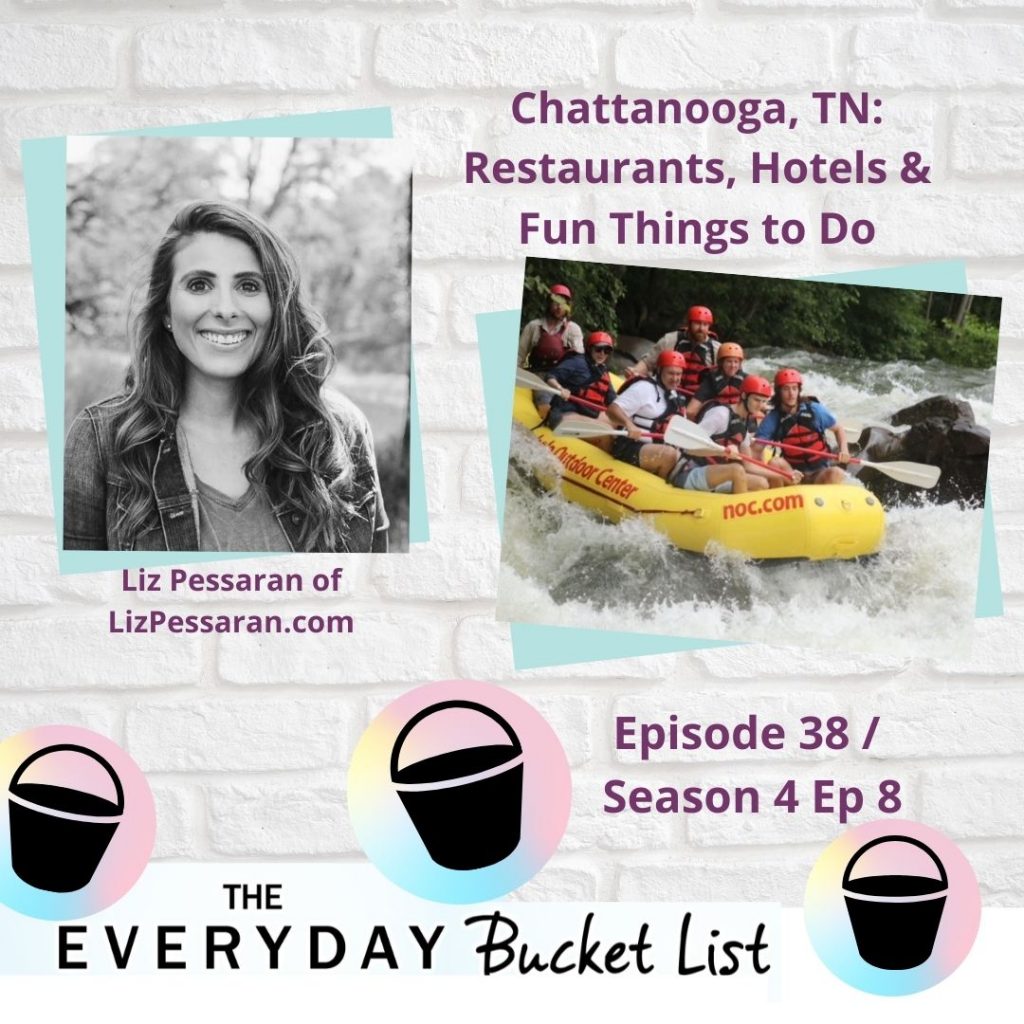 Liz Pessaran of LizPessaran.com
Liz Pessaran is a Licensed Therapist, Life Coach and Speaker who helps people around the world let go of what they "should" do and embrace what they feel "connected to". She helps folks thrive in their own purpose, walk away from their unfilled jobs and lifestyles and step into their dream career and cultivate the life they always desired. With nearly a decade of counseling experience, Liz utilizes her unique skill set to guide women to tap into their deep soul so they can shatter the box of limited belief and embrace their inner magic. Liz has a Masters in Counseling Psychology and is trained as a Life Coach with the Beautiful You Life Coaching Academy. You can connect with Liz at her website and Instagram. She currently resides in beautiful Tennessee with her husband and dog, and loves to travel often.
What You'll Learn about Chattanooga, Tennessee Things to Do
Find out what Chattanooga, Tennessee is known for
Discover the many popular, fun and unique things to do there
Get the scoop on Chattanooga, Tennessee restaurants and hotels and find the best areas to stay
RESOURCES FOR CHATTANOOGA, TENNESSEE THINGS TO DO

The perfect getaway for those looking to escape the cold winter chill, Chattanooga is an ideal destination. The city offers visitors a variety of activities including tours (coastal and military history), music festivals as well as nature walks in its parks across all seasons!
Is Chattanooga worth visiting?
It's time to take that long-awaited vacation. Have you been thinking about visiting for awhile now, but just can't decide? Well I am here with good news! Chattanooga is a wonderful city worth checking out if your plans include some lively entertainment and excellent food options as well as plenty of things do do outdoorsy activities like hiking or biking around town on one of their many trails. The Volunteer Spirit Scenic Byway offers stunning views while taking visitors through rolling country side perfect scenery where they can stop at farm markets along the way.
What is Chattanooga best known for?

Chickpeas, country music and the Chattanooga Choo Choo song! Some might say that it's best-known because of its location. It sits at the convergence point between two rivers which forms Environment Tennessee River Valley; an area rich in natural resources like wooded areas or mountains as well as industry due to close proximity (less than 100 miles) from economy hubs such southern cities such Georgia's Atlanta metropolitan region).
Is there a lot to do in Chattanooga?
The answer is an emphatic yes! There's so much going on all the time, you'll never get bored. Whether it be live music venues or galleries that showcase local artwork and artists alike–Chattanooga has something for everyone here at home (and abroad) including locals too.
Chattanooga is a city of Activities. From its world-renowned aquarium to the Tennessee River, there are plenty things for everyone in this bustling metropolis!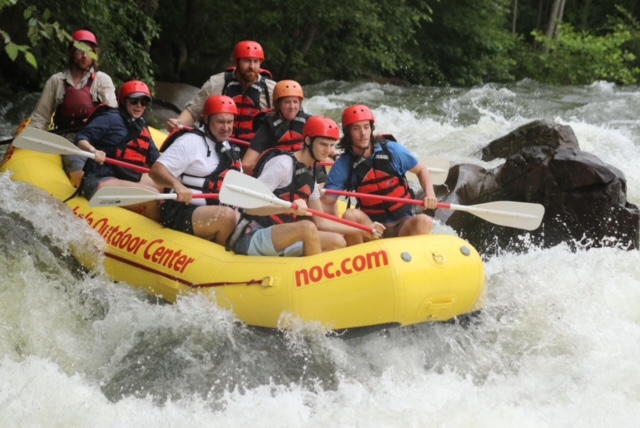 Popular, Fun & Unique Things to Do in Chattanooga
If you are looking for a way to get away from the hustle and bustles of everyday life, then head over to Chattanooga. Visitors can enjoy all that this city has offer with an adventurous twist!
For those who want more than just exploring museums or going on walks through nature trails,there is also plenty in store as well. From playing tennis at one of two public courts (with lessons available) to taking luxurious bike rides along scenic roads lined by historic buildings such as Lookout Mountain House. Or perhaps, get your fortune told while sipping coffee inside cozy cafes.
Ruby Falls – Located in Chattanooga, Tennessee are an unexpected attraction that you'll want to see. These underground waterfalls run through the rock like a river. They can be viewed from up close or on top with views of its many facets! A lot of people live in Chattanooga, Tennessee but not many have heard about the Ruby Falls. It's a 75-foot tall underground waterfall that can be found near Walden Ridge and Lookout Point.
Though located on private property, the grounds are open to visitors all year round for $5 per person or you could also buy tickets through tour companies like Adventure World Tickets if there is something specific off season when prices might go down – I don't know because they weren't available online at least according what search engines turned up (no pun intended).
Smokey Mountains – This a popular destination for mountain getaways. The beautiful views and pristine environment make it an ideal spot to spend time with loved ones, or enjoy nature on your own terms in this lush forest preserves. Tents at the base of Lookout Mountain offer guests cozy accommodations that overlook scenic areas like Hiwassee River Gorge State Park below as well as nearby historical downtown Chattanooga!
Do you want to spend your time doing something fun? There are plenty of activities in Chattanooga for people who love adventure. You can go scuba diving or white water rafting while experiencing all that this city has going on!
Here are even more things to do:
Kayaking
Hiking
Hunting
Paddle boarding
Fishing
Tubing
Whitewater rafting
Hiking
Swimming holes
Cornfield
Sunrise/Sunset kayaking adventures
Roller skating
Drive-in at a cornfield
Chattanooga, Tennesee Hotels
The best hotels in Chattanooga, Tennessee are a few clicks away.
Get your hotel bookings done now and you'll surely enjoy the perks of staying at a budget-friendly spot or one if these luxurious properties! Depending on your preferences, there are a wide variety of great places to stay in Chattanooga, TN.
The emerald-green waters of the Chatamieee River surround some glamorous hotels in Chattanooga, Tennessee. The trees along this river give it an idyllic look and feel that is not typical for most cities across America . The elegant mansions line both sides as you make your way upriver from downtown near Lookout Mountain where there are plenty of activities like hiking trails or swimming during hot summer days.
Edwin Hotel – Ahh, the Edwin Hotel in Chattanooga. The quaint little boutique hotel has really cool features that make it stand out from other hotels I've been to! From its antique elevator and rooftop terrace with spectacular views of central Tennessee alike; there's not much this place can't offer you.
Kinley Hotel – The Kinley Hotel is a hotel in the city of Chattanooga, Tennessee. It's known for its Southern charm and hospitality! The Kinley Hotel is an historic landmark in Chattanooga, Tennessee. The hotel opened its doors for business more than one hundred years ago and it's still going strong today!
Dwell Hotel – Who says you can't have a good time in Chattanooga? The Dwell hotel is the place for people who want to get away from their everyday lives. This Georgia town has all kinds of fun activities, whether it's sightseeing or just taking some time off work on vacation with family!
The Moxie Hotel – This hotel offers you the best of both worlds: affordable rates, world-class service. They have spacious rooms with luxury features such as whirlpool baths and private terraces that overlook downtown Chattanooga for those who want it all without breaking their budget!
Look for these fascinating places to stay here.
Chattanooga, Tennessee Restaurants
The many flavors of Tennessee are on full display in Chattanooga.
A city with a strong Southern heritage, this bustling metropolis offers visitors an array or fresh seafood and local produce as well as music venues from which to enjoy live performances by talented musicians who call it home base!
St. John's Restaurant – This is a restaurant in Chattanooga, Tennessee that has been around since 1939 and still manages to maintain its old world charm while also appealing modern tastes with renovations of the interior every now and then – they're not afraid about changing things up!
Rembrandt Coffee and Pastries – This is a one-stop shop for all your coffee needs. They have lattes, cappuccinos, iced coffees as well! Their pastries are delicious with flavors like red velvet cake or chocolate chip cookie dough–you're sure to find something worth eating here.
The prices at this establishment won't break the bank either: their brewed beverages can be had for about $1 per ounce while other items such as breakfast sandwiches go anywhere from $5-$8; if you want dessert (who doesn't?), they offer ice cream in nearly every flavor under sun plus shakes made just how we like them -with whipped topping or without.
Clumpy's Ice Cream – This spot is a small-town chocolicious treat in the heart of Tennessee. With five different flavors to choose from, there are always new and exciting combinations waiting for you at Clumpys!
Flying Squirrel – The Flying Squirrel is a unique and delicious restaurant in Chattanooga, Tennessee. They serve up dishes that are made with the finest ingredients to capture that fresh taste of nature-flying squirrels included!
The Bluegrass Cafe – This is a quaint little coffee house that has been around for more than 20 years. They serve fresh baked goods and breakfast all day long to keep you going through your busy workday!
Everyday Favorite:
Book(s): Any books by Brene Brown
Also, check out The Everyday Bucket List Book if you want to get serious about a travel bucket list or accomplishing other types of unique bucket list ideas that you can do in everyday life. The worksheets and the Now and Later Rule™ help you prioritize and connect the dots financially.
Subscribe on Apple Podcasts , Spotify or Stitcher today!
Related Episodes