Bucket List: Journey to Gosport & Portsmouth in England w/ Tim Heale
In this session of The Everyday Bucket List Podcast, we will be talking with journalist and film producer Janet Forman about things to do, eat and see in Harlem, New York, including fancy French restaurants, incredible architecture and historical areas. Whether it's on your bucket list or not, listen to my guest's insider tips. Plus, catch part 7 of our money saving tip series!
If you're looking for a fun and educational vacation destination, consider Gosport and Portsmouth in England. In this session of The Everyday Bucket List Podcast, we will be talking to local Tim Heale of the Tim Heale Podcast. There are loads of museums to explore, as well as history around every corner. You won't run out of things to do in this vibrant seaside town. So what are you waiting for? Plan your trip today!
Prefer to listen elsewhere? Here's the same episode on: Apple or Spotify!
It takes a great deal of time and energy to create episodes. In order for me to make great content for you, some of the resources below have affiliate links. If you purchase something through a link, I would make a small commission at no additional cost to you. Also, consider getting The The Everyday Bucket List Book to live a happier, more fulfilling life and create your list today using my signature process.
Today's Everyday Bucket List Guest
I'm excited to welcome Tim Heale to the Everyday Bucket List Podcast!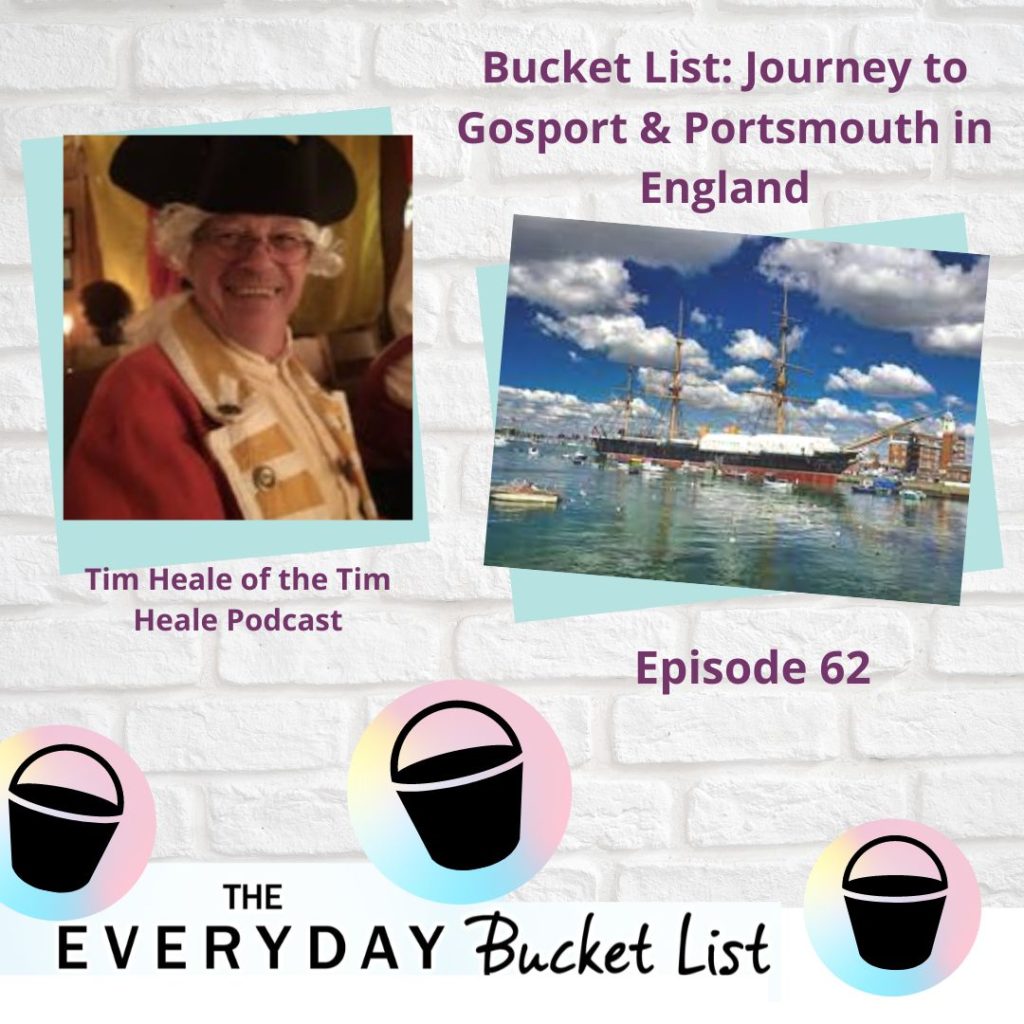 Tim Heale of The Tim Heale Podcast
Having spent most of his adult life under the colors of the British army, from being an infantry soldier to being an experienced P S Y O P S operator on seven operational deployments. Tim has had some amazing opportunities.
He also played a lot of rugby and competed at the British Telemark championships several times. He also taught hang-gliding, played American football for Milton Keyne's Pioneers, and has experience as an offshore sailor sailing to the Baltic and back and around the UK with his wife and ship cat named art.
Tim spent his last years in the army as a unit welfare officer for London, central Garrison, and has taken part in all the ceremonial duties in London during that time. Now retired, he spends his time podcasting, vlogging, and serving on the Portsmouth & Gosport History Groups & Sailing Committee.
Here's What You'll Learn About Gosport and Portsmouth in England
Which part of England is Portsmouth?
Is Gosport and Portsmouth worth visiting?
What is Gosport and Portsmouth famous for?
Things to do in Gosport and Portsmouth
Places to stay overnight and more
Which part of England is Portsmouth?
Brittanica.com describes Gosport as a "historic county of Hampshire, England. It lies on a peninsula between Portsmouth Harbour and The Solent, opposite the Isle of Wight."
Is Gosport and Portsmouth worth visiting?
Portsmouth is a great waterfront city situated in south Hampshire, England. The city is home to many historic ships, including the Mary Rose, the HMS Victory, and the HMS Warrior. Portsmouth also has a rich maritime history, and was once a major naval port. Today, the city is a popular tourist destination, with attractions such as the Portsmouth Historic Dockyard, the Spinnaker Tower, and the D-Day Museum. Portsmouth is also home to a number of universities, making it a great place to study. Whether you're interested in history, maritime studies, or just want to enjoy the city's many attractions, Portsmouth is definitely worth a visit.
What are Gosport and Portsmouth famous for?
Gosport and Portsmouth are two cities located in the southeast of England. They are both situated on the coast, and as a result, they have a long history of fishing and trade. Gosport is especially known for its shipbuilding industry, while Portsmouth is more renowned for its naval base. Both cities were heavily bombed during World War II, but they have since been rebuilt and now offer a variety of tourist attractions. Among the most popular are the Spinnaker Tower in Portsmouth and the Royal Navy Submarine Museum in Gosport. Visitors can also enjoy the many parks and gardens, or take a boat trip out to see the famous coastline. Whatever you choose to do, Gosport and Portsmouth are sure to offer a memorable experience.
Things to Do in Gosport and Portsmouth in England
If you're looking for things to do in Gosport and Portsmouth, England, we've got you covered. From restaurants and museums to places to stay overnight, we've got all the information you need right here. So pack your bags and get ready for an amazing trip!
Here are some ideas from the show:
Restaurants
If you're looking for a good place to eat in Gosport or Portsmouth, you won't be disappointed. There are plenty of restaurants to choose from, ranging from casual cafes to fine dining establishments. And with so many different cuisines on offer, you're sure to find something to your taste. Whether you're in the mood for Italian, Chinese, Indian or something else entirely, you'll be able to find it in one of these towns. So why not head out for a meal and explore what Gosport and Portsmouth have to offer? You might just find your new favorite restaurant.
Here's a few places mentioned on the show:
Powder Monkey Brewery
Weatherspoon's
Places to Stay in Gosport & Portsmouth
There are plenty of places to stay overnight in Gosport and Portsmouth, England. Budget hotels are plentiful in both cities, and there are also a number of air bnb options available. For those who prefer a more traditional approach, bed and breakfast accommodations can be found in both cities as well. For those looking for something a little more outdoorsy, there are campsites located just outside of both cities. No matter what your preferences are, there is sure to be a place to stay that meets your needs in Gosport or Portsmouth.
Here are a few mentioned on the show:
Travelodge
Alva Bank House Hotel
Old Lodge Hotel
Other Information about Gosport & Portsmouth in England
The weather in Gosport and Portsmouth is mild year-round, so it's the perfect place to escape the cold winters or hot summers. If you're looking for a little bit of adventure, why not plan a trip to London? And with ample transportation options available, it's easy to get around.
Weather in Gosport & Portsmouth, England
Portsmouth England is located in the southern part of the country and has a temperate climate. The average temperatures range from around freezing in winter to about sixty-five degrees Fahrenheit in summer.
Portsmouth experiences relatively little rainfall, averaging about nineteen inches per year. However, the city does get a fair amount of snow in the winter, with an average of six inches per year. Despite the occasional snowstorm, Portsmouth is generally a pleasant place to visit, with mild weather and beautiful scenery.
Portsmouth to London
There are many ways to travel from Portsmouth to London, and the best option for you will depend on your budget and preferences. If you're looking for the quickest and easiest way to get to London, taking the train is probably your best bet. The journey takes just over two hours, and there are trains departing every 30 minutes or so.
If you're on a tight budget, however, you might want to consider taking the bus. The journey takes a bit longer than the train (around four hours), but tickets are usually significantly cheaper. And if you really want to save some money, you might even be able to find a ride share with someone who's already making the trip. Whichever way you choose to travel, Portsmouth and London make for an easy and enjoyable journey.
Conclusion for Visiting Gosport and Portsmouth in England
If you're looking for a fun and interesting place to visit in England, visit Gosport and Portsmouth. There are loads of museums and historical landmarks around every corner, and plenty of other fun things to do as well. Be sure to plan a trip soon!
Subscribe on Apple Podcasts , Spotify or Stitcher today!
Related Episodes