Is Luxembourg on Your Bucket List? Get the Details with Jonathan Verhaeghe
In this session of the Everyday Bucket List Podcast, I chat with Jonathan Verhaeghe of The Joney Talks podcast and website. If you've ever Googled "vacation in Luxembourg" and always wanted to visit, you're in luck. We chat about what to do while there. Whether you're looking for things to do in Luxembourg City for 1 day or multiple days, plan a visit to see castles like the Vianden or eat at a restaurant with Luxembourg cuisine or find Michelin Star Restaurants. We also discuss how he's been able to live in several countries including Norway & France. We even get the scoop on when Luxembourg hotels including 5 star ones that are cheaper to visit as well as some of Jon's fulfilling non-travel bucket list ideas.
Prefer to listen elsewhere? Here's the same episode on: Apple or Spotify!
Some of the resources below have affiliate links. If you purchase something through a link, I would make a small commission at no additional cost to you.
Today's Podcast Guest
I'm happy to welcome Jonathan Verhaeghe to the Everyday Bucket List Podcast!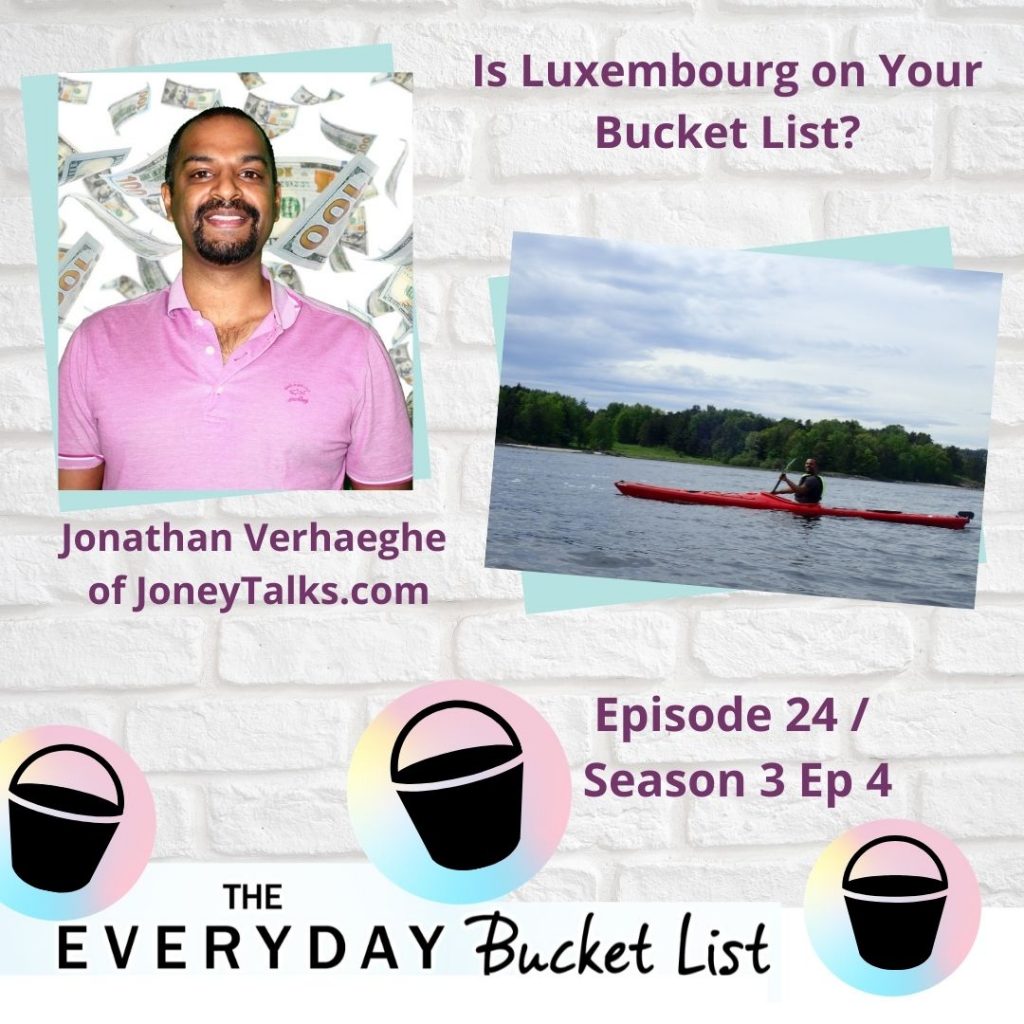 Jonathan Verhaeghe of JoneyTalks.com
Jonathan Verhaeghe is a Belgian personal finance blogger & podcaster with a unique approach to life & investing. He believes we're all weird in our own way, so we might as well embrace it. Jonathan holds an Msc. degree in business engineering and pulls from a breadth of life experience—he's lived in Norway, Luxembourg, France & Belgium—to tell stories and educate people about money matters.

What You'll Learn About Fun Things to Do in Luxembourg
Find out what Luxembourg is famous for
Get the scoop on why Luxembourg is so rich
Is there a lot to do in Luxembourg? Find out today.
Discover things to do in Luxembourg City in 1 day
What is there to do in Luxembourg in 2 days or more?
Find out about Luxembourg cuisine and other meals to eat
Resources for Luxembourg
There's a restaurant called Chiggeri for general cuisine (steak, pasta, etc.). They have a wonderful terrace and a beautiful view. They had very extensive wine list.
Michelin star restaurants, which I have not tried yet, but then there's a lot of very good restaurants in the city center, actually. Most of them are good. Some are a bit more fancy.
Mexican Restaurant one called Mamacita.
There's an Italian one, which was very good for pizza. It's called Notaro. It's a bit further away from the city, but still very central. And they also have the very large a wine list as well. It's good and affordable.
Dishes from Luxembourg such as Gromperekichelcher or a soup called Bouneschlupp
Whether you're creating a summer bucket list or just planning a vacation any time of year, be sure you have the basic travel gear and allot time in your schedule to go away.
Listen to Jon's Stairway to Heaven cover
Luxembourg Hotels
Lux: Hotel Royal in the middle of the city, and then for budget-friendly you can look at Sieweburen (typical Luxembourgish).
Hotel where Jon's parents slept: Hotel Bon Repos. If you'd like to support the show, take a peek at the wide variety of Luxembourg 5 star hotels as well as other great hotels, book a stay here.
Some of Jonathan's Everyday Favorites
Podcast(s)
Do You Even Blog?
The Tim Ferriss Show
Book(s)
Other Book(s):
Also, check out The Everyday Bucket List Book if you want to get serious about a travel bucket list or other types of unique bucket list ideas that you can do in everyday life. The worksheets and the Now and Later Rule™ help you prioritize and connect the dots financially.
Connect with Karen on Twitter
Related Episodes