Southampton, England: Things to Do w/ Tim Thomas
Southampton is a bustling city on the south coast of England. While it may not be as well-known as London, there are plenty of things to do and see in this vibrant town. From its famous medieval cathedral to its busy shopping district, Southampton has something for everyone. And with its close proximity to London, it's the perfect place to visit for a day or weekend trip. So if you're looking for an interesting destination that's off the beaten path, be sure to add Southampton to your list! Listen to the podcast today!
Prefer to listen elsewhere? Here's the exact episode on: Apple or Spotify!
If you want to receive more Everyday Bucket List Podcast episodes, get access to them regularly through your device. They're sent your way as soon as they're published. Subscribe on Apple Podcasts, Spotify or Stitcher today!
It takes a great deal of time and energy to create episodes. In order for me to make great content for you, some of the resources below have affiliate links. If you purchase something through a link, I would make a small commission at no additional cost to you. Also, consider getting The Everyday Bucket List Book to live a happier, more fulfilling life and create your list today using my signature process.
Today's Everyday Bucket List Guest
I'm excited to welcome Tim Thomas to the Everyday Bucket List Podcast!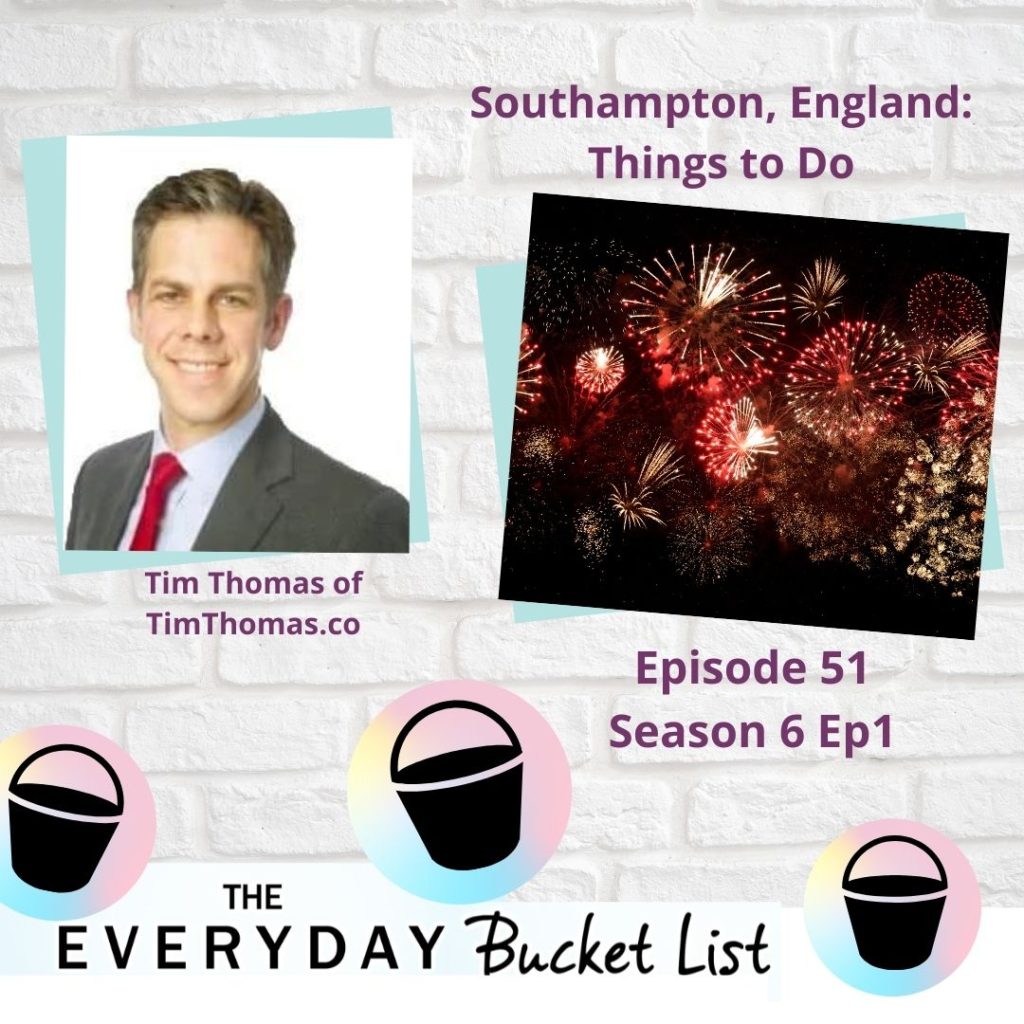 Tim Thomas of TimThomas.co
Tim Thomas is the founder of TimThomas.co. He's been trading and investing for over 20 years and has made every investing mistake possible. He documents the many errors and the lessons learned about what the markets have taught me along the way.
Along with swing trading and investing, he loves communicating and teaching others what he's learned through his blog and online course. Thomas also writes for MSN, The Ladders, Wealth of Geeks. He has also shared his insights on The Street, The 5ers, the Forex Training Group among others. Tim Thomas was born in Guildford, but now lives near Southampton in the UK with his family.
What You'll Learn About Southampton, England
Is Southampton UK worth visiting?
What is Southampton, England known for?
Is Southampton, England close to London?
Discover exciting things to do in Southampton, England
Is Southampton UK worth visiting?
The beautiful, historic city of Southampton UK is worth visiting! It's a must for anyone who loves ocean-going liners or shopping at popular centers. If you're looking to have some fun in this seaside town then head on over the Sea City Museum where there are exhibits about ship building during colonial times all through modern days! And don't forget about Tudor House and Garden – it was once owned by Winston Churchill.
What is Southampton, England known for?
Southampton is a city of deep history, and its connection to the Titanic has not left it alone. Not only did Southampton host 500 people who were on board with RMS Titanic when she sunk; many more lived there before their fate was decided by an ocean away from home base.
The Mayflower also set sail out of Southampton on an adventurous journey to North America, carrying members of the Pilgrims society who had dreamed about establishing a permanent settlement since 1610. The group arrived at their destination with only one ship and many hardships ahead but founded what would become known as Plymouth Colony in modern-day Massachusetts.
Is Southampton, England close to London?

The city of Southampton is not too far from London. The drive between Southampton and London is roughly 80 miles (130km) long. With plenty of time, you can make the journey in just two hours! There are many cruise customers who use public transportation or car services for their travels – but if that's not an option then take note: there are also tons on buses that will get you where need to go.
Things to Do in Southampton
If you're looking for a fun and affordable way to get out and explore, Southampton cruises are the perfect option. You can take a walk on the new forest, enjoy some tudor style home charm, or just relax and take in the sights. The area has amazing scenery and gorgeous views too.
The New Forest National Park
The New Forest is located in the south of England. It's not really a forest, but more of a mix between woodland and heathland. The New Forest was created by people over a period of 1,000 years or so. Although it may look natural to us today, it's actually an entirely human-made landscape. Get more details about The New Forest National Park here.
Milford-on-Sea
Despite being a small town, Milford-on-Sea is a popular tourist destination located on the Hampshire Coast. With its beautiful location, it's easy to see why people are drawn here. The town has all the amenities you would expect from a coastal resort town, including restaurants, pubs, and shops. There's also plenty to do in terms of outdoor activities, such as hiking and sailing. If you're looking for a relaxing getaway in an idyllic setting, Milford-on-Sea is definitely worth visiting!
Winchester Near Southampton, England
Today, we're going to explore the city of Winchester in England. Winchester is a historic city that's located about 60 miles southwest of London. It's best known for its association with King Arthur and the Knights of the Round Table.
Winchester is also a great place to live. In fact, it was voted one of the top 10 places to live in the UK in 2017. The city has plenty of green spaces, restaurants, and cultural attractions. If you're looking for an interesting day trip or weekend getaway, Winchester is definitely worth visiting. There's something for everyone in this charming medieval town.
Bonfire Night
If you're visiting during the Fall, check out bonfire and fireworks in Winchester or Southampton. The event has been going on since 1662 when to Guy Fawkes attempted to blow up Parliament and force a coup but failed. Fires represent the failed attempt. People celebrate with a blaze on the beach and fireworks over ships at sea!
Southampton Port & Cruises
Southampton, England is a quaint little town with plenty of history. The Port of Southampton has been around since 1350 and it's still going strong today! There are several cruises that leave from this seaport to take passengers on tours throughout Britain's rich maritime heritage including its ports past & present – something for everyone no matter their age or ability
Southampton Hotels
Come and experience the wonderful places this country has to offer. Whether you're looking for an action-packed weekend with friends or family, or you want some time just relaxing by the pool on a sunny day – there are plenty of options available in Southampton that will suit everyone's needs! Both Southampton and Winchester have Travelodges for budget-friendly travel. The Wykeham Arms is fancier place to stay. It has a restaurant attached to it too.
The best hotels in Southampton are right on the water. They have beautiful views, and it's easy to get around town because they're close together! Take a peek at the hotels the area has to offer.
If Tim was visiting the UK and staying in London, he recommends a 3 or 4 day visit to the area. He would base himself in Winchester and use it to visit the places he's mentioned on the show. Try The Wykeham Arms restaurant / pub with a hotel attached for roughly $170 per night. If you need more budget-friendly accommodations, the Travelodge in Winchester is around $80 per night. It's a safe place to stay in Winchester. Just keep in mind that parking can be a problem if you rent a car.
Southampton, England Map
Southampton is a port city in southern England. It's known for its beautiful architecture, including some large modern buildings that were built with locally sourced materials and an impressive canal network which wraps around most major landmarks within the downtown area . The mapping process of this destination can be difficult because there are so many different ways to get from point A (the airport) all over town but once you're scenting your surroundings it becomes clear where everything fits into place geographically speaking!
Here is a map via Map Data.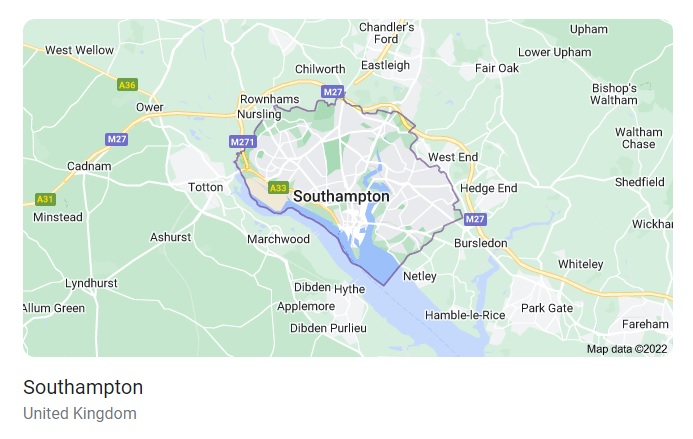 Conclusion for Southampton, England
Things to do in Southampton England are varied and plentiful. There's the Ocean Village coastal path with its uninterrupted views of blue skies over water or whether you want something quieter, explore caves by boat on a guided tour trip where there'll be plenty more time for talk than action!
Subscribe on Apple Podcasts , Spotify or Stitcher today!
Related Episodes