Melbourne, Australia Bucket List Travel w/ Linda King of TheSmartTravelista.com
When I think of bucket list travel, a place like Melbourne, Victoria in Australia comes to mind. There is so much to do and see in this city, from the Eureka Tower to the Eureka Tower. Be sure to check out the Queen Victoria Markets for some of the best seafood around. And don't forget to try something new while you're there – like Australian Rules football! What will you add to your bucket list after reading this post?
Prefer to listen elsewhere? Here's the exact episode on: Apple or Spotify!
It takes a great deal of time and energy to create episodes. In order for me to make great content for you, some of the resources below have affiliate links. If you purchase something through a link, I would make a small commission at no additional cost to you. Also, consider hiring me.
Today's Everyday Bucket List Guest
I'm happy to welcome Linda King to the Everyday Bucket List Podcast!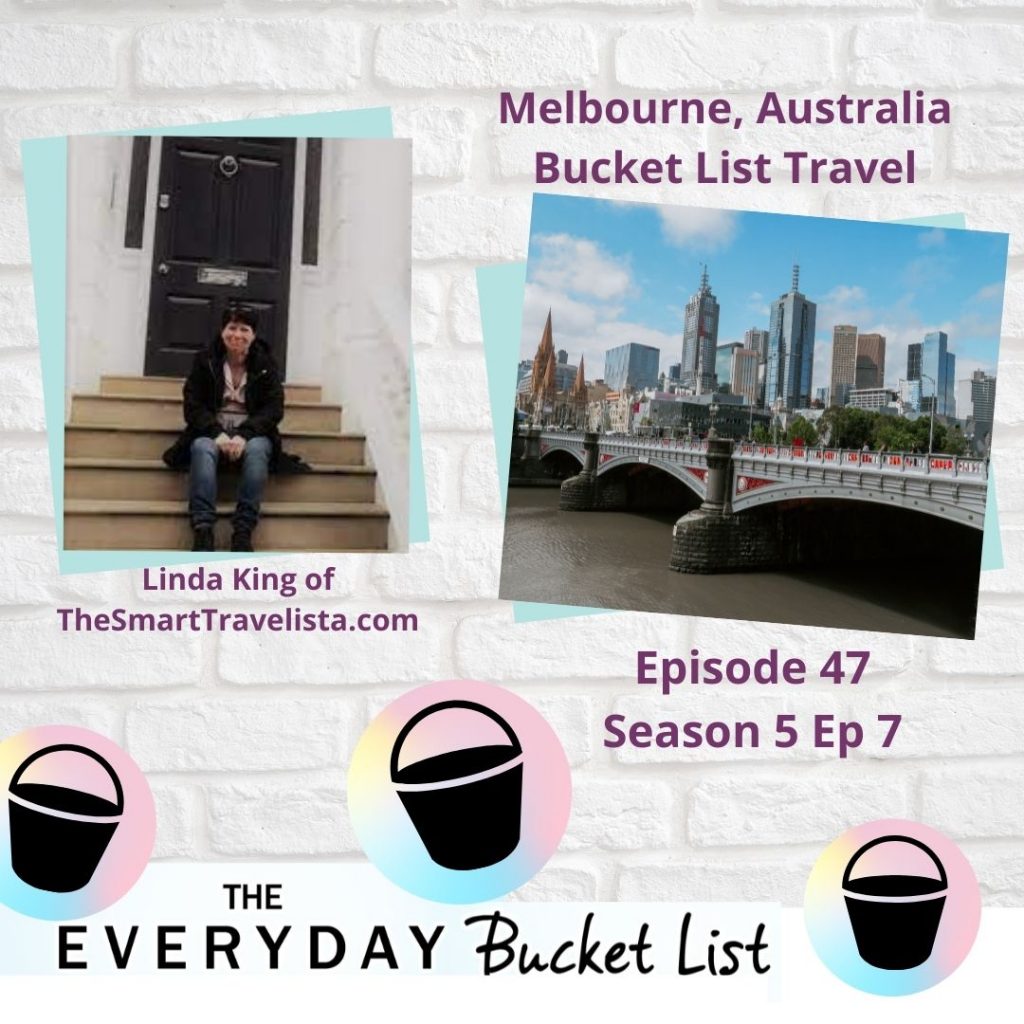 Today we have Linda King of TheSmartTravelista.com
Linda King is an author, travel writer, blogger, speaker and founder of The Smart Travelista. She's written and self-published four books in the Smart Travelista series. Previously, she was a travel agent and banker and The Smart Travelista brand was created from her love of travel and saving money.
What You'll Learn About Fun Things to Do in Melbourne, Victoria, Australia
What Melbourne, Australia is known for
Things to do in Melbourne
Discover great restaurants and hotels
Hotels in Melbourne, Victoria, Australia
Where will you be staying? Melbourne has a variety of hotels to choose from. Whether you want to be right near the tourist attractions or further out, there are a number of places to stay.

Restaurants in Melbourne, Australia
Seafood Restaurants
Why not try some of the finest seafood restaurants in Melbourne? There are plenty to choose from, and they offer menus filled with delectable offerings. You can start off by ordering appetizers such as fresh oysters or grilled prawns before moving onto an entrée like garlic-butter baked lobster tail paired perfectly together on a bedding made up primarily out roasted vegetables which have been tossed lightly coated twice during their preparation time.
Check out:
Claypot's Barbarossa
Rubira's
Grab a Yabby
Box Seafood Restaurant
For Quick Bites:
Hunky Dory
Kiwi Fish and Chips
The Fish House Australian Seafood Company
Sea Salt Sushi and Seafood Cafe
Greek Restaurants in Melbourne, Victoria, Australia
What are you, some kind of foodie? The best way to find good Greek restaurants is by asking around. If you're not that friendly, you can also listen to the one mentioned by the guest today or check out this article to guide your decision.
Italian Restaurants in Melbourne, Victoria, Australia
Italian food is popular all over the globe. Get real Italian food in the land down under. Find authentic restaurants with real Italian chefs who know how make some awesome dishes like pasta or pizza come alive on your plate! Check out some of the ones highlighted in this article.
Things to Do in Melbourne, Victoria, Australia
Though we answer some of these questions on the show, you can take a peek at what most people typically want to know.
What is Melbourne, Australia known for?
Melbournians are known for their passion, love of sport and the outdoors. They also enjoy good coffee!
Eureka Tower
The Eureka Tower in Melbourne, Australia is an interesting architectural marvel. Built to symbolize strength and purity through its resemblance with Mount Everest (the tallest peak on Earth) while also paying homage those who have sacrificed their lives for this country's freedom; it stands as both our heritage–and sometimes even more than just that: Our pride!
Queen Victoria Market
The Queen Victoria Market in Melbourne, Australia is an authentic and magical place. It's full of life with people selling their wares on every street corner while you enjoy some fresh fruit or freshly made coffee at one the many cafes inside!
Collin Street
Collin Street is a popular street in the city of Melbourne. It runs from east to west and has many restaurants, coffee shops and other places that offer what's needed for an enjoyable day out on foot or by car!
The Australian Football League
The Australian Football League (AFL) is an annual competition in which each team plays against every other one. The season lasts for about 70 days and there can be as few as 18 or 19 games played at any given time, depending on how many teams are competing – but don't worry; even without watching all those matches day-in/day out, you'll still get your fill because it's always exciting!
Tram in Melbourne, Australia
It's time to get on the tram in Melbourne, Australia. This way you can enjoy all of your scenic destinations without having any worries about driving or how long it will take because this transportation is perfect for people who want an easy ride with plenty interesting views!
Conclusion for Things to Do in Melbourne, Victoria
Melbourne is a city that has something for everyone. Whether you're a foodie, history buff, or sports fan, there are plenty of activities and attractions to check out in this vibrant city. If you haven't had the chance to visit Melbourne yet, we highly recommend adding it to your bucket list. And if you do go, be sure to try some of the delicious seafood – you won't regret it! Have you been to Melbourne? What was your favorite activity or attraction?
Subscribe on Apple Podcasts , Spotify or Stitcher today!
Related Episodes