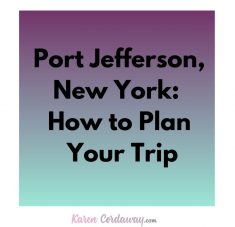 There might be affiliate links in this post. If you click on a link and make a purchase, I receive a small commission. Read my disclosure policy here.
Port Jefferson, New York is a charming historic town for both out-of-towners and locals. When planning a visit to Port Jefferson, you might not know where to begin. Getting pointers from someone who has already been there can save you time and potential headaches. Follow this step-by-step process that will ensure you have a pleasant trip.
Before we dive in, I just want to cover some basic questions most people have.
Is Port Jefferson worth visiting?
Port Jeff, NY is worth visiting for its charming harbor village atmosphere, beautiful waterfront scenery, and a variety of shops, restaurants, and attractions to explore. Whether you're seeking relaxation or adventure, Port Jeff has something to offer for everyone.
What is Port Jefferson, New York known for?
If you haven't heard of this area, I wanted to first point out what it's all about. Wikipedia explains, "Port Jefferson was first settled in the 17th century and remained a rural community until its development as an active shipbuilding center in the mid-19th century.
The village has since transitioned to a tourist-based economy." Whether you take the ferry, train, bus or car out of other parts of New York, you can walk around this historic area and experience all it has to offer.
There's a variety of restaurants with tasty food, scrumptious desserts, interesting shops along with pretty views of the waterfront all within reach.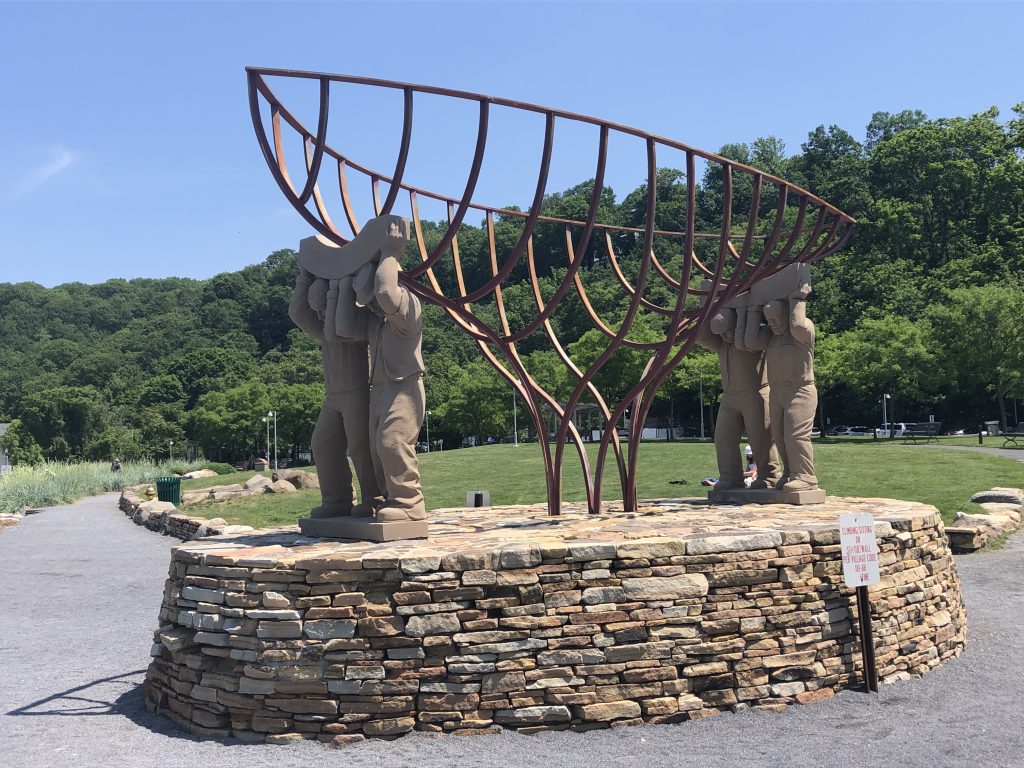 It's worth it to visit Port Jeff if you're close to Long Island or even Connecticut. It's a quaint seaside town that's a bit of a hidden gem. If you're getting there by boat or ferry, expect smooth sailing in Long Island Sound as you make your way to the dock. Once there, Port Jefferson Village offers many interesting shops, impressive restaurants and things to do. The best part is that everything is easily accessible and near the dock once you get off.
Step 1: Check the Port Jefferson, New York Weather
Whether this is the focus of a bucket list adventure or part of a longer trip where you see other interesting destinations in the area, Port Jefferson, New York can be a great place to visit so make room in your itinerary. It's the perfect place to go for a day trip or weekend getaway. It is best enjoyed under sunny conditions or with minimal rain and clouds. Though you probably could do some indoor activities, if there's heavy rain or storms, I would recommend rescheduling for another time.
Step 2: Determine How to Get to Port Jefferson, New York
Figuring out how to get there is half the battle. It all depends on where you are departing from. If you plan on driving through New York or jumping on a ferry out of Connecticut, here are some of your options.
Port Jefferson, New York Driving Directions
If you're traveling by vehicle, take the Long Island Expressway to exit 64 and travel north on Route 112 to the very end. You can also get there by taking Middle Country Road/ Route 25 or Nesconset Highway/ Route 347 and go north on Route 112.
Port Jefferson, New York Ferry
If you leave out of Bridgeport, CT, you can experience an enjoyable ferry ride for roughly an hour. Catch a cool breeze and the sun on your skin at the very top of the ferry or ride down below as you sail along Long Island Sound. One ferry website explains how circus extraordinaire, PT Barnum was the first president of this steam boat company. This same site has the ferry schedule and tickets for purchase.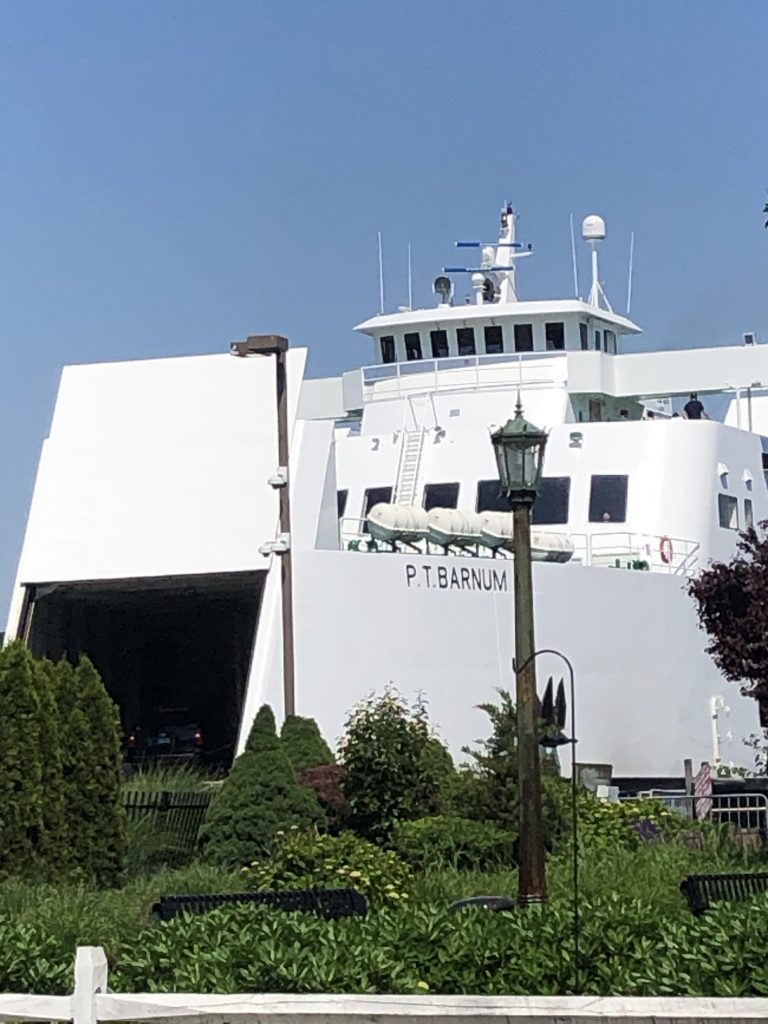 Port Jefferson Ferry Tickets
If you're leaving from Connecticut, the ferry leaves out of Bridgeport, CT. You can purchase Port Jefferson Ferry tickets online. If you go to this website, there's a drop-down menu for the most up-to-date sailing schedules. The times may vary by season so be sure to check the site before you plan your trip.
They recommend that you purchase tickets in advance. Walk-ons can buy tickets online or at the terminal building before boarding. I personally like to already have my ticket. People start lining up right away and that can dictate where you sit since it's first come, first serve. Also, keep in mind that the passengers that are bringing cars get to board before walk-ons.
Even if you're at the front of the line, it doesn't ensure that you'll get first pick at where to sit. If you care, get there early with your ticket so you can hopefully be at the front of the line when boarding to try and get the best available seating.
There are seats that face the side of the ferry as well as ones in the middle that face forward. The one on the side can provide a great view as you travel. There's also limited seating right in the very front of the ferry.

Parking in Bridgeport, CT
If you leave out of Bridgeport, CT like we did, I think it's critical to mention that there's a free parking lot about a half mile away. The ferry company doesn't have parking. If cars are pulling in, it's because people are taking their vehicles on to the ferry with them. We made the mistake of getting in that line, but quickly learned we had to turn around.
There are signs that explain how you park at your own risk. There's a shuttle that can pick you up there and give you a ride to the ferry. That's where we parked. If you rather not park there, check the website for other parking locations.
Step 3: Look into Port Jefferson, New York Hotels & Inns
If you like boutique hotels, Danfords Hotel is located on 25 East Broadway. Experience beautiful views of Long Island Sound while staying here. It's a great place for those who want to relax and unwind at a luxury resort.
If Inns are your thing, you'll find two in Port Jefferson. The Ransome Inn Bed and Breakfast is also located on East Broadway. They offer all private baths, air conditioning and are kid and pet-friendly. If you'd like to stay at an 1800 Victorian, there's also the Fox and Owl Inn on 1037 Main St. Trip Advisor edescribes it as "clean, cozy, affordable bed and breakfast". It's also close to Hour Escape (Escape Room Games Facility), Theatre Three and Amazing Olive. If you plan to stay in the area overnight or at other places close by, get more details here.
Step 4: Find Things to Do in Port Jefferson Village
Walk along the harbor front, check out interesting shops and grab something to eat at one of the many restaurants in town. That's what we did. Here's a recap of our day and some of the fun things we did.
When we got off the ferry it was about 10 AM. Since we had a light breakfast, my husband and I just needed a little something to hold us over before lunch. We stopped at Port Jefferson Frigate. A gluten-free snickerdoodle was a nice dessert before lunch treat. It's one of those places where you'd readily like to try one of everything.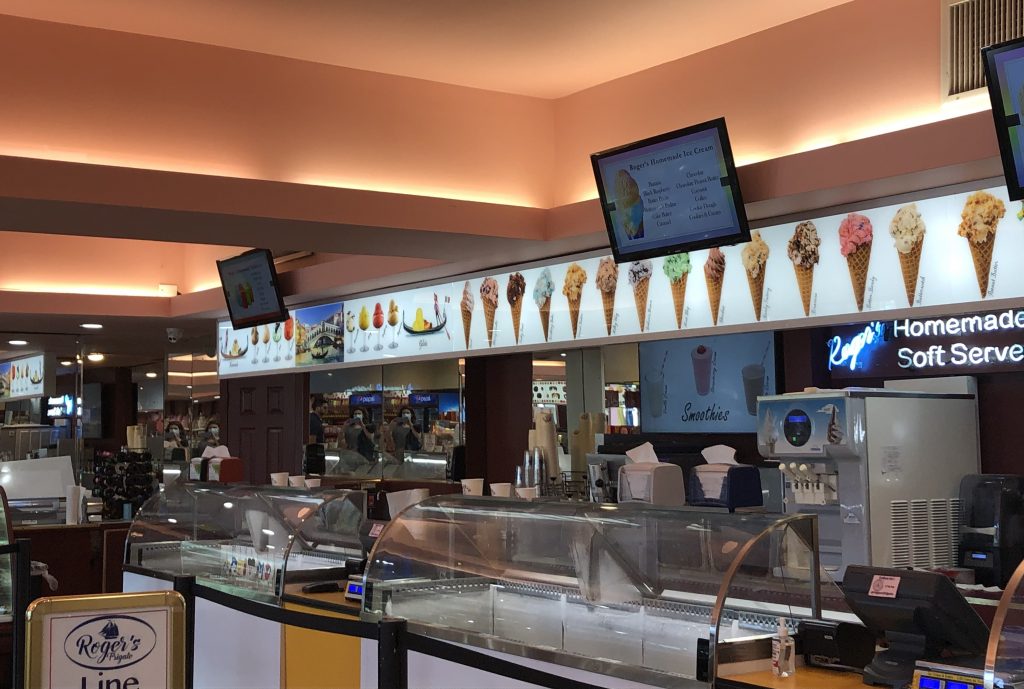 We walked around to see what the town had to offer to explore and kill time before lunch. We saw a historical theater that's like 150 years old. It wasn't something I was able to visit on this day trip, but as I walked by, I found it interesting.
After walking through the streets lined with restaurants and shops, I couldn't resist taking a photo in the big chair there near the harbor. We sat for awhile in the shade listening to a man playing a guitar and watched kids plays in a cool mist that looked like a mini splash pad area.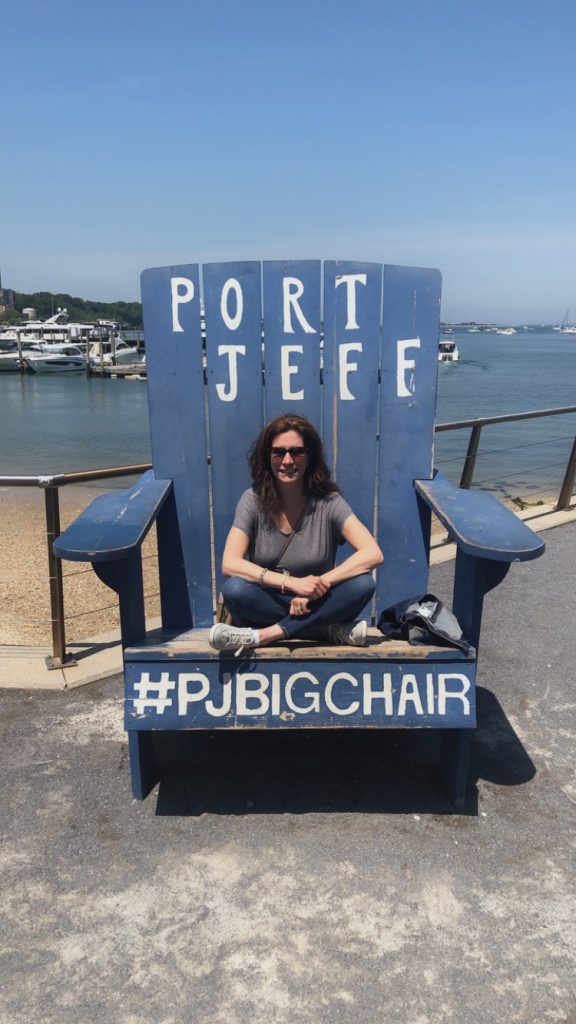 Port Jefferson Restaurants & Eateries
Port Jefferson has a variety of restaurants and eateries that offer different types of cuisines. Some popular options include Toast, Roots Kava Bar, Ruvo Restaurant, and Salsa Salsa.
There are also several upscale and casual dining options such as The Fifth Season, Ruvo Restaurant East, and Pasta Pasta. Additionally, there are seafood restaurants, taverns, and cafes to choose from. There are places offering gluten free and vegan options too. We chose the Tiger Lily Cafe. Click here for a full list of options.
Since I already sampled something from the frigate, I decided to test out a place called Ralph's. It's famous for their Italian ice. They had an Italian ice that has a little bit of cream in it, which I've never tried before. I don't know if that's a Long Island thing or a New York thing, but it was refreshing.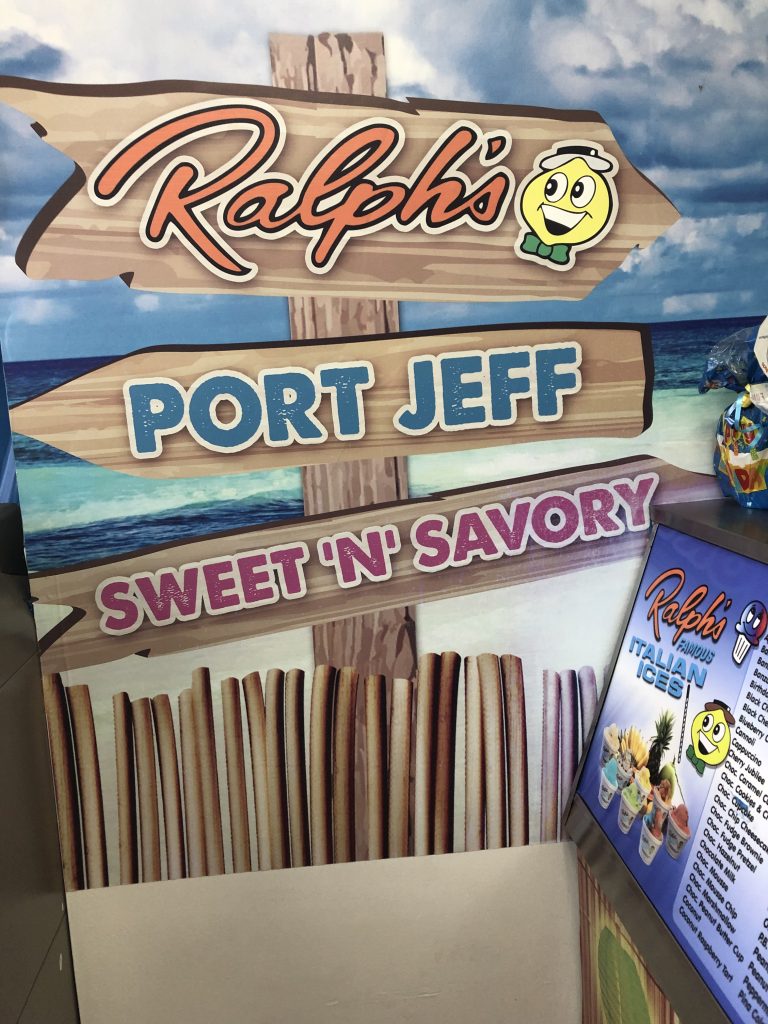 Port Jefferson Shops
On our way to eat, we spotted this interesting shop called Breathe. If you're into jewelry, incense, candles, etc. , then this is for you. We also spotted an old telephone booth that makes for perfect photo ops. I mention it in my last post along with info about the eatery in weekend getaways near CT.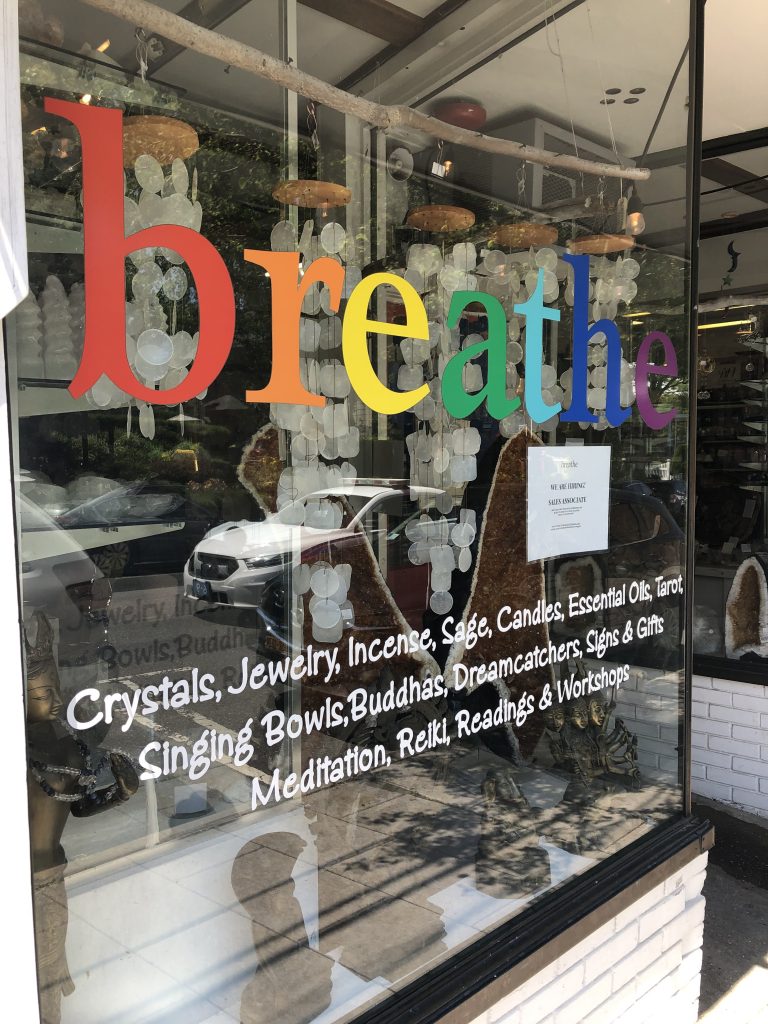 There are a wide array of shops in Port Jefferson. You can find apparel, specialty food stores, jewelry, gifts and more. When I go back, I definitely want to check out The Amazing Olive. According to their site, they offer "the freshest Extra Virgin Olive Oil's and Balsamic Vinegars from award winning producers around the world."
​
They currently have over 70 flavors, with new ones on the way. Pop in and see what's new.  I wouldn't mind stopping by one of their tea places too like The Tea and Spice Exchange or You, Me and Tea.
I also included some of the other things we did in my last blog post about weekend getaways for couples and families in and near Connecticut.
Conclusion for a Port Jefferson, New York Stay
Whether you visit on the ferry from Connecticut or you take a train, bus or car out of other parts of New York, you can walk around this historic area and experience all it has to offer.
Related articles
This was originally posted on July 25, 2021, but has been updated.