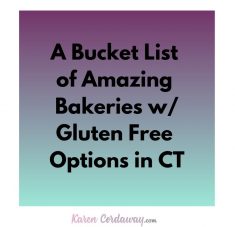 There might be affiliate links in this post. If you click on a link and make a purchase, I receive a small commission. Read my disclosure policy here.
Gluten free bakeries do exist in CT. Some are celiac-friendly while others have gluten free options. No matter where you go, there aren't many things that catch the eye like a bakery case filled with beautifully decorated goodies. If they happen to sell ones that help people with a gluten issue, all the better. If you're looking for a gluten free bakery near me in CT, check out these places.
Awesome Bakeries with Gluten Free Goodies in CT
Conveniently located right off the highway in Branford, CT on Bushy Plains Rd, Love Bakery is tucked away in a plaza. This place serves up tasty treats and delicious lunch items.
After trying the peanut butter bomb, gingerbread (at Christmas) and french toast cupcakes, I feel like I died and went to sweet treat heaven. They even have a lunch menu and serve pernil with rice and gandules! Plus, I like to hand my dollars over to people who have excellent customer service. This place has that.
Located on 74 Whitney Avenue in New Haven, CT, Katalina's Kupcakes is a great spot to grab a sweet treat. I recently tried their gluten free cupcakes. The raspberry chocolate was very tasty, but the chocolate with chocolate frosting took the cake for me.
Located on 1000 Chapel Street, Claire's Corner Copia has been serving up delicious vegetarian eats since 1975. I've been a fan of theirs since high school and continue to go back whenever possible.
I love their Lithuanian coffee cupcake. Outside of being devoted to making delicious vegetarian food and baked goods, they also support the community and implement multiple environmental initiatives to reduce their carbon footprint.
This shop believes that people shouldn't have to compromise their health to indulge a bit! Their website boasts that their facility follows strict gluten-free guidelines, "and because the products are also vegan, they are naturally free of cholesterol, trans-fats, and all other unwanted elements found in animal based ingredients."
I purchased some of their artisan chocolate treats from the animal collection. It was my first time there and I loved it. Though an hour drive from where I live, it was well worth it.
Whether you try the mouse made with organic chocolate and peanut butter or a bar of chocolate filled with pecans and caramel with a turtle on top, you can purchase them individually or get an assortment in a box.
According to their website, Gabriel Morris turned her love of baking as a child with her grandma into a business. She is a formally trained pastry chef that interned in Beziers, France. Knowing what it's like to have an autoimmune condition, she opened her bakery with empathy for those with gluten issues.
I visited this bakery when it first opened. Though I don't remember off of the top of my head what I ate, I enjoyed everything I had there and plan on going back soon.
If you dream in sprinkles, so do they! This place offers bread and baked goods with a French flair. There are some gluten-free options such as creme brulee, peanut butter bars, flourless cakes and chocolates to satisfy your sweet tooth. Follow them on Instagram to stay up on their latest offerings.
I've been a fan of Sugar since it opened. It's one of our family's favorites. After finding out that I have a gluten sensitivity, I was happy to hear that they now offer gluten free friendly vanilla and cannoli flavored cupcakes. There are also a few vegan options too.
If my humble opinion isn't convincing, their cupcakes have been battle tested on Food Network's Cupcake Wars. They defeated bakeries from the west coast and left as winners on season 2.
Looking for a gluten free bakery in Avon, CT? According to the site, when one of the owners found out she had Celiac's, she was compelled to explore new alternatives to making tasty treats, but without gluten! the site explained that "she has worked for years on different flour blends and techniques to make sure the desserts and other items that you all love will taste just as good."
Located on the border of Avon and Simsbury, CT, this bakery offers a rotating roster of gluten-free goodies. From bagels to English muffins to pizza dough, you can't go wrong. Follow them on Instagram to check their daily offerings.
Though I've never visited this place, one person who reviewed the site explains, "The BEST allergen free treats I have ever had, hands down!! So many options on the menu it's hard to decide! She even makes custom orders for events and did the cutest pink filled chocolate donuts for a gender reveal party. My favorite bakery!" This is a celiac friendly facility and they have an allergy list.
Other Gluten Free Bakeries in CT
Though I have yet to check these places out. I hear good things about the following:
Gluten Free Bakery in Glastonbury, CT
Need a Gluten Free Bakery in Westport, CT?
Looking for a Gluten Free Bakery in West Hartford, CT
After Finding a Gluten Free Bakery in CT, try other things to do: