Simple, Fun & Affordable Fall Activities Bucket List
How do you have a perfect fall? It starts with a fall activities list, autumn things list, or whatever you want to call it. We're going to share with you a simple fall bucket list to have some unforgettable fall activities for adults, families, kids, etc. From outdoor fun to things you can do at home, we've got you covered.
Prefer to listen elsewhere? Here's the same episode on: Apple or Spotify!
It takes a great deal of time and energy to create episodes. In order for me to make great content for you, some of the resources below have affiliate links. If you purchase something through a link, I would make a small commission at no additional cost to you.
Today's Everyday Bucket List Episode
I'm happy to share Simple, Fun & Affordable Fall Activities Bucket List on the Everyday Bucket List Podcast!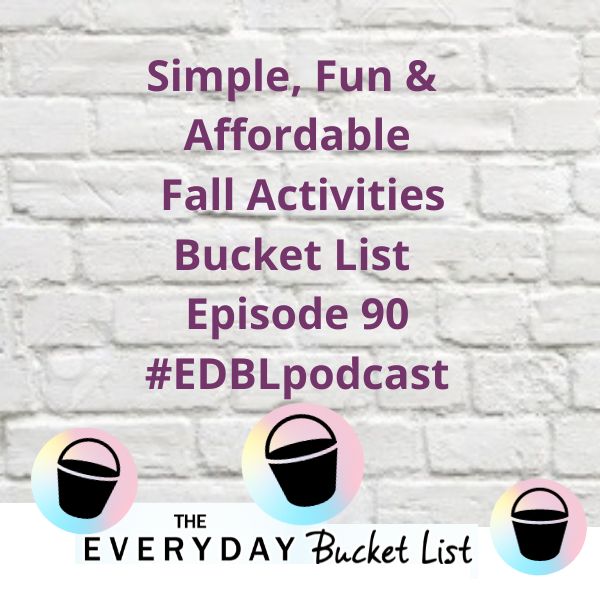 Here's What You'll Learn About A Fall Activities List
If you're scratching your head wondering what the heck you're going to get out of this, here's the breakdown:
Get a reminder of what fall is known for
A fall activities bucket list in verbal form
A free printable of simple fall bucket list ideas
Don't miss out on making this fall the picture-perfect season you've always dreamed of. Get ready to embrace the crisp air, vibrant colors, and all things fall in this must-listen podcast episode.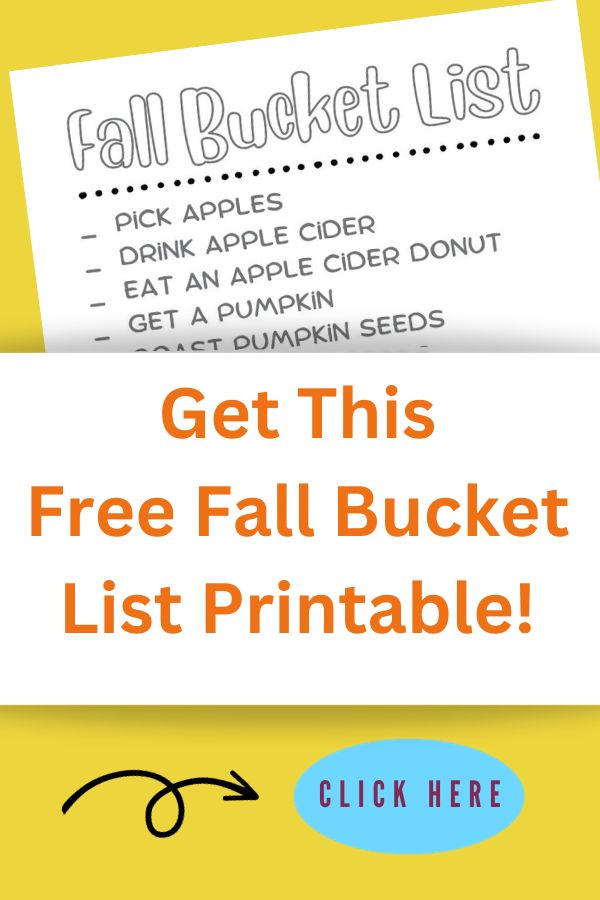 Fall Activities
Looking for the perfect fall activities to enjoy both indoors and outdoors? In this video, we've curated a list of exciting indoor activities like cozy movie nights and pumpkin carving, as well as thrilling outdoor adventures such as apple picking and scenic hikes. Get ready to make the most of this beautiful season with our top recommendations for fall fun on the show, but here's some additional ideas.
Outdoor Fall Activities
Need some exciting outdoor fall activities to make the most of this beautiful season? Look no further! We have a curated list of simple and memorable activities that will keep you entertained and immersed in nature.
From pumpkin picking to apple orchard visits, we've got you covered. Join us on the podcast as we explore the best ways to embrace the autumn spirit and create unforgettable memories with your loved ones. Don't let this season pass you by without experiencing all the wonders it has to offer. Get ready for an adventure-filled fall like never before!
Fall Activities at Home
Looking for fun and cozy fall activities to enjoy at home? I'll share some exciting ideas that will help you make the most of the autumn season. that mostly have to do with delicious recipes. Get ready to embrace the warmth and charm of fall right in your living room!
Conclusion for Simple Fall Activities Bucket List
In conclusion, there are so many fun ways to celebrate fall. Use the ideas mentione to take advantage of what the season has to offer. No matter what you choose, there is something for everyone to enjoy.
If you're planning to try out one of these ideas, I'd love to hear about it. Send me a message on Twitter @KarenCordaway. If you still find it hard to connect the dots with your bucket list, get a copy of The Everyday Bucket List Book!
Links mentioned in this episode:
What are your top 5 bucket list activities?
Subscribe on Apple Podcasts , Spotify or Stitcher today!
Links mentioned in this episode:
Related Episodes