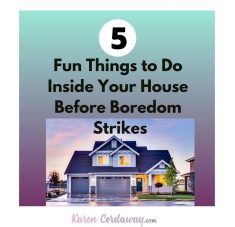 There might be affiliate links in this post. If you click on a link and make a purchase, I receive a small commission. Read my disclosure policy here.
Fun things to do inside your house are in demand. It got me thinking, "What are fun things to do inside?" I did some brainstorming and research on how to have fun at home. It's best to get ahead of things before it rains, gets colder or you have to hunker down for any reason. Plan some of these at-home activities to do for adults (and some for kids too) so you'll have some things you can do at home when you need them.
A List of Fun Things to Do at Home
1. Learn a new skill or improve upon an existing one.
After attending a virtual event via Zoom through a local bookstore, I'm inspired to be a better cook. Luckily, one of my favorite Food Network TV chefs just published a new book and I was able to get a copy and attend the event virtually.
After purchasing Ina Garten's latest book, attendees got to hear her share the inside scoop on how she came up with her new recipes. We also heard her thoughts about entertaining outside during the pandemic while carefully and creatively social distancing and how she got good at explaining recipe directions. She told great stories too and answered attendees questions that entertained us for an hour.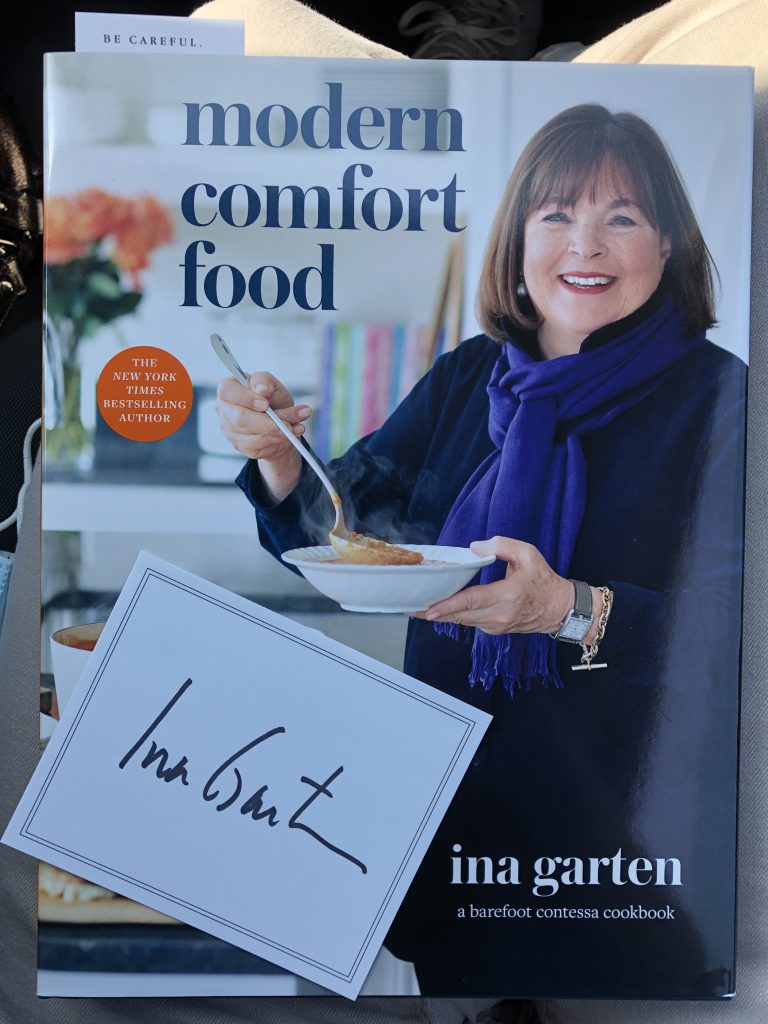 Though I mostly listen to audiobooks, a physical recipe book like this is a must-have. It's a nice keepsake and also makes a great gift, especially if you need gift basket ideas. If you're not able to attend an event like this, I HIGHLY recommend the book.
There's a mix of very easy recipes to more advanced ones that are equally delish! You can get one here or an autographed one here while supplies last. It's serves as great inspiration for anyone who wants to be a better cook and qualifies as one of the best things for couples to do at home when bored. For all of you out there Googling fun things to do at home with your boyfriend, girlfriend, partner, etc., this is something you can do together for sure.
2. Attend virtual events for fun things to do inside your house at night or other times of day.
While I'm on the topic of virtual events, it's one the most convenient stay at home activities I've ever tried. If you're trying to figure out how to have fun at home and you like learning or being entertained, check out other online events through Event Brite. I took a peek at what they are currently offering. There's a wide range of fun activities to do at home for adults and kids alike.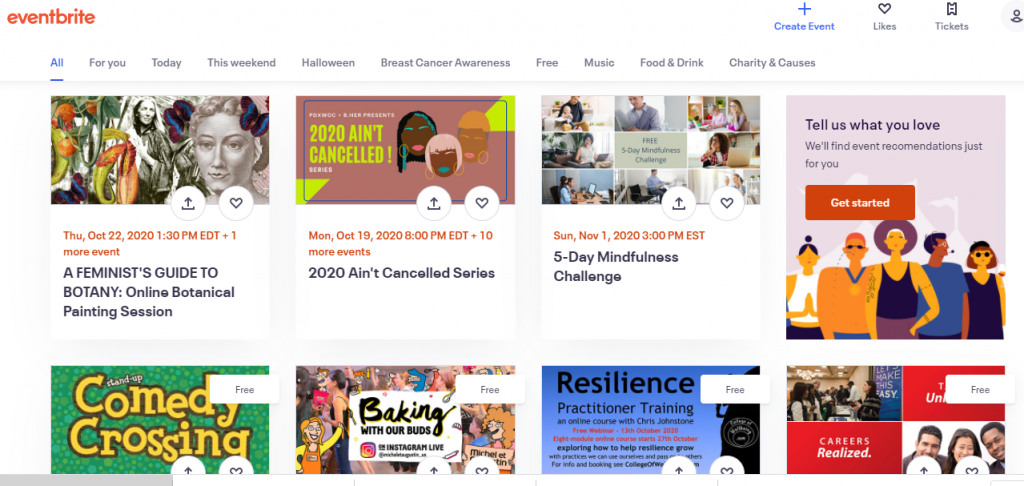 Some of their popular events include a therapeutic art workshop, stand up comedy, a 5-Day mindfulness challenge and much more. They also offer more seasonal online events, so be sure to sign up for something before it passes you by. Find some one-off activities or potentially find some new indoor hobbies to explore.
I'm going to check out an up and coming comedian for free. I think it's one of the best things you can do at home with friends and family virtually. It also goes down as one of the most fun things to do at home by yourself too. There's so much to do on this site alone, I don't think you'll ever ask "What are things to do at home?" ever again. It's great for people who like experience gifts under $30 too.
3. Follow YouTubers for fun things to do inside your house.
We might all have go-to people we follow on YouTube, but think about finding someone new to watch too. If you want to try a new workout routine, learn how to knit or tackle a DIY project, get recommendations. Ask friends and family or let the little magnifying glass do its thing and use the YouTube search function.
Try HIIT workouts
Whether the person shows you a new way to workout with bands, kettlebells or weights, there's always some new fitness craze to keep you in shape. If you're curious about HITT workouts, it stands for High Intensity Interval Training.
If you're like me and you're wondering, "What is a HITT workout good for?" According to Healthline.com, "Overall, HIIT produces many of the same health benefits as other forms of exercise in a shorter amount of time. These benefits include lower body fat, heart rate and blood pressure. HIIT may also help lower blood sugar and improve insulin sensitivity."
I personally like Mr. and Mrs. Muscle's workouts because they demonstrate the exercise right before you do your set so you can practice a little right before you start.
Most of the videos I've tried have a modified version of the exercise in the top left corner too. I like having the option of slowing down if need be, especially if I'm a little tired going into my workout. Plus, the background music is upbeat and gets you moving. I think it's one of the best hobbies for women and men to sustain a healthy lifestyle.
Get on the "band" wagon for fun things to do inside your house
I also like to watch any videos where I can use my resistance bands. This is a video of a workout I do regularly. When I used to go to the gym, I found it harder to stick with the machines I wanted to work on that day. Sometimes people would occupy a machine and it would throw my workout off. Not anymore!
Getting a resistance bands set with handles opened up a whole new workout world for me! I can now squeeze in some quick exercise at home.
The equipment is also easy to store and I can readily increase my resistance levels when I'm up for the challenge.
I also save myself from germs and gym fees. It is completely worth the small investment. It saves me time and money and I'm kicking myself for not buying them sooner.
4. Play games on Facebook Messenger for things to do at home when bored.
What do you do when you're bored and stuck at home? Though it's easy to go down a rabbit hole on social media when you're bored, it can be a breeding ground for unnecessary drama. Find something fun to do with friends and family on Facebook that's positive.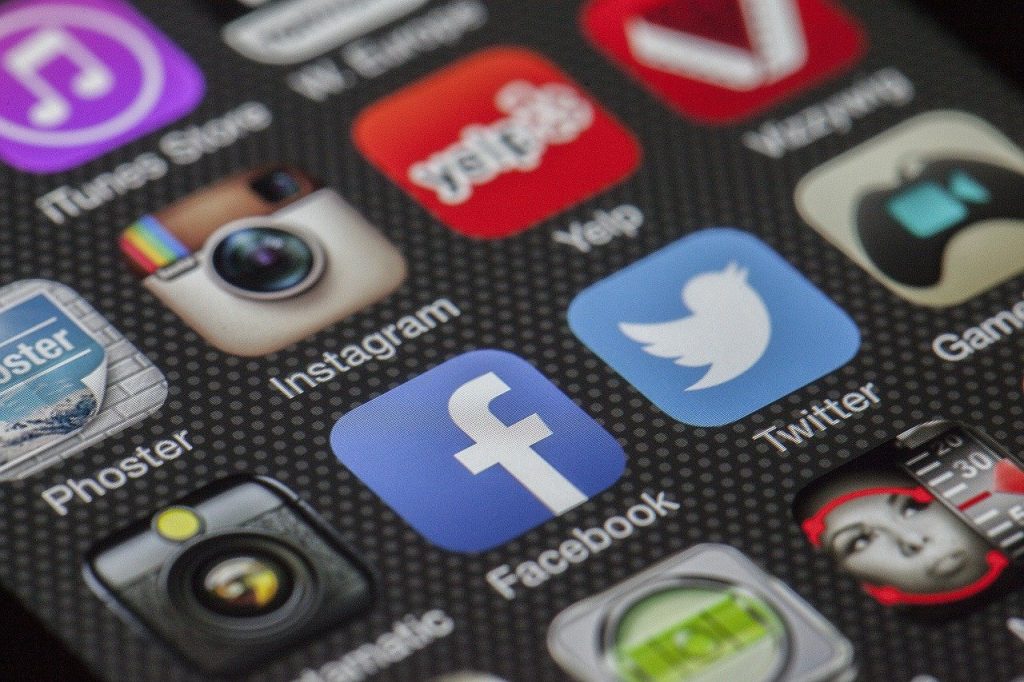 Install the latest version of the Messenger app and check out Words with Friends. If you never played it before, it's a fun smartphone game that's similar to Scrabble. Also, check out retro 80's games such as Pac-Man and Space Invaders. And, there's even Batman's Bat Climb, Cooking Mama, Everwing, Sudoku and more classic games like Solitaire, Black Jack or Gin Rummy.
5. Try these fun activities to do at home for adults and older kids that love DIY projects.
If you get a thrill out of making an actual thing and want to express you're creativity, there's no shortage of creative things to do at home. Try out a new DIY project, take up knitting or even wood working. This can be one of the most fun things to do inside your house while also beautifying it.
Outside of getting up higher, ladders can take the look of your home to new heights. If you like storing or displaying items unconventionally, then you'll love these ideas from Better Homes and Gardens.
Using a ladder in your interior design is both decorative and functional. Hang pots and pans from the ceiling in the kitchen or use it as storage for towels in the bathroom. Use it as a night stand in the bedroom or consider displaying decor, books and plants in any room. The choice is yours.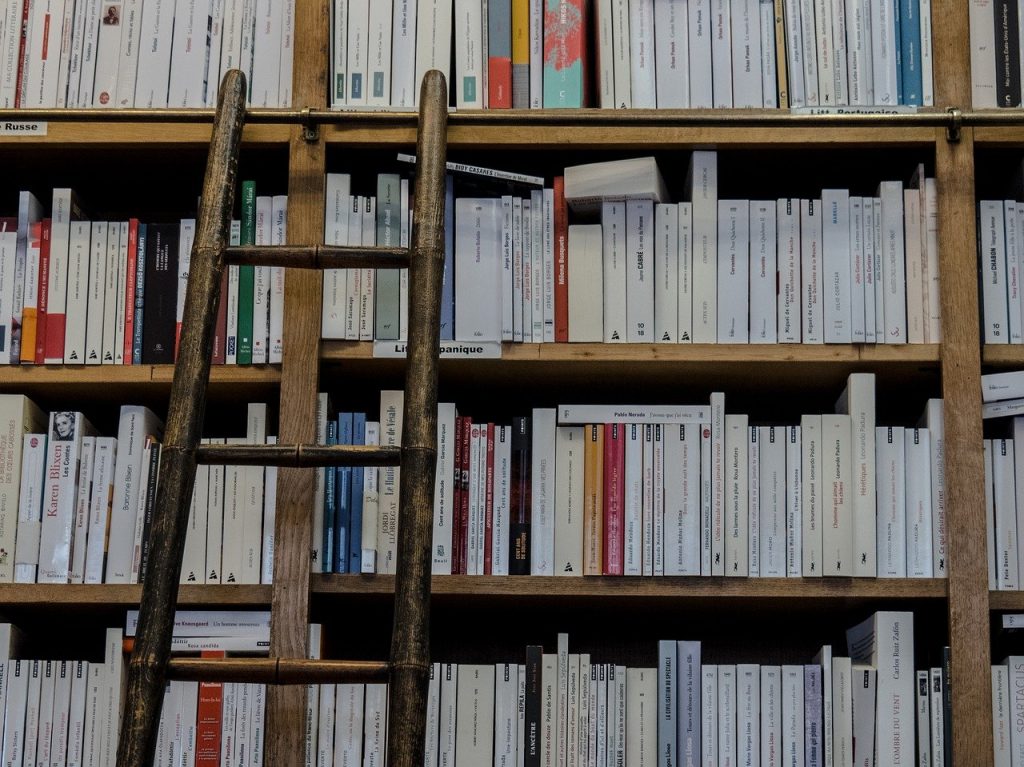 You can also make an old ladder look new by adding a fresh coat of paint. Or, make a new ladder from scratch and make it look vintage. The people over at JoyfullyGrowingUp.com show you how to make a ladder and display a chunky blanket on it.
If you're looking for a project that takes under an hour and costs roughly $25.00, here's a tutorial from the Home Depot that explains how to make a decorative ladder too. It's a great way to past the time when you don't know what to do when you're bored inside.
Conclusion for Fun Things to Do With Friends & Family
What do you do for fun inside? You might never have to ask that question again. Now you'll have some ideas at the ready and you'll be happy knowing that there are fun things to do inside your house today and in the future. Try out some of these at home activities to entertain yourself, bond with others near and far and possibly learn something new in the process. Maybe even turn them into a list of simple bucket list ideas to do at home.
If you like this post, please share it. It's only fair!
Related Articles for Fun Things to Do When Bored at Home: