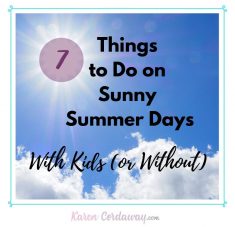 There might be affiliate links in this post. If you click on a link and make a purchase, I receive a small commission. Read my disclosure policy here.
You might agree with me on this:
It's REALLY hard to find the perfect activity that fits your preferences, time frame and budget.
Or is it?
You can drastically increase the likelihood of having fun things to do on summer days off when it's affordable and more readily accessible to you.
Makes sense. Right?
There are plenty of ideas on the internet of things you can do on summer days off, but many of them may be out of reach right now for whatever reason.
Some of them may just sound like silly ideas that no one really does or they aren't all what they're cracked up to be.
You might have to click through an endless slide show to find mediocre ideas or comb through a list of a 1000 ideas to maybe find one thing you can actually do in your spare time.
If you're tired of those posts, haven't had time to brainstorm and you're working within certain parameters, questions like "What activities can you do in summer?" or "What should I do in summer 2020?" might be swirling around in your head.
Don't fret.
Here are some of the best things to do on sunny summer days with a kid (or kidless) right now:
1. Visit a Pick Your Own Farm
If you have a farm close by that allows you to pick your own fruit, make it a mini day trip. Since visiting, I'm a little hooked and have become a bit of a fresh fruit snob. It's hands down my favorite thing to do in the summer.
Picking the fruit myself makes me appreciate it that much more. You realize how hard someone has to work to grow something, harvest it and then sell it to the customer. In my opinion, it's also super fun to pick your own fruit.
I now have a more profound respect for people who farm and want to support their efforts by frequenting their businesses.
If you're hoping to find farms where you can pick your own fruit, Google "farms near me" or a term like "fruit picking near me."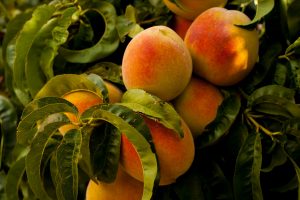 You can even include the exact fruit you want to pick in your search like "pick your own raspberries near me" or "peach picking near me." You'll see what farms are closest in proximity to you.
You'll be able to gauge a general time frame of when you can go too. There's usually some information about when your local farm's picking schedule is.
Depending on when you go, you can make a stop to pick your own:
Strawberries
Blueberries
Raspberries
Jostaberries
Asian pears
Pears
Peaches
Nectarines
Apples
Pumpkins
I picked strawberries and blueberries with my kids when they were younger, but it's something I enjoy doing as an adult whether my kids come or not. Though it started out as as more of a boredom busters list, it turned into "pick every type of fruit" as our own informal couples bucket list this summer.
Many of the items for pick your own extend into the fall. Mark your calendar so you remember to go at a time when you can pick what you like.
Pick Your Own Raspberries
I swear every year I would see a sign for pick your own raspberries and just completely forget to go. Other times I wouldn't look up the farms website or Facebook page and it would be too late.
It's easy to forget. Farms have different schedules and don't always give exact dates as to when the official first day of pick your own is.
You'll have to keep tabs on when you can pick what. It can't hurt to follow your local farm on social media to keep it on your radar. You also have to make sure it's a sunny day with no chance of rain.
If you've never gone raspberry picking before, here are some frequently asked questions. I asked myself these questions before my recent trip so I thought I'd share what I found out.
When are raspberries in season?
Raspberries are in season usually from July to August. I recently went to a farm where you can pick raspberries in July. However, an orchard closer to me doesn't have raspberry picking until August.
Blooming seasons are different for different farms. It all depends on the farm and Mother Nature so it's good to check.
How do you pick raspberries?
You just have to be gentle when you pull on them. It's easy to squish them. They will slide off the stem easily when they are ripe.
Here's a technique I found on YouTube for how to pick raspberries with some tips. It can't hurt to take a peek.
According to SeriousEats.com, "The story is that the heat of the sun makes tea extraction faster, giving you ready-to-drink tea within a couple hours without the need to heat up water indoors. Some folks also say that the flavor is different because of the lower temperature extraction."
How long do you leave sun tea in the sun?
From what I gather, you can leave it out for a few hours, but the longer you leave it, the stronger it will taste. Just be sure not to leave it too long. Follow reputable recipes for the best tips and to avoid potential bacteria growth.
Do you need sun to make sun tea?
Well, this one is a no-brainer. Yes, you do in fact need the sun to make sun tea.
You can also just take some battery powered lights and stick them in a jar for a quick and easy way to have lighting at night.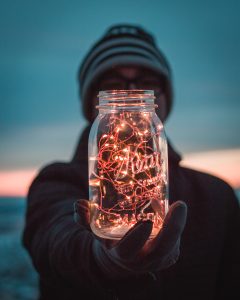 7. Reframe your thinking about bucket lists
A bucket list doesn't have to only contain trips to far away places that you do here and there. Come up with a list of ideas that are more accessible in everyday life. Here's  more details on how to make one so can easily weave them into your schedule more regularly.