Things to Do, Eat & See in Utah, including The 5 Big National Parks w/ Shane and Jason Baller
In this session of The Everyday Bucket List Podcast, we will be talking with Shane and Jason Baller of the Sprinkled with Hope podcast about things to do, eat and see in the Beehive State, including Utah's big 5 national parks a.k.a. the Mighty 5. Whether it's on your bucket list to take a Utah national parks road trip, fly in for some hiking or explore the beautiful scenery with a tour guide, listen to my guests' tips as well as the quick in dirty bucket list I make to find out what food Utah is famous for as well as an overview of each park. Plus, catch part 3 of our money saving tip series!
Prefer to listen elsewhere? Here's the same episode on: Apple or Spotify!
It takes a great deal of time and energy to create episodes. In order for me to make great content for you, some of the resources below have affiliate links. If you purchase something through a link, I would make a small commission at no additional cost to you. Also, consider getting The Everyday Bucket List Book to live a happier, more fulfilling life and create your list today using my signature process.
Today's Everyday Bucket List Guests
I'm excited to welcome Shane and Jason Baller to the Everyday Bucket List Podcast!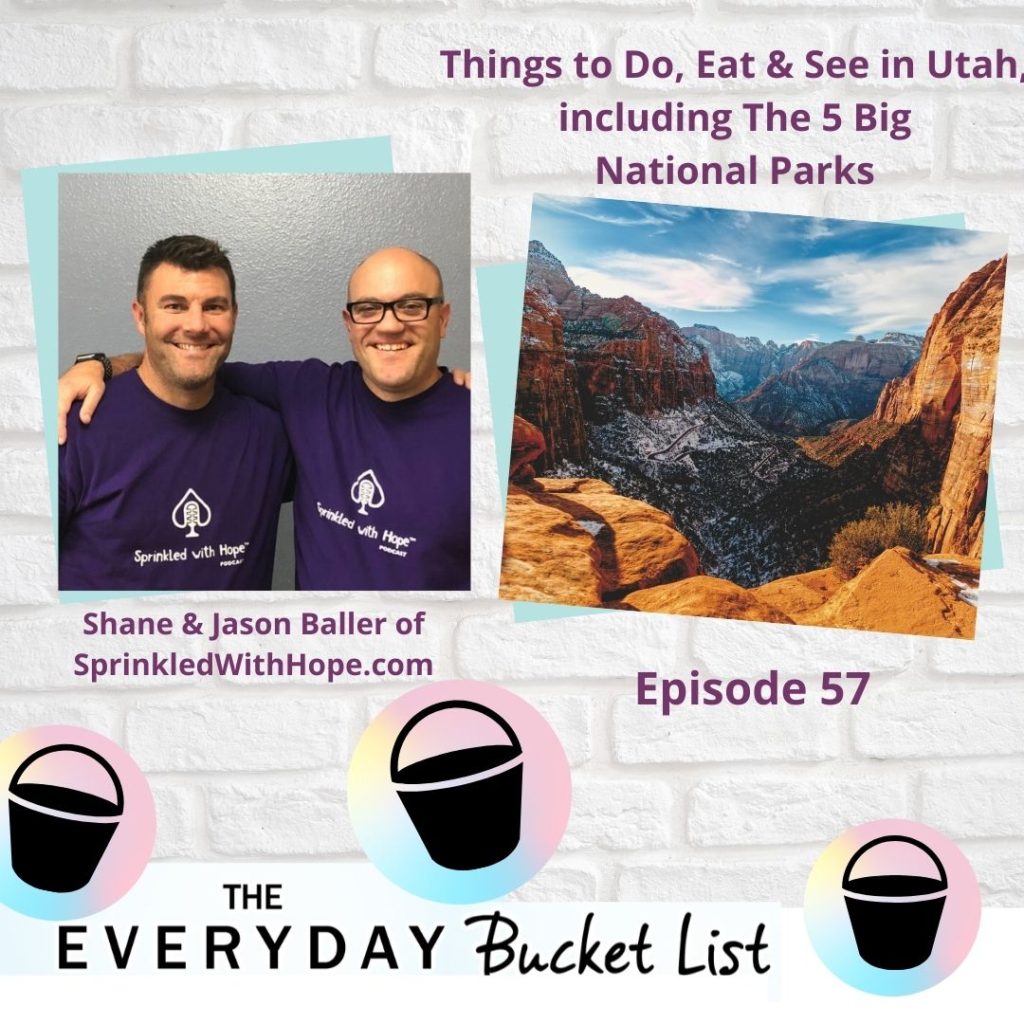 Podcasters Shane and Jason Baller of SprinkledWithHope.com
Shane Baller works as a manufacturing manager for a dental supply company And enjoys leading his team and spending time with his wife and four kids.. In 2017, he started a social media page to spread positivity. He then decided to start a podcast as a co-host to share uplifting messages to the world. And, he's also a Dodgers fan.
Jason Baller was raised in Utah and now lives with his wife and three wonderful. After serving in the armed forces, he suffered a debilitating back injury and found hope after an extensive recovery process, he loves to travel and has a strong passion to spread hope.
Here's What You'll Learn About Things to Do in Utah, Including the National Parks
What are the 5 big national parks in Utah?
Find out what the best national parks are to visit in Utah
Discover what food Utah is famous for
Get hotel recommendations from locals
Plus, tips for a Utah Nationals Park road trip or for those who want to fly in and hike, walk or take a get a tour guide.
What are the 5 big national parks in Utah?
The magnificently beautiful landscape in Utah is like no other place on Earth. There are five national parks that cover almost 4,000 square miles of this incredible state and they're all absolutely stunning!
You can find solitude while enjoying your own company or join up with others for hiking trips through serene landscapes full of wildlife (like elk). The possibilities are endless when it comes to what you'll do here. Whether taking part against remarkably clear skies & warm sunlight during wintertime ski weekends -or soaking under an orange sunsets – there will always be plenty happening every day without ever getting bored.
Arches National Park
If you're looking for an epic adventure, head to Arches National Park. The natural beauty of the landscape is what bucket list dreams are made of. Keep in mind that the park is a popular destination, so you will need to make a time entry reservation well in advance. There are short hikes, long hikes with varying levels of difficulty. There are also paved walking trails for non-hikers. Like many parks, go early to avoid the crowds.
For those who want to explore the area but don't want to hike, there are plenty of short walks and scenic drives with great views. So what are you waiting for?
Bryce Canyon National Park
Bryce Canyon is a hoodoo-filled wonderland. The bizarre, yet beautiful rock structures tower over the landscape. These incredible geometrical shapes were created millions years ago by natural forces such as rainwater, erosion, etc.
The "Bryce Amphitheatre" is not an actual theatre. It's a bowl-shaped area that looks like one due to the drainage from rain and melting snow
If you haven't had the chance to visit this natural wonder, make it a priority in your travel plans. There's nothing quite like standing among the Hoodoos of Bryce Canyon National Park!
Canyonlands
Canyonlands National Park is the biggest national park in Moab, Utah! Hiking is great, but when you're ready to take it easy and enjoy some road trip music with the windows down- go for a drive and sightsee in transit. You'll get more than enough scenic views in just 34 miles of driving around Island In The Sky Park! Can see whole thing via car in 2-3 days.
Capital Reef National Park
Capital Reef is one of the most famous national parks in Utah, and for good reason. It's home to five different rock formations that were shaped by nature over time with only four physical species living there now – which means you can explore this natural beauty without any other humans around!
Zion National Park
Zion is a hiker's paradise, with trails of all levels of difficulty and scenery that will take your breath away. Whether you're an experienced hiker or this is your first time on the trail, there's something for everyone in Zion National Park. If you can, plan to visit during the spring or fall when the temperatures are mild and the crowds are smaller. No matter what time of year you go, be sure to put Angel's Landing on your list – it offers some of the best views in the park. And don't forget to explore The Narrows – hiking through water up to your waist is an experience you won't soon forget!
It's well worth a visit if you find yourself in the area. You can explore the park on your own with a self-drive tour, or hire a private guide to show you around. Either way, it sounds like it won't be disappointed either way.
If you can't see all 5 and you're trying to decide between say Bryce and Canyonland, l'll link to a forum to help you make the decision.
Discover what food Utah is famous for
If you're ever in the neighborhood, be sure to check out some of Utah's famous food. Their pastrami burgers and ice cream shakes are sure to hit the spot, and the local honey is some of the best in the country. Why not come see for yourself? They would love to have you!
I stumbled upon an interesting article that spills the beans on food that Utah is know for.
Here's a quick list:
Here's a video from people who visited and tried different resturants:
Utah Hotels Recommendations
If you're looking for a luxurious getaway in a gorgeous setting, look no further than Utah hotels. The Grand America and the Anniversary Inns are two of the most popular destinations, but there are plenty of other amazing hotels to choose from.
The Little America
The Little America Hotel is a hotel that provides visitors with an American experience. The staff are friendly and welcoming, making the customers feel right at home in their unique environment!
Located in America's Utah, the Little America Hotel is a great place for families. The hotel has an outdoor pool and on-site restaurant with delicious food! If you're looking to enjoy some time outdoors this summer then look no further because it's just what your soul needs – go check them out today.
The Grand America Hotel
The grand American hotel in Utah is a refuge for those who want to get away from it all and find peace. The building itself, which was completed back when Americans still considered themselves part of the upper class- has since fallen on hard times but its history remains strong with each new guest that steps foot inside this historic landmark! Check it out here.
Anniversary Inns in Salt Lake City, Utah
Come to the Anniversary Inn for a trip back in time!
The 2007 opening of this hotel brought together history, innovation and luxury with its vintage design that pays homage all those who have gone before us. With 24 beautifully appointed guest rooms topped off by antique furniture pieces from around our world – it's easy see why so many people love their stay here at The Anniversary Inns.
Check out other great hotels in Salt Lake City, Utah such as La Quinta, Marriott and more.
I usually take my kids around Christmas to Kingston just because we can get a deal through there.
Utah National Parks Map
Peeking at a map to Utah's national parks is an excellent resource for travelers looking to plan their next adventure. Utah boasts some of America's most beautiful national parks. From slick red rock landscapes to iconic slot canyons and stunning alpine meadows – Utah's diverse landscape is home to many wonders that will leave your visitors speechless!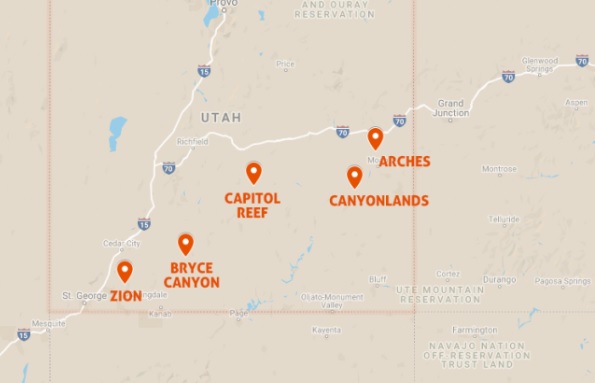 This map is UtahParksGuide.com
Conclusion for Your Utah Bucket List
If you're looking for a fun and outdoorsy getaway, consider planning a trip to Utah. With its stunning national parks and diverse array of restaurants, there is something for everyone here. Don't forget to take advantage of the natural beauty that surrounds you; go hiking, biking, or camping in some of the most picturesque locations in the country. Start planning your Utah vacation today!
Subscribe on Apple Podcasts , Spotify or Stitcher today!
Related Episodes