Find Bay Area Places to Visit & Save Money for Travel w/ Lisa Thompson of Coupons.com
Crafting a San Francisco bucket list? Or just looking for Bay Area places to visit? In the session of the Everyday Bucket List Podcast, I chat w/ Lisa Thompson of Coupons.com. She's got you covered w/ ideas for interesting restaurants including Ayesha Curry's restaurant (Steph Curry's wife) & exciting things to do at a variety of price points. Also, get the scoop on ways to save for travel & great tips for cutting costs. Listen in on her life changing bucket list idea & her own personal journey to solo travel.
Prefer to listen elsewhere? Here's the same episode on: Apple or Spotify!
Some of the resources below have affiliate links. If you purchase something through a link, I would make a small commission at no additional cost to you.
Today's Guest
I'm happy to welcome Lisa Thompson to the Everyday Bucket List Podcast!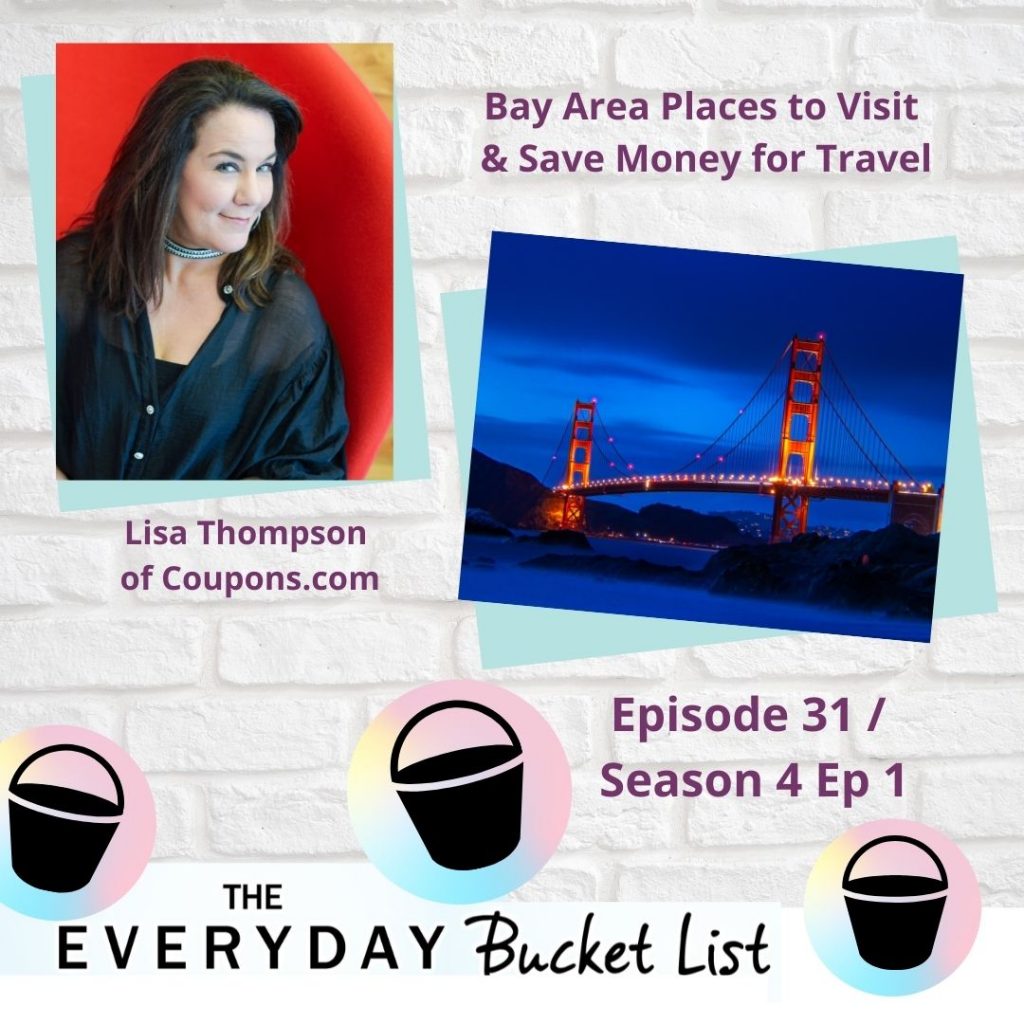 Lisa Thompson of Coupons.com
Lisa Thompson is a seasoned writer, savvy shopper and lover of deals – especially on designer handbags and kitchen gadgets she'll never use. She has been a Savings Expert at Coupons.com since 2011, helping consumers learn how to save money after spending several years as a paper coupon-toting mom of four (who could recite every free kids' meal within in a 50-mile radius). She's been educating consumers and savvy shoppers for over 10 years. Her superpowers: Finding travel deals and saving on foods that make it look like you cooked when you really just meal-prepped.
What You'll Learn About Places to Visit in the Bay Area
Find popular as well as unique places to visit in the Bay Area including wineries, outdoor things to do as well and more
Get ideas for where to go for a long vacation, weekend getaway, day trip or find something today.
Discover different types of cuisine as well as scenic places in the Bay Area
Also, Lisa let's us in on modern ways to coupon, shares a variety of ideas to save for travel as well as how to make travel affordable
Resources for Bay Area Places to Visit
Googleplex is Google's headquarters. Located near San Jose. It also includes a public park.
Hotel Recommendations
Lisa recommends The Ritz Carlton in San Francisco for a bougie experience.
Here's a list of other hotels to choose from as well.
Some of Lisa's Everyday Favorites
Book(s)
Eat, Pray, Love by Elizabeth Gilbert – One of her favorite movies was based on this book.
Untamed by Glennon Doyle
Other Book(s):
Also, check out The Everyday Bucket List Book if you want to get serious about a travel bucket list or other types of unique bucket list ideas that you can do in everyday life. The worksheets and the Now and Later Rule™ help you prioritize and connect the dots financially.
Connect with Karen on Twitter
Related Episodes