Discover One of The Best Bucket List Things to Do in Coral Springs, FL with Adam Kol
Looking for one of the best bucket list things to do in Florida? I chat with Adam Kol of the Couples Financial Coach podcast and website. If you've been looking to expand your bucket list categories and you find yourself in Florida wondering "What are the top 10 bucket list items?", visiting a park he mentions is one of the best things to do while there. We chat about other fun activities in and near Coral Springs, FL. Whether you're looking to carry out a meaningful bucket list as a couple or get some unique ideas to do on your own in Broward County and Miami, you're sure to find something enjoyable.
Prefer to listen elsewhere? Here's the same episode on: Apple or Spotify!
Some of the resources below have affiliate links. If you purchase something through a link, I would make a small commission at no additional cost to you.
Today's Podcast Guest
I'm thrilled to welcome Adam Kol to the Everyday Bucket List Podcast!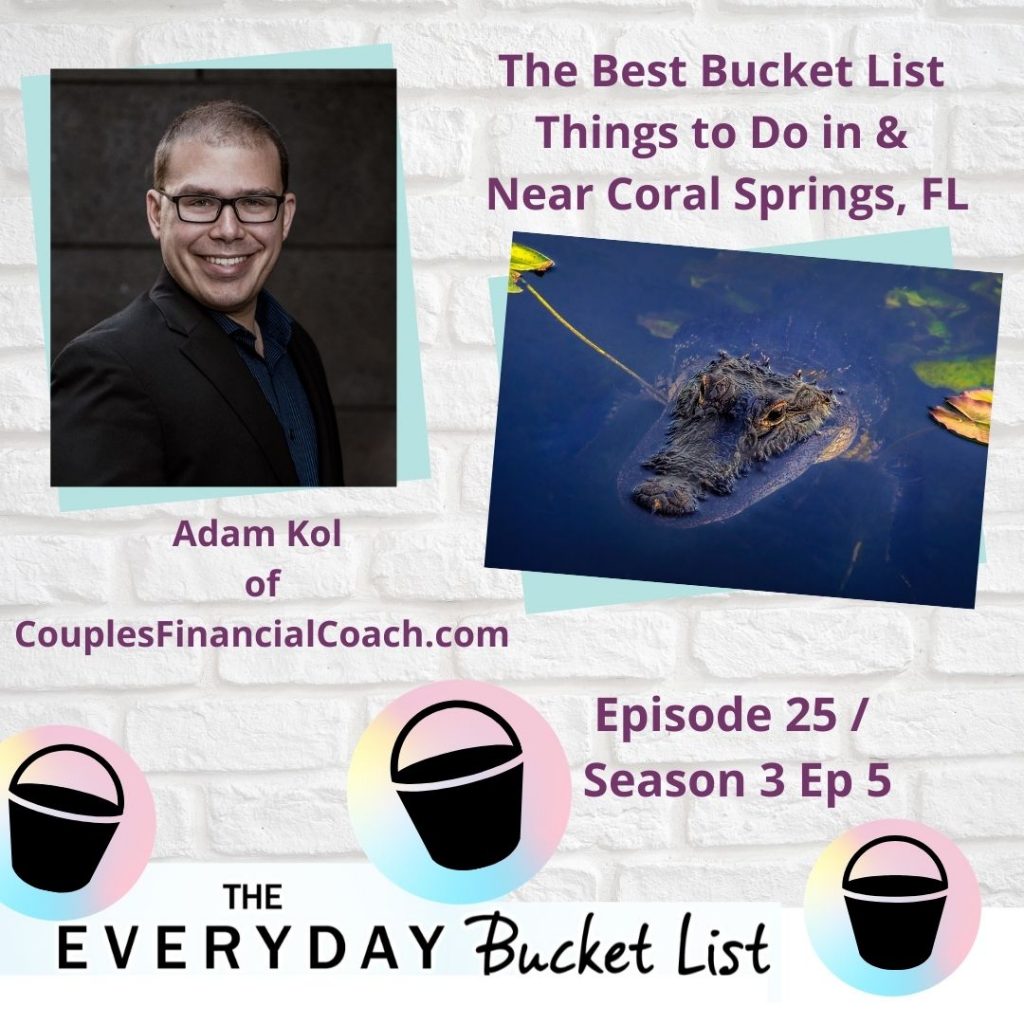 Adam Kol of CouplesFinancialCoach.com
Adam Kol is The Couples Financial Coach. He helps couples go from financial overwhelm or avoidance to clarity, teamwork, and peace of mind. Adam also hosts the Couples Financial Coach Podcast.Adam is a Certified Mediator with experience as a Tax Attorney and Financial Advisor. He received his law degree from Duke and a Master's in Tax Law from NYU. Adam is also an experienced social justice advocate and lifelong musician. You can find his Personal Finance Parodies on YouTube, LinkedIn, Facebook, and Instagram!

What You'll Learn About Things to Do in (& Near) Coral Springs, FL
Discover things to do in Coral Springs today
One of the top 10 bucket list items in Coral Springs, FL
How to approach making a meaningful list as couple if you have trouble getting started
Adam's unique tip for couples to create their bucket list categories & more
Resources for Things to Do in Coral Springs, FL
Whether you're creating a summer bucket list or just planning a vacation any time of year, be sure you have the basic travel gear and allot time in your schedule to go away.
Coral Springs, FL Hotels
If you'd like to support the show, check out La Quinta in Coral Springs, FL here as well as other great hotels, book a stay here.
Some of Adam's Everyday Favorites
Podcast(s)
I somehow skipped that question. 🙁
Book(s)
Other Book(s):
Find out more about Adam's upcoming book on his website.
Also, check out The Everyday Bucket List Book if you want to get serious about a travel bucket list or other types of unique bucket list ideas that you can do in everyday life. The worksheets and the Now and Later Rule™ help you prioritize and connect the dots financially.
Connect with Karen on Twitter
Related Episodes for Other Bucket List Things to Do