Discover The Best Spots in Hawaii for Vacation w/ Travel Expert Cheryl Leitschuh
Has Hawaii always been at the top of your bucket list? If you're wondering, "Where should I stay in Hawaii for the first time?" Or if you want a general overview of the islands in Hawaii & ideas for exciting things to do while there, then this episode is for you. In the session of the Everyday Bucket List Podcast, I chat w/ travel expert Cheryl Leitschuh. Find the best spots in Hawaii for vacation. Also, get the details on must-see places as well as unique places to visit & less advertised restaurants to check out.
Prefer to listen elsewhere? Here's the same episode on: Apple or Spotify!
In order for me to make great content for you, some of the resources below have affiliate links. If you purchase something through a link, I would make a small commission at no additional cost to you.
Today's Everyday Bucket List Guest
I'm happy to welcome Cheryl Leitschuh to the Everyday Bucket List Podcast!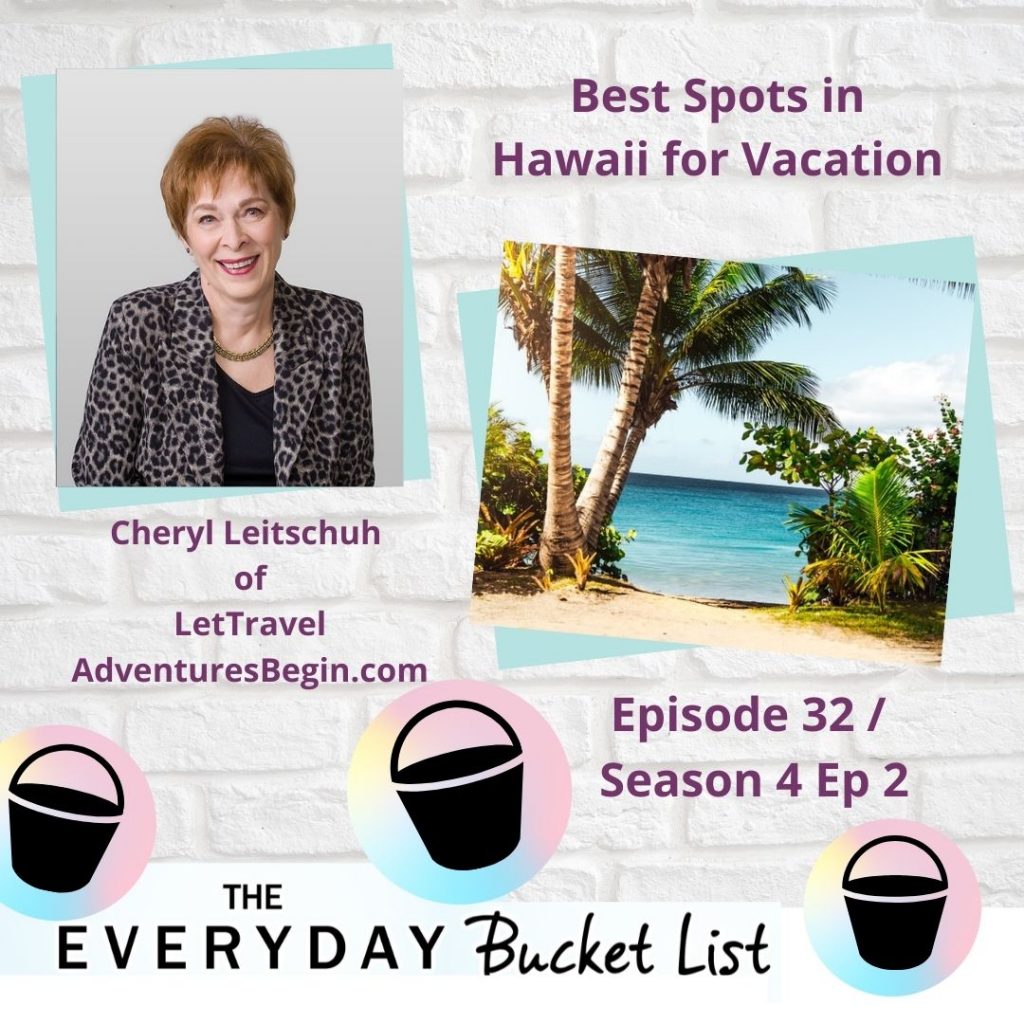 Cheryl Leitschuh of LetTravelAdventuresBegin.com
Travel is Cheryl Leitschuh's passion, and her area of expertise. She believes you should have the joy of travel without the stress of planning. Cheryl specializes in coordinating all the logistics for group travel. See how her experience, travel knowledge and preferred access to special offers can lead you to a stress-free travel experience.
What You'll Learn About The Best Spots in Hawaii for Vacation
Get an overview of the different islands to decide which Hawaiian Island is best for vacation.
If you ask yourself, "Where should I stay in Hawaii for the first time?", you'll get great suggestions from someone who specializes in travel to Hawaii.
Wondering what the most beautiful part of Hawaii is? Though beauty is in the eye of the beholder, Cheryl will discuss some of the prettiest parts of the islands.
Also, Cheryl let's us in on how to find great authentic cuisine that you may not otherwise find out about and she shares a variety of places to stay on the top three Hawaiian Islands.
Resources for The Best Spots in Hawaii for Vacation
Hiking, golfing, snorkeling, surfing are all of those are available in Hawaii.
Cheryl mentions the very authentic ethnic food, not just Hawaiian, but there's Chinatown in Honolulu.
Hotel Recommendation
Cheryl mentions that Airbnb and VRBO are very expensive in Hawaii.
Cheryl explains, "Maui has the condos that are right on the beach, or they have the high rise, Windham and Marriott hotels that again are right on the beach & they have all these great amenities."
Oahu Island Hotels, Honolulu County, Hawaii -Find places to stay, including Waikiki here.
Also, here are places to stay in Kauai.
Take a peek at Hawaii Hotels in Honolulu here.
Some of Cheryl's Everyday Favorites
Book(s)
Hawaii by James A. Michener
Harry Potter by J.K. Rowling
She even likes my book mentioned below.
Other Book(s):
Cheryl also mentioned my book. Check out The Everyday Bucket List Book if you want to get serious about a travel bucket list or other types of unique bucket list ideas that you can do in everyday life. The worksheets and the Now and Later Rule™ help you prioritize and connect the dots financially.
Connect with Karen on Twitter
Related Episodes