There might be affiliate links in this post. If you click on a link and make a purchase, I receive a small commission. Read my disclosure policy here.
If any of your plans are still on hold for any reason . . .
And you need things to do at home or close by for fun,
I put together a list of suggestions to help you find something interesting to do.
Here are Amazing Things to Do at Home (or Nearby) for Fun
Have you asked "What can you do at home when you're bored? or "How can I kill time at home?" If so, you landed on the right blog post.
I see a lot of posts about cleaning out closets or organizing finances on many "things to do" posts. While I think that is a productive way to spend time, I wanted to help people that might be searching for "fun activities to do at home for adults," "fun things to do at home for kids" or "things to do when bored at home."
Though I aimed to find family-friendly ideas, there's a mix of fun things to do at home for kids and adults. Some ideas might appeal to one more than another. Many of these ideas can also be done with friends or alone.
I included indoor and outdoor activities. Hopefully, there are enough ideas so that you can find something you'd like to do. Rest assured that everything on my site is family-friendly.
Fun Outdoor Activities to Do at Home (or Nearby) for Adults or Kids
1. Play water balloon volleyball during warm weather months.
2. Try stain glass sidewalk chalk art.
3. Go on an outdoor photo scavenger hunt in your backyard, neighborhood or town. Find one on the internet or make up your own of nearby landmarks, special spots in your neighborhood or locations showing something specific like antique vehicles.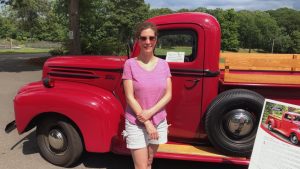 4. Go fishing.
5. Do warm weather or summer activities for adults (or with kids).
6. Pick your own fruit (or buy it at the store) and make smoothies.
7. Bring portable chairs in your vehicle to sit somewhere after a walk or get takeout and go to a park.
8. Find the most incredible ice cream near you. I recently visited what is known as one of the best ice cream shops in my state. Look for a place you haven't tried or try a different flavor every time you go to your favorite place.
9. Visit cupcake shops in your area. This is Carlo's Bake Shop a.k.a. The Cake Boss. This was a great day trip for the family. See what's open in your local area.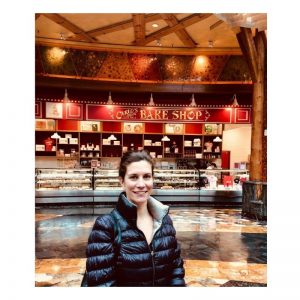 10. Get moving to burn off the ice cream and cupcakes. 😉 Find places to walk, hike or bike and listen to music, an audio book or your favorite YouTuber while you're at it. I listen to some of these out loud when I'm on my bike to ride safely.
Fun Indoor or Outdoor Things to Do at Home for Kids or Adults
11. Create an oral history about your family or neighborhood.
12. Listen to a podcast about Benjamin Franklin.
13. Make a physical scrapbook or digital one and jot down memories of the photos. Though ideally you might want to do this inside, you can do this sitting outside at a table or on a deck.
14. Grow an herb garden.
15. Do things that can potentially earn you money. Join Fiverr, Etsy or use a cash back app when you shop.
16. Now's the best time to get serious about learning a language. Get Rosetta Stone or Babbel and speed up the process.
Practice just for fun or get a jump on learning now for a future trip to a country where you can speak the language you're studying. Check it out here.
17. Shop early for birthdays, holidays and other special occasions.
18. Make videos with different Snapchat filters.
19. Sing karaoke. There are videos on YouTube.
20. Support local businesses such as restaurants and farmers. Wondering where I can go a day in Connecticut? I recently visited farms and had some world famous pizza.
21. Buy something where the proceeds go to a charity.
22. Make a wish list of books to listen to on Audible.
23. Watch an online concert. Check out YouTube or Amazon and see if they have your favorite artists.
24. Follow Laura Vanderkam's tips in 168 Hours and make a list of 100 Dreams (or even just 50 Dreams). Shh!
25. Create bucket list ideas or plot out your dreams by using a free printable.
26. Make a recipe by your favorite chef.
Indoor Things to Do When Bored at Home or When You Just Want Something Different to Do
27. Start a bullet journal.
28. Try a self-care challenge.
29. Frame photos of places you visited or meaningful moments you've experienced after creating a dream list.
30. Put your favorite quotes in a frame or put them on a quote board.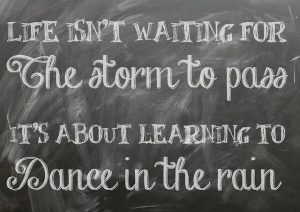 29. Watch all of your favorite comedians on Netflix, Amazon and Comedy Central.
30. Purchase a wellness planner.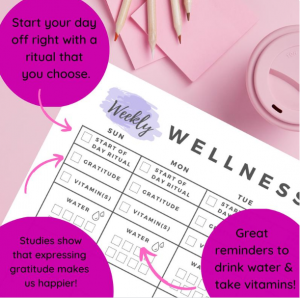 31. Make a book of your favorite recipes.
32. Color
33. Learn to draw.
35. Try a social media challenge.
36. Create a word search.
37. Create a recipe or modify a new one.
38 Go raspberry picking or to a Pick Your Own farm in general.
39. Make a bunch of smoothie bowls and freeze them. You can eat them later in the week.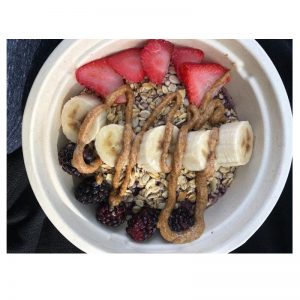 40. Make a bucket list of everyday things to do or jot down ideas you like from this list so you don't forget.
Conclusion for Things to Do at Home for Fun
Whether you're a kid or an adult searching for fun activities to do at home, looking for something productive to do doesn't have to be hard. Use this list as a road map for things to do at home or nearby for fun.
Use these ideas during quarantine, when you're bored, if you need a plan B or if you're by yourself and need something interesting to do. You can also make this a regular part of your schedule and even use these as bucket list items.
What are things you can do for fun?
(This was originally posted July 26, 2020. It has been updated on April 26, 2021.)