Fun Things to Do Erie, Pennsylvania w/ Matt Bennett
If you are looking for fun things to do in Erie PA, then look no more. We have created this episode just for you! In this session of The Everyday Bucket List Podcast, listen to local, Matthew Bennett. Discover some of the best things that Erie has to offer. From restaurants and entertainment, we've got it covered! So if you're planning a trip or just looking for something new around town, check out some of our favorite local spots today!
Prefer to listen elsewhere? Here's the same episode on: Apple or Spotify!
It takes a great deal of time and energy to create episodes. In order for me to make great content for you, some of the resources below have affiliate links. If you purchase something through a link, I would make a small commission at no additional cost to you. Also, you have the option to work with me.
Today's Everyday Bucket List Guest
I'm happy to welcome Matt Bennett to the Everyday Bucket List Podcast!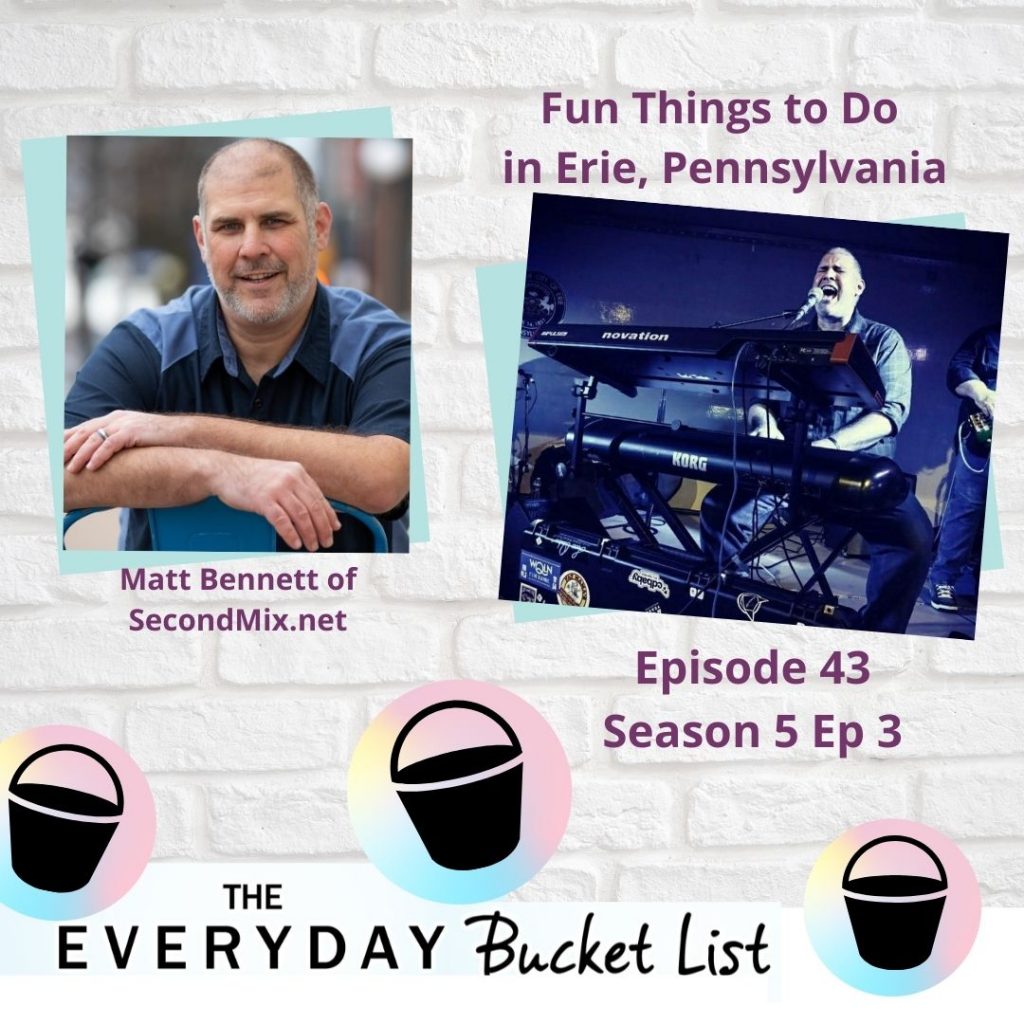 Matt Bennett of SecondMix.net
Our guest, Matt Bennett is the host of the Second Mix Podcast – where creators and aspiring entrepreneurs go to reflect, revise, and remix their lives and find the mindset they need to thrive without conforming.
He was a miserable fool until he discovered all this motivational stuff and "turned on" his life. Now he's passing it on and paying it forward. He's also a husband, dad, talented musician and consultant.
What You'll Learn About Fun Things to Do in Erie, Pennsylvania
Is there anything fun to do in Erie, Pennsylvania?
Discover unique things to do in Erie, Pennsylvania
What you could possibly smell while there
What is Erie Pennsylvania famous for?
When people think of Erie, Pennsylvania they usually don't picture rolling hills and farms. They associate the city with its surrounding areas – like Pittsburgh or Cleveland for instance- but what would our state be without all those natural resources? The answer might surprise you!
Erie is a haven for those who want a little taste of everything. From its picturesque shoreline and world-class wineries, they've got it all!
Fun & Unique Things to Do in Erie Pennsylvania
The best way to spend your time in Erie is by taking advantage of its many unique offerings. Whether you are looking for something new or want some inspiration, here are some fun things to do that can't be found anywhere else!

Visit restaurants
With so many restaurants in Erie, PA it can be hard to find the right one for you. Whether its Italian cuisine or American-style food that's your favorite thing – this will not disappoint! A great destination with plenty of delicious dining options is precisely what awaits those who visit.
If you're looking for a unique dining experience, this is the place. The food tastes so fresh and delicious that it will make your taste buds go wild!
Sara's Resturant on the Penninsula
Sarah's restaurant has been a staple of the penninsula in Erie PA for years. With its cozy atmosphere and mouthwatering food, it's no wonder that people come from miles around just to eat here!
Sarah's restaurant is a hidden gem in the heart of Pennsylvania. If you're looking for good, old-fashioned cuisine with genuine hospitality then this place has it all and more!
See The Perry Monument
I can't believe I've never been to the Perry Monument in Erie, Pennsylvania. It is such a fascinating and historic site that should be on everyone's bucket list!
The Perry Monument in Erie, PA is a must-see for all history buffs. This beautiful granite structure was built as an early tribute to George Washington and stands out among other monuments because of its unique design which includes Masonic symbols like the triangle at one point on top!
Visit the Casino
Why not visit a casino in Erie? You'll never know until you try. You can find slots and table games with Blackjack tables as well!
It's definitely not just about gambling! There are many different things you can do at the casino such as shopping or museum visits, there's always something more fun than playing cards with your friends!
Hear Live Music
A good place to hear live music in Erie Pennsilvania would be at one of the many venues around. A few popular spots for this are Club Eastshore, which offers an exciting night out with great drink specials and food too boot!
Another spot is The Alibi Room where you can find something just right no matter your taste buds – whether its jazz on Friday Nights or funk during the weekends; they've got it all covered here including singer/songwriter performances every day but Sunday afternoon until dusk (which used to serve as happy hour).
Visit Wineries
There's nothing like a day trip to the wine country. Tourists swarm Erie Pennsylvania for its vineyards and scenic views, while locals head out in droves too!
You can take your pick: spend all morning at one winery then visit another nearby; go on an entire tasting tour with stops throughout town!
Schaffer's Auto Art
Take a walk on the wild side with Schaefer's Auto Art! Stop by and see all sorts of sculptures made from recycled metal & automotive parts including Bumble Bees, Spidermen, Rocketships. You'll be sure to find something you like at this local landmark for Erie residents who love art as much as we do.
For 25 years, Schaefer's Auto Art has been a local landmark for Erie. Come visit us and see what we have in store! Free of charge to everyone 🙂
Hotels in Erie, Pennsylvania
For those looking for a hotel near the casino, there are many options in Erie. The best part is that many of the hotels are only four miles from shore as well as all of your favorite casinos and boardwalks!
The Marriot
The Marriott Hotel in Erie, PA is a great choice for those who want a spot that overlooks Presque Isle Bay. It's also a few blocks away from the casino, just over a 10 minute walk to the Erie Maritime Museum and 1 mile from the Erie Art Museum. Check it out today!

Conclusion for Fun Things to Do in Erie, Pennsylvania
Erie, PA is a hidden gem that offers much more than just the casino. There are plenty of fun things to do in this beautiful city and we've highlighted some of them above. Whether you live closby or plan on visiting soon, these activities should help give you an idea for your next date night with your significant other, family day out with children or solo vacay! Schaffer's Auto Art is definitely a point of interest on my bucket list! How about yours?
Subscribe on Apple Podcasts , Spotify or Stitcher today!
You are always welcome to show your support and buy me a coffee here.
Related Episodes