Bucket List Ideas in & around Gulfport, Florida w/ Karen McMahon
If you're looking for bucket list places to visit such as Gulfport, Florida, start trying some of the great things it has to offer. Whether it's sampling one of the amazing restaurants, taking a dip in the gulf, or booking a room in one of the many Gulfport, Florida vacation rentals or hotels, we promise you won't be disappointed. And who knows, maybe you'll find your new favorite spot in the U.S.. What have you got to lose? Start exploring today!
Prefer to listen elsewhere? Here's the exact episode on: Apple or Spotify!
It takes a great deal of time and energy to create episodes. In order for me to make great content for you, some of the resources below have affiliate links. If you purchase something through a link, I would make a small commission at no additional cost to you. Also, consider hiring me.
Today's Everyday Bucket List Guest
I'm happy to welcome Karen McMahon to the Everyday Bucket List Podcast!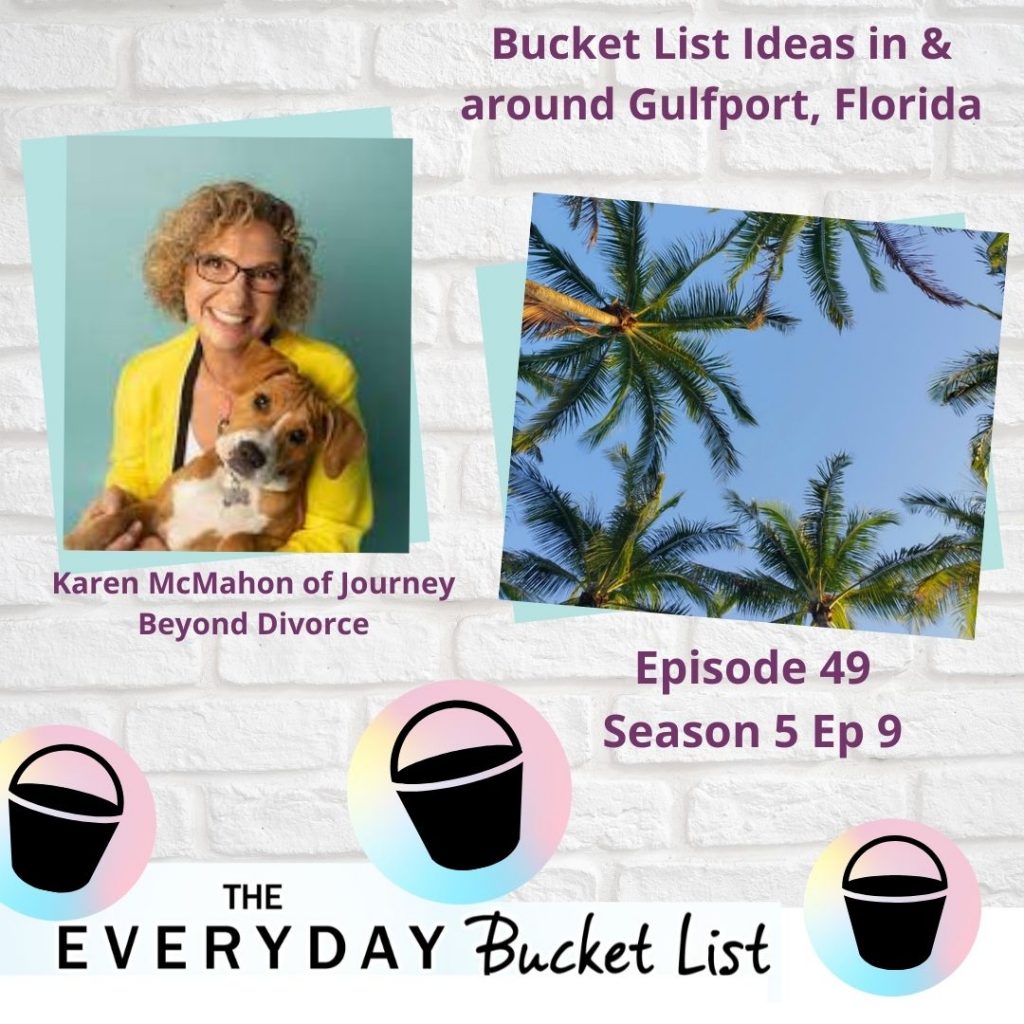 Today we have Karen McMahon of the Journey Beyond Divorce Podcast
Karen McMahon is a Certified Relationship and Divorce Coach and Founder of Journey Beyond Divorce. She began divorce coaching in 2010 after recognizing that the pain of her divorce led her on a transformational journey into an incredible new life.
Karen leads a team of divorce coaches in supporting men and women around the world to become calm, clear and confident as they navigate divorce.
Karen is the host of the acclaimed Journey Beyond Divorce Podcast, co-author of Stepping out of Chaos: Turning Pain to Possibility and creator of JBD's exclusive 12 Step Divorce Recovery Program.
What You'll Learn About Gulfport, Florida
What Gulfport, Florida is known for
Find out about Gulfport, Florida vacation rentals, restaurants and more
Get the scoop on artsy things to do too
What is Gulport, Florida Known For?
Well, if you're a dog lover and live in Gulfport then this is the place for you and your pooch. It's also known as an art colony with lots of galleries to explore throughout town! And well…the warm weather lasts all year 'round (so they say).
Airbnb Vacation Rentals and Hotels in Gulport, Florida
Gulfport is a popular destination for those looking to get away from it all. With so many hotels and Airbnbs in the area and surrounding towns, you're sure to find something that suits your needs! Take a peek at what the area has to offer here.
Things to Do in Gulport, FL
Art Community
The art community in Gulfport is so vibrant and exciting. From the many galleries to annual artist's shows, there are always new exhibits on display! I love how you can tell that this place has history with all its vintage shops too–it feels like time just stopped here for a moment when walking through these doors because everything looks exactly as it did back then (but better!).

One of Karen's Restaurants in Gulfport, Florida
When you're in the mood for fresh, authentic Italian cuisine and a relaxing atmosphere- head over to Pia's Trattoria. With their extensive menu that features everything from appetizers like bruschetta or pasta primavera; main courses such as chicken piccata all served up with sides of your choice (including green beans!) — it doesn't get much better than this!
Dali Museum Near Gulfport, FL
The Dali Museum and Imagination in Florida is an exciting place to visit. The museum has ultra-worldly collection that will leave you breathless, while also stimulating your imagination with paintings by one of Europe's most renowned artists– Salvador Dalí!
Sunken Garden Right Outside of Gulfport, FL
Sunken Gardens near Gulfport are a hidden treasure. They've been around since before World War II and offer an escape from the hustle of life in this busy city with their beautiful flowers, lush greenery–and even saltwater fish!
Conclusion for Things to Do in Gulfport, FL
So what are you waiting for? Get out there and explore everything that Gulfport, Florida has to offer. From the amazing food to the beautiful beaches, there is something for everyone in this vibrant coastal town. And don't forget – if you need a place to stay, there's plenty of vacation rentals and hotels available. So why not try something new today? Book your trip to Gulfport and experience all that this wonderful town has to offer.
Subscribe on Apple Podcasts , Spotify or Stitcher today!
Related Episodes