Best Bucket List Ideas & Places to Visit in Calgary, Alberta, Canada w/ Tyler Foley
Looking for unique places to visit in Calgary, Alberta, Canada? In this session of The Everyday Bucket List Podcast, listen to local, speaker & best selling author Tyler Foley. You'll want to pack you bags and visit after hearing this episode! Get details about the Theater District, a Harry Potter themed spot, excellent hotels. Plus, enjoy skiing, parks, pathways and other outdoor activities. Also, hear about one of the most romantic things to do.
Prefer to listen elsewhere? Here's the same episode on: Apple or Spotify!
It takes a great deal of time and energy to create episodes. In order for me to make great content for you, some of the resources below have affiliate links. If you purchase something through a link, I would make a small commission at no additional cost to you. Also, you have the option to work with me.
Today's Everyday Bucket List Guest
I'm happy to welcome Tyler Foley to the Everyday Bucket List Podcast!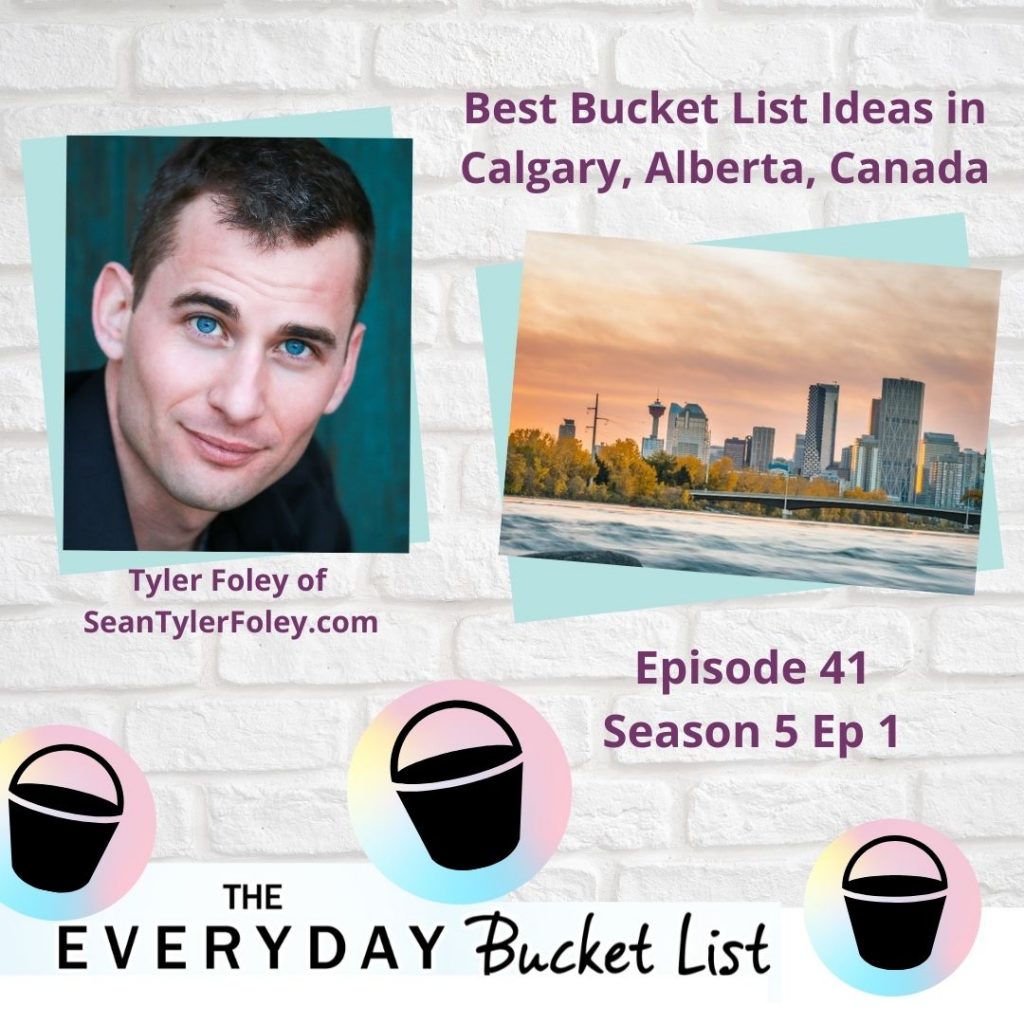 Tyler Foley of of SeanTylerFoley.com
Sean Tyler Foley has been acting in film and television since he was six years old. He has appeared in Freddy Versus Jason, Door-to-Door, Carrie, and the musical Ragtime. He is the author of the number one best selling book The Power to Speak Naked and can help you confidently take the stage and tell your story.
What You'll Learn About Places to Visit in Calgary, Alberta, Canada
Is Calgary, Alberta, Canada worth visiting
What is Calgary best known for
What else there is to do in Calgary outside of the obvious
Places to Visit in Calgary
There are many parks in Calgary. A popular one is Prince Island with its beautiful views of the city skyline and clean beaches for swimmers! Edworthy Park has natural hot springs on site while Fish Creek offers plenty to do during leisurely walks or runs through lush green forests filled will wildlife
Prince Island Park
Prince Island Park is one of the most beautiful parks in all of Calgary. It's an island on Stoney Creek, and it has boat ramps (and fishing!), biking trails through forested areas with views into larger lakes including Lake Okangan — where you can go kayaking or canoeing if water levels are right!
Edworthy Park
The second oldest municipal park west of Ontario (and east if you include Banff National Park) is an aesthetically pleasing destination for all ages. The pathways meander through stunning scenery that ranges from beautiful trees to flowers and oceanside cliffs; making this place perfect to take pictures or spend some time relaxing on .
Fish Creek Island Park
A hidden gem in Calgary, Fish Creek Island Park has green space and a beach for all ages. It is an ignored jewel of greens among Calgary's bustling cityscape! The area offers many amenities that will come as no surprise to locals or visitors alike: it includes both groomed trails ideal for rollerblading through lush greenery plus sandy beaches perfect if you're looking to spend some time by themselves taking relaxing walks along the waterline while listening wildlife sing songs.
Places to Visit in Calgary at Night or During the Day Too
Calgary's Inglewood District is Canada's undisputed mecca for shopping, dining and entertainment. With over 150 stores to choose from in just two square kilometers of land there are treasures there that will satisfy any appetite or craving you may have!
A bustling downtown core offers an array opportunities like never before; whether it be on foot where every street corner has something waiting patiently outside its doors (or inside!), driving around with all your favorite shops right at arm's reach as well as outdoor living spaces.
Though you can go during the day, there are so many places to visit at night too! Check out the following.
What is a night out without some live music? Or what about an amazing show at the theater. The Fever App will help you discover all these things and more in your city with just one tap! My guest visited concert held at a lighthouse church with a string quartet. Here's a similar event.
For a delicious slice of pizza, head to this cozy restaurant in the Inglewood district. The thin crust and authentic recipes are what sets them apart from other chains!
Located in Calgary's Inglewood district, According to FreshDaily.com it "will make you feel like you apparated to Hogwarts. From the starry night ceiling to the Slytherin banner on the wall, this place is more epic than the time Hermione punched Draco in the face."
What else is there to do in Calgary?
Calgary has a thriving theater district that's right downtown with many options for seeing plays, musicals and more. Theaters are spread throughout the downtown area on Broadway between Memorial Drive NW to 17th Avenue S/8 Street SW all while being within walking distance from one another or accessible by public transportation if you don't mind taking some stairs here and there! There's also ample nightlife nearby in case anyone gets bored before showtime.
In between Ninth and Eighth Avenue is called Stephen Avenue Mall, and that's a really fun thing to walk down as well. There's so many neat little, shops and tourist places and restaurants along Stephen Avenue Mall, but at the end of Stevenson, is the main theater complex.
Many people might be be familiar with the Calgary, or Alberta theater projects, but The One Yellow Rabbit Theater is a hidden gem. It's a little bit more of an experimental theater.
It's what's commonly referred to as a black box. Unlike the Alberta and Calgary theaters, which is your traditional stage setup with auditorium in front. One Yellow Rabbit is a black box, so there's no actual stage. It's just, a blank black room. And so people are able to set it up and what we're configuration or however they need to make use of the space.
Hotels in Calgary, Alberta, Canada
Calgary is a city in Canada with the pleasure of being home to many hotels, all offering something different. For those looking for luxury or an unforgettable experience on their next vacation there's no better place than Calgary!
Weston Calgary
The hotel at Weston Calgary International Airport will be this coming weekend. It's an elegant, modern addition that has all sorts of amenities for travelers like you! They have a beautiful restaurant and a nice pool with some beautiful suites. It's both luxurious and reasonably priced too.
Applause Hotel
The Applause Hotel near Calgary airport is a great place to stay. It's close enough that you can get there quickly and easily if need be, but it still has all the modern amenities one would hope for in their home away from home!
Funky is probably the best word to describe it. It's very modern and again, very affordable. It has a great little pub, right on the main floor.
Hotel Arts
What's not to love? You can visit a hotel, have some art in your day and then go out for an evening of culture. The Hotel Arts DIY market was born from the idea that people need more than just food when they're traveling – but also something beautiful with which to decorate their temporary homes away from home or reconnecting after hours away working long shifts at work."
It's another affordable option, has a really cool pool on the interior courtyard. They have balconies that look over it. They've tried to make it kind of a Las Vegas style hotel. Which is funny because Calgary is the furthest thing from Las Vegas, but it's a really cool environment.
The Fairmont Palacer
One of the top hotels in Canadian Rockies, Fairmont Palliser is a luxurious boutique hotel that has been featured on Canada's Top 10 list and ranked as one of North America's best resorts by Conde Nast Traveler Magazine.
It's over a hundred years and has the original sand stone construction. It's the place to go if you want to splurge and you want to feel like royalty because it is where the queen would stay, if she were in town.
The Rimrock
The Rim Rock hotel in Calgary is a must for anyone who wants to get away from it all! With an outdoor pool and spa, summertime at this resort will be more fun than ever before. If you're there during colder weather, The RIM Rock Hotel fireplace is the perfect way to warm up on those cold winter days.
The Calgary hotel scene is a hot commodity. With all these great hotels to choose from, it's hard for your average Joe or Jane not get overwhelmed by the options! Take a peek here to narrow down your search.
Conclusion for Places to visit in Calgary, Alberta, Canada
No one wants to spend their precious time on this earth with regrets. So why not create a Calgary bucket list and challenge yourself to cross every item off the list? From daring adventures like skydiving or bungee jumping, to more traditional items such as visiting all 50 states in America, there are endless possibilities for making your life count. Check out these podcast episodes below if you need some ideas or want help creating your own unique bucket list! Also, ask yourself: What should be on a bucket list?
Subscribe on Apple Podcasts , Spotify or Stitcher today!
Related Episodes