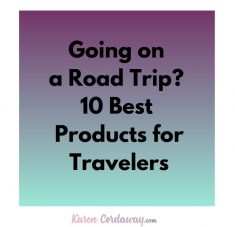 There might be affiliate links in this post. If you click on a link and make a purchase, I receive a small commission. Read my disclosure policy here.
Some of the best travel products are things you never notice.
The fact is, all those little details can make or break a vacation – whether they're things as simple and straightforward as a water bottle to a clever invention for your car that shields you from inconveniences along the way. Look no further. This blog post has you covered with the best products for travelers! Plus, you can use many of them in everyday life after you travel as well.
1. The Car Drop Stop
Car Drop Stop is the official car seat gap filler and one of the most useful and unique travel accessories. It's seen on ABC's Shark Tank and comes in a set of 2 for roughly $25. It's incredible how often we drop items in that space between the seats, such as cell phones, french fries, pacifiers, etc., but now you don't have to worry anymore!
Drop Stop covers the areas surrounding the seat belt catch. No more losing items or potentially trying to recover them while driving. While it's fresh on your mind, get one for yourself and consider getting some for others. They make the perfect gift for any driver, especially the newbie drivers.
2. Vitamin Organizer
The Zannaki Metal Moisture Proof Weekly Pill Organizer is the ultimate in stackable pill storage. It's made of high-quality aluminum with a thick plastic coating that makes this organizer water-resistant and durable enough for any adventure!
It's is a great way to stay on top of your daily regimen. This stackable aluminum alloy box can hold up seven days worth of supplements, vitamins, and medication. Its waterproof exterior keeps them safe from moisture damage while still allowing easy access into the compartments–it's perfect for road trips, hiking, or everyday use at home or work!
3. Light Up Alarm Clock
With the Philips SmartSleep Wake-up Light Alarm Clock, you can have a perfect night's sleep by being awakened in an unfamiliar environment. The sunrise and sunset simulation will gently guide you to waking up while five natural sounds play for some added ambiance!
It also offers other features such as FM radio that broadcast music from around the world or a reading lamp, making it easier for those over 40 years old to read at nighttime without any strain due to this equipment's adjustable brightness levels.
4. Clear Umbrella
The Totes Clear Bubble Umbrella is a must-have for those days when you want to stay out of the rain. This stylish umbrella will keep your clothing dry.
A clear umbrella is a perfect accessory for any rainy day. It keeps you dry, gives extra coverage and not only prevents rain from dripping on your clothes and cell phone, it providing visibility to see where you're going. Get this umbrella today.
5. Get a Planner
When you start using a weekly planner, your life will become so much better and more organized. You can see what's coming up soon: doctor's appointments, dinner with friends or deadlines for work; plus, there are also important dates that might not have crossed out yet! It's one of those "behind the scenes" must-have products for travelers to schedule your trip and important details.
Also, the best part about planners is how they help us get into the habit of thinking ahead. This helps our productivity tremendously because if we know when something needs attention, we are more likely to get back on track ASAP instead of wasting time wondering where things went wrong.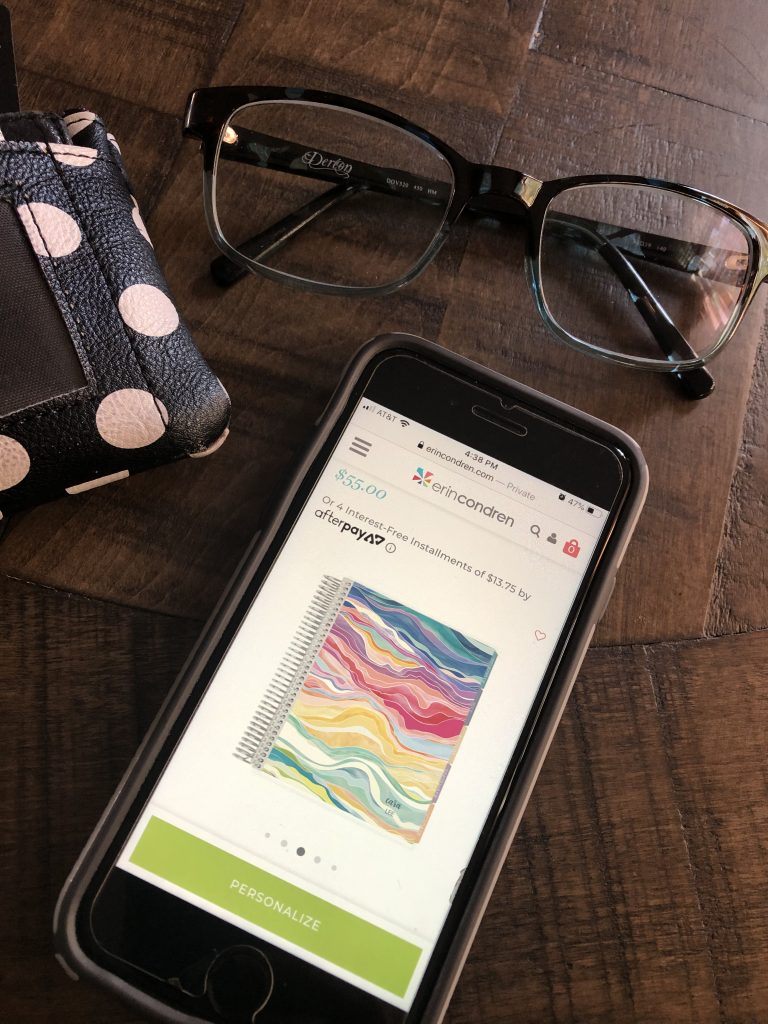 Many people rave about Erin Condren's planners. People swear by her planners, and I can see why. They keep you organized, and they're pretty.
Erin Condren recently came out with a new STAR WARS line! How awesome!
Suppose you like ones you can put into a binder, check out these ultimate to do list. It includes times so you can get things done efficiently. Plus, they're economical.
6. Water Bottle(s)
Hydro Flask Water Bottles are perfect for anyone who wants to have their supply of cool refreshments on hand. Made from high-quality materials and designed with convenience in mind, these vessels keep liquid at the right temperature no matter where you go!
The Venture Pal Water Bottle is the perfect way for you to keep track of your daily water intake. It has an easy-to-drink holder, time maker, and sturdy handle, so it's never a hassle taking sips when on the go or need hydration in general!
It is the ultimate in water bottling! This 64-ounce bottle has a time tracker and sturdy handle to help you stay on track with your daily intake. The leakproof design makes it easy to carry around all day long.
7. Earbuds
These days it seems like there are more wireless earbuds on the market than people with actual music tastes. The most crucial benefit of Wireless Bluetooth Earbuds is that they are easy to use. Put the clip into your ear, then turn it on and pair it with any device! If you're looking for some good quality, I recommend checking out these awesome things!
8. Travel Blanket
Travel blankets make for great companions on any camping, hiking, or road trip. It's one of those products for travelers that you don't think of right away but realize it after the fact.. They can provide warmth and protection from the scouring elements while you sleep, but they also come in handy when it's time to pack up.
Bring a travel blanket on your next adventure. This small yet mighty item is perfect for road trips or even just taking along during vacations!
If you're ready to pack your suitcase and take off on an adventure, check out these blog posts for the best travel products. From luggage tags to adapters for your electronics, we've got some great ideas so that you can focus more on exploring than worrying about how you'll manage all of the new gear. You might even find some new favorite items along the way!
9. Soap Sheets
The Mini Portable Travel Soap Sheets are among the best products for travelers, especially if you stop somewhere and they're out of soap. It will keep germs away and you will smell fresh on the go.
These easy-to-use bathroom essentials are compact enough that they can fit into your backpack or glove compartment without taking up too much space, but big enough, so a whole pack lasts for days at a time of fun in nature! Whether camping or making a stop along your journey, they can be a lifesaver when you need to wash your hands in a pinch.
10. Day Pack
The BRINCH Laptop Backpack is the perfect accessory for anyone on-the-go. This durable rucksack features an open design that's both fashionable and functional – it has a laptop compartment large enough to hold your 15″ computer with plenty of room left! It also includes USB charging ports so you can charge devices while traveling without worrying about losing power. It's one of the most useful products for travelers.
Conclusion for Best Products for Travelers
If you're ready to pack your bags and take off on an adventure, consider the travel product examples mentioned above. We've got some great ideas that can really make a difference and help you focus more on exploring than worrying about the essentials. Check out this post to find more of the best travel accessories.
Related Articles for Products Travelers May Like