Fun Things to Do in Kentucky for Adults, Kids (or Both) with Cameron Huddleston
Heading to Kentucky and need some cool ideas to add to your bucket list? Find super fun and unique things to do for adults or kids of all ages. Listen in about the Corvette Museum, The Kentucky Derby, The Bourbon Trail and the different geological attractions such as Mammoth Cave National Park, Red River Gorge, Cumberland Falls, rock climbing adventures and much more with local Cameron Huddleston.
Prefer to listen elsewhere? Here's the same episode on: Apple or Spotify!
Some of the resources below have affiliate links. If you purchase something through a link, I would make a small commission at no additional cost to you.
Today's Podcast Guest
I'm happy to welcome Cameron Huddleston to the Everyday Bucket List Podcast!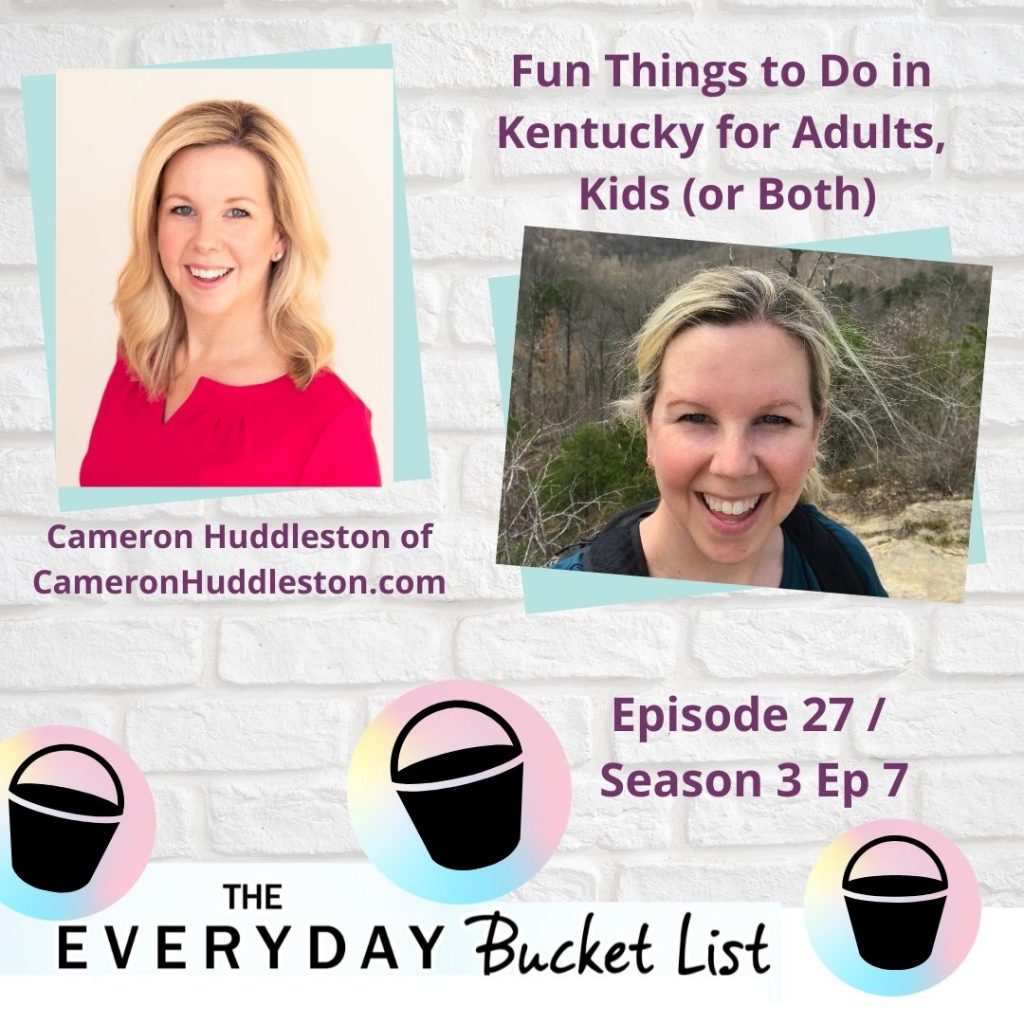 Cameron Huddleston of CameronHuddleston.com
Cameron Huddleston is an award-winning personal finance journalist and author of Mom and Dad, We Need to Talk: How to Have Essential Conversations With Your Parents About Their Finances. She currently is the director of education and content at Carefull, the first service built to organize and protect aging loved ones' finances.
What You'll Learn About Things to Do in Kentucky for Adults and Kids
Discover what Kentucky is famous for including its horse farms, the Kentucky Derby (what is considered the number one attraction in Kentucky), Bourbon & More
Find out what attractions are open in Kentucky
Is there anything cool in Kentucky? If you think rock climbing and moonbows are cool, then you'll think the same about Kentucky
Discover what some of the famous food is in Kentucky – Cameron mentions one of Kentucky's signature dishes
Resources for Fun Things to Do in Kentucky for Adults and Kids
Red River Gorge – This area is great for hiking, camping and rock climbing Kentucky. You'll surely get a dose of outdoor excitement.
Bourbon Trail – It's like Napa Valley, but with bourbon distilleries
Keeneland April and October horse races (Churchill Downs is famous for the Kentucky Derby, but this beautiful racetrack in Lexington is worth visiting for its spring and fall races)
National Corvette Museum – Corvettes are manufactured in Bowling Green, KY. If you're a car fan, you'll love this museum dedicated to America's sports car.
Cumberland Falls – One of the few places in the world that produces a moonbow
Hotel Recommendations
Kentucky Grand Hotel and Spa (Bowling Green) If you want to see the Corvette Museum and Mammoth Cave. Also, check out chains like Hyatt in Bowling Green , Hilton or Holiday Inn Express.
Brown Hotel (Louisville)- Historic hotel that's home to Kentucky's signature dish, the hot brown
AirBnb – Cameron recommends looking into AirBnb if you want to visit the Red River Gorge near Lexington (about an hour away)
Many Kentuckians love taking advantage of our lakes and rivers to boat and kayak. Hiking and camping in the state's many state and national parks also is popular.
Some of Cameron's Everyday Favorites
Book(s)
Other Book(s):
Check out Cameron's book called Mom and Dad, We Need to Talk: How to Have Essential Conversations With Your Parents About Their Finances.
Also, check out The Everyday Bucket List Book if you want to get serious about a travel bucket list or other types of unique bucket list ideas that you can do in everyday life. The worksheets and the Now and Later Rule™ help you prioritize and connect the dots financially.
Other Bucket List Ideas Mentioned
Cameron discussed bringing her 3 children to all 50 states.
Enjoy summer to the fullest!
Connect with Karen on Twitter
Related Episodes