25 Classic Bucket List Things to Do in the Summer for Fun
Do I really need a list of things to do in the summer? Knowing that summer is a time for fun in the sun seems like a no brainer, but it can also be a great opportunity to check off some items from your bucket list. Whether you need summer activities for families with teenagers, tweens, little kids, etc. or you're looking to hang out with friends, many of these ideas are suitable for anyone looking to make a classic summer bucket list at home or when you're on vacation. Check out these 25 classic bucket list things to do in the summer and get planning!
Prefer to listen elsewhere? Here's the same episode on: Apple or Spotify!
It takes a great deal of time and energy to create episodes. In order for me to make great content for you, some of the resources below have affiliate links. If you purchase something through a link, I would make a small commission at no additional cost to you.
Today's Everyday Bucket List Guest
I'm happy to do my first solo episode on the Everyday Bucket List Podcast!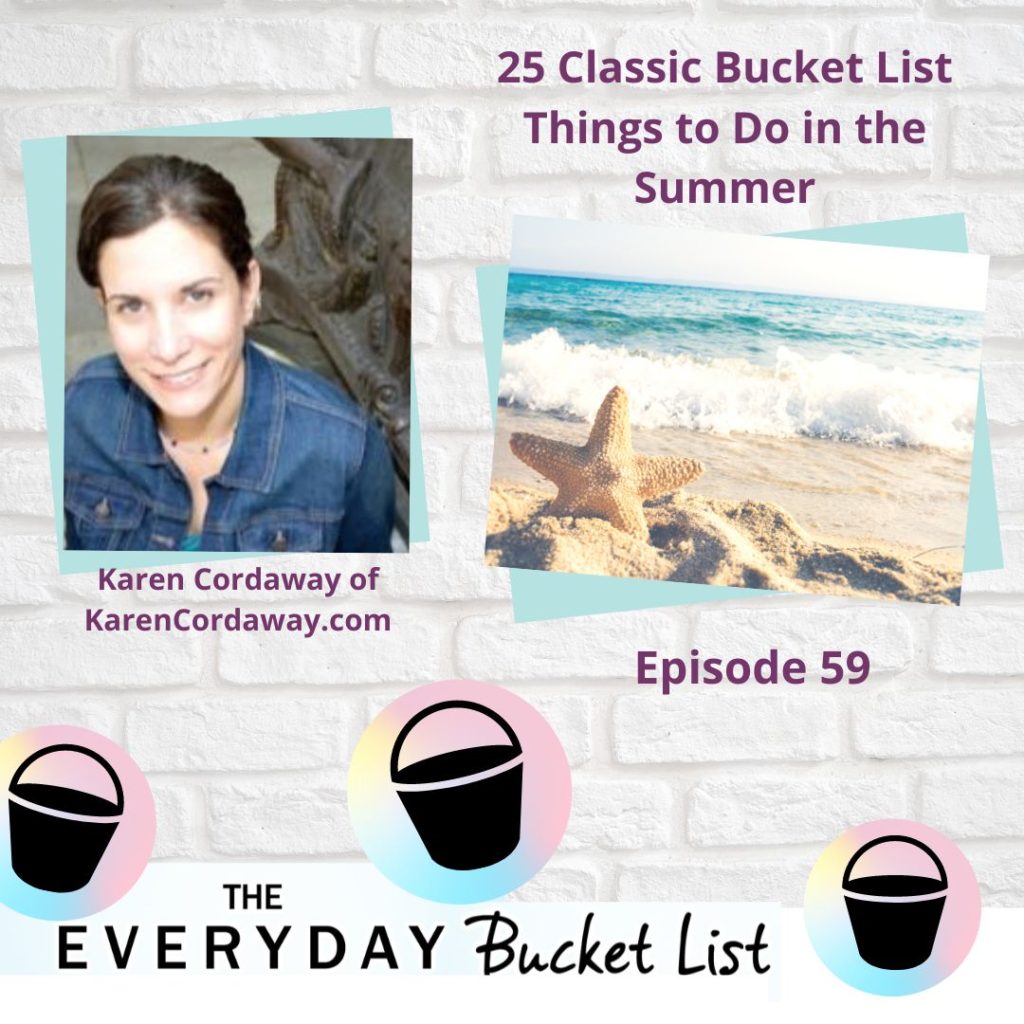 Psst! It's me, the host blabbing on my show. Karen Cordaway of KarenCordaway.com
As a busy working parent, Karen Cordaway spent years struggling to find free time for herself. That is until she figured out how to reclaim her schedule and infuse more exciting hobbies and bucket list experiences into everyday life.
With a little planning, a bit of strategy, and a dash of creativity, she turned her bucket list dreams into reality! The Everyday Bucket List Book: 10 Steps to Bringing More Exciting Experiences to Everyday Life is her signature, step-by-step process to help others, just like you, do the same.
Karen has written about shopping tips, cost-cutting, smart spending and other money-related topics for Clark Howard, Huffington Post and nationally syndicated articles for U.S. News. She now combines her money know-how with bucket list topics.
Her insights have been shared all over the internet in Money Magazine, Yahoo Finance, Market Watch, The Consumerist, Rockstar Finance, and even O Magazine. She now inspires everyday people to fulfill their bucket list dreams both big and small.
What You'll Learn About 25 Classic Bucket List Things to Do in the Summer for Fun
Revisit a list of some classic things to do in the summer for fun
I share a long-time bucket list goal that turned out to be a fun thing to do in the summer
Plus, learn about my new favorite tool to save money in the tip series
What activities do we do in the summer?
Summertime is a season of simple pleasures: swimming in the pool, eating popsicles on the porch, watching fireflies light up the night sky. These activities remind us of being carefree children again, enjoying life without a worry in the world.
As we get older, it's easy to forget to take time for ourselves and enjoy these small moments. But summer is a great time to reconnect with ourselves and loved ones and experience some of life's simple joys. So take a break from work, put your feet up, and relax into the slow pace of summertime. The memories you make this season will last a lifetime.
Here are Some Things to Do in the Summer for Fun
1. Go to the beach
Go to the beach and enjoy a day beneath coconut trees. The soft sand between your toes, salty air in your lungs- it's all so perfect! Try one of these 10 cheap East Coast beach vacations or find something closer to you.
2. Get ice cream
If it's hot outside get an ice cream cone. It will cool you down and make everything better! Get your favorite ice cream, or one of our many flavors!
3. Have a picnic
To enjoy a picnic in the park, be sure to bring your baskets and blankets. You will also need some cold drinks for when it gets hot out there!
4. Camp
The great outdoors is a perfect place to enjoy nature and get away from it all. The amazing thing about camping? You're surrounded by so many beautiful views!
5. Go swimming
Why not take a dip? It's refreshing, invigorating and can cool you down on a hot summer day!
6. Pick fruit
In my opinion, picking fruit is one of the best things to do on summer vacation. It's worth every effort.

7. Make s'mores
These melt in your mouth treats are easy and require only three ingredients: marshmallows, graham crackers and chocolate!
8. Find an amusement park
Head to an amusement park for the best thrill-seeking bucket list ideas. There is so much to do and see, it will be hard not getting lost among all of those attractions!
9. See a baseball game
Head to a baseball game or even make a whole bucket list of baseball stadiums to visit. I recently went to Nationals Park in Washington, DC and had a blast!
10. See fireflies
The summer is the best time to see fireflies. They typically appear in large numbers and their light shows provide an awesome display that you won't want to miss out on!
11. Make tye-dye
The ancient art of dyeing is not just a practice from centuries past. With the recent up-lifting and interest in recycling, this craft has made its way back into fashion as well. Get a kit with easy-to-use pre-made bottles of dye!

12. Go biking
Biking is one of the most efficient ways to get around. You can ride for hours, which makes it perfect if you want some peace in your day-to-day life!
13. Try hiking
Hiking is a great way to get some fresh air and enjoy nature. It's also an excellent form of exercise that will leave you feeling energized!
14. Find a drive-in
The best way to enjoy a relaxing evening is by going for drive in the country. The fresh air, dark sky and warm glow from your headlights will make you feel like anything can happen!
15. Participate in a walk-a-thon
Join our walk-a-thon. You'll be helping people raise funds for a good cause, so sign up now.
16. Run a race
The exhilaration of finishing a race is enough to make anyone want do it again. The feeling you get when all your training and hard work pays off, knowing that you completed such an intense activity. It's incredible!
17. See the sunset
Watching the sun set is one of my favorite things in the world. It's so incredible how you can watch this magnificent display and feel its warmth on your skin while waiting for darkness to fall over us at nightfall!
18. Watch the sunrise
Get up early and watch the sunrise. Feel the first rays of light touch you. You'll be glad you did!

19. Go on a boat
Venture out on a boat or ferry. I took a pleasant trip on one from CT to Port Jeff, New York. See out one near you.
20. Attend outdoor events
Imagine the feeling of being surrounded by nature, listening carefully as musicians play their instruments on stage or attending an epic festival. Outdoor events in the summer offer so many opportunities for fun and relaxation!
21. Make lemonade
The fresh taste of summer is waiting for you! Find a recipe and make your very own lemonade.
22. Go to a bonfire
You know what sounds better than a fire? A bonfire. You can't beat the buzz of an outdoor flame, and it's great for roasting marshmallows by your happy light!
23. Relax in a hammock
What better way to spend your day than relaxing in the great outdoors? With a soothing breeze and beautiful views, there are few things more enjoyable.
24. Stay in a treehouse
Treehouses are the perfect place to escape from everyday life. They're popular among children and adults alike because they offer an immersive, imaginative experience that's fun for all ages!
25. Watch fireworks
Watch fireworks with a friend on the beach. The sound of waves crashing against the shoreline combined with sparkling stars twinkling high in sky will make for one unforgettable night!
Conclusion for 25 Classic Things to Do in the Summer for Fun
Summer is a great time to relax and recharge, but it can also be a lot of fun. There are plenty of things to do in the summer if you know where to look. Use the ideas mentioned to get you started. If you still find it hard to connect the dots, get a copy of The Everyday Bucket List Book!
Subscribe on Apple Podcasts , Spotify or Stitcher today!
Can you think of 100 things to do in the summer?
Related Episodes