Madrid Spain: Where to Visit & Stay w/ Jonny of Millennials With Money
Madrid is all the rage. It's one of the best cities in Spain, best known as a lively and sociable place with a wide range of restaurants, bars, social activities and entertainment available. Probably most well known for its restaurants, social scene and tourist attractions.
If you want to take a trip and unique places to visit in Madrid Spain, get tips for things to do from anonymous blogger, Youtuber and TikTok user Jonny of Millennials With Money. Get a quick overview of the different neighborhoods to stay in using Airbnb. Also, get the scoop on hostels & hotels. He also highlights a popular Madrid Spain museum, parks and other popular attractions. Then decide what's best for you. Plus, I spill the tea on myself about what I will never do again on a train in Spain. I didn't get much sleep. Find out why.
Prefer to listen elsewhere? Here's the same episode on: Apple or Spotify!
Some of the resources below have affiliate links. If you purchase something through a link, I would make a small commission at no additional cost to you.
Today's Podcast Guest
I'm happy to welcome Jonny of Millennials-With-Money.com to the Everyday Bucket List Podcast!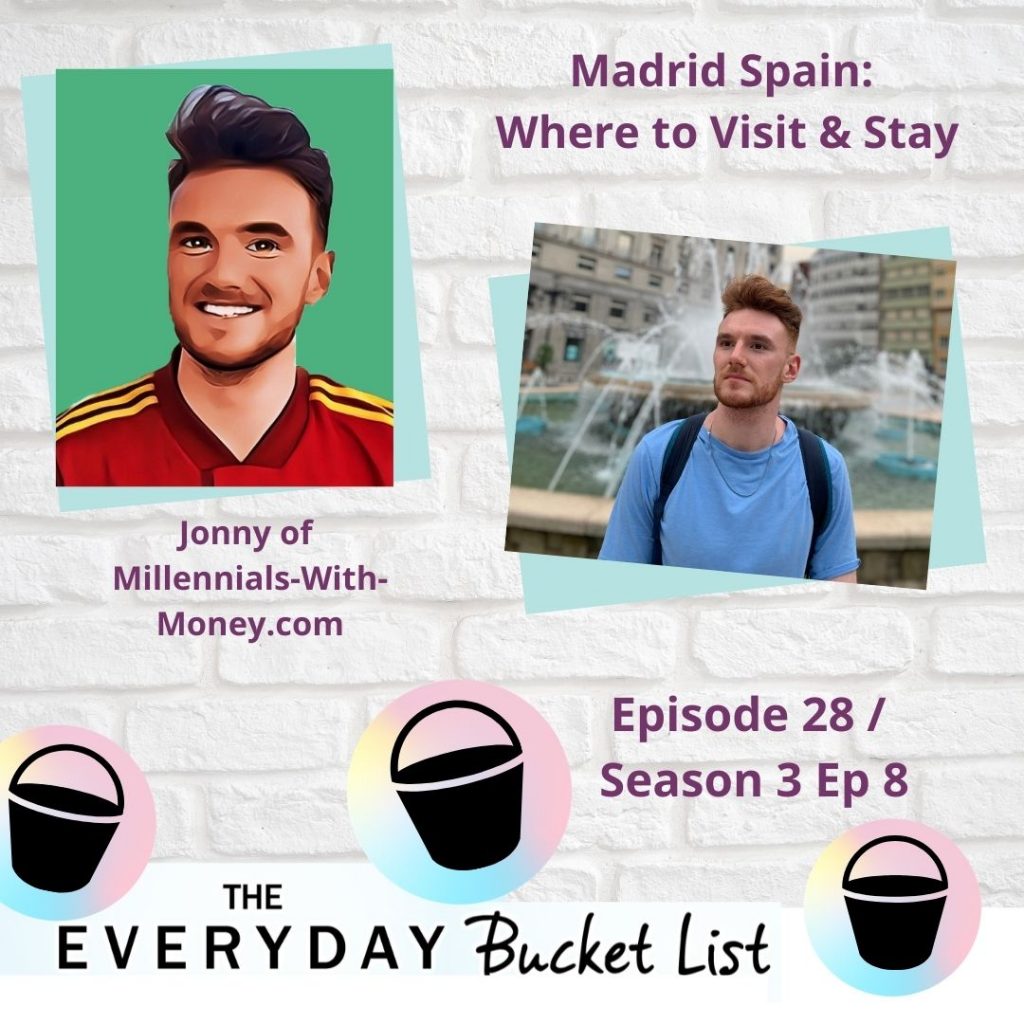 Jonny of Millennials-With-Money.com
Anonymous blogger, Jonny is originally from the UK but currently lives in Spain where he works as a Financial Analyst. He is the founder and face of Millennials With Money. When an idea came to him in 2019, he decided to open an Instagram page and blog dedicated to helping young people get a handle on their finances and improve their situation. He has since branched out onto additional platforms such as YouTube and TikTok.
He is attracting a growing following by covering personal finance and investing from the perspective of a Millennial. From living on a tight budget as a student, to receiving his first paycheck and learning about investing and living abroad, he has lived through (and continues to live through) many typical situations that young people in the 21st century can find themselves going through. He aims to produce fun, entertaining, relatable and educational content that inspires young people to develop positive financial habits and ultimately improve their financial situations.
What You'll Learn About Where to Visit & Stay in Madrid, Spain
Are you wondering, "Which part of Spain should I visit?" Find out if Madrid is right for you.'
Discover unique places to visit in Madrid, Spain
Find things to do in Madrid, Spain both indoors and outdoors
It's one of the best cities in Spain to visit for art and architecture. It houses famous artwork by Goya, Velaquez and El Greco. Plus, there are ornately decorated buildings as well as Portico styled building. You'll also find streets paved with cobblestone.
Resources for Fun Things to Do in Kentucky for Kids and Adults
Retiro Park – a large park close to the Centre of Madrid, great for a walk, run or bike ride with fantastic scenery (free).
Puerta de Sol – a square in the very centre of Madrid, streets leading off it have a range of bars, restaurants and shops depending on which direction you go.
Bernabeu/Wanda Metropolitano Stadium Tour – To learn more about the history of two of Spain's biggest football clubs, sports fans should check these out. Price: about 20-30 EUR (depending on your club) .
Palacio Real (Royal Palace) – Entries can be 10-20 EUR, but on some days they are free (usually during the week and first Sunday of the month)
Museo del Prado – for anybody interested in art then this is a must-visit. 15-24 EUR
Places to Stay in Madrid Spain
To enjoy Madrid like a local, Jonny recommends visiting "barrios" (neighborhoods) of the city, all have a different vibe – Malasaña, Las Letras, Goya, Chueca are a couple of well known neighbourhoods and each have their own flavour, vibe and speciality.
To get the full Madrid experience I would recommend an AirBnB. Allows you to get a vibe for the different neighborhoods of Madrid and much cheaper. Average price 20-30 EUR per night.
Luxury Hotels, Perhaps Hyatt Centric Gran Via (from 100 EUR night) or Gran Melia Palacio Los Duques (240 EUR night) Take peek here.
There are shops, restaurants and bars in each one that are worth checking out. Something not so well known is that there are mountains in Madrid about 1hr outside of the city (La Sierra de Guadamarra). Worth a visit for hiking and getting out of the busy city. If you go in winter you might even be lucky to get snow!
Some of Jonny's Everyday Favorites
Podcast(s)
The Economist Money Talks podcast
Joney Talks
Book(s)
Connect with Karen on Twitter
Related Episodes