New England Bucket List: Summer Vacations to Plan
In this episode of the Everyday Bucket List Podcast, we discuss New England bucket list ideas and summer vacations to plan. New England is a wonderful place to visit during the summer season as well as other times of year. With its beautiful coastline, colonial architecture, and scenic views, Connecticut, Rhode Island, and Massachusetts are perfect destinations for those looking to explore the region's rich history and natural beauty.
Listen in about a New England vacation including Mystic, CT, different parts of RI as well as Cape Cod and Martha's Vineyard.
Prefer to listen elsewhere? Here's the same episode on: Apple or Spotify!
It takes a great deal of time and energy to create episodes. In order for me to make great content for you, some of the resources below have affiliate links. If you purchase something through a link, I would make a small commission at no additional cost to you.
Today's Everyday Bucket List Episode
I'm excited to New England Bucket List Vacations for Summer or Other Times of Year!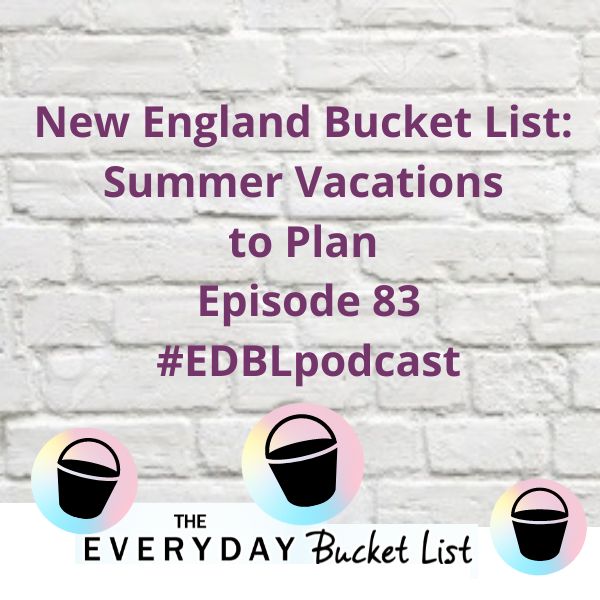 Here's What You'll Learn About New England Bucket List: Summer Vacations to Plan
If you're scratching your head wondering:
What is it like in the summer in New England?
Is summer a good time to visit New England?
What time of year is best for a New England vacation?
What is it like in the summer in New England?
In the summer, New England is a beautiful and vibrant region with warm and sunny weather. The average temperature in the region is around 75°F, making it the perfect destination for outdoor activities such as hiking, camping, and swimming.
The summer season also brings an abundance of greenery and blooming flowers, creating stunning landscapes throughout the region. Though many people vacation in August, I personally like to vacation in New England during June or July. August tends to get too humid.
Is summer a good time to visit New England?
Yes, summer is a great time to visit New England. The weather is warm and sunny, making it perfect for outdoor activities like hiking, swimming, and sightseeing. Additionally, many local attractions and events are open and available during the summer months.
What time of year is best for a New England vacation?
The best time for a New England vacation depends on your interests and preferences. If you enjoy outdoor activities like hiking and swimming, then the summer months of June to August are ideal. Though it tends to get very humid in August. However, if you prefer cooler temperatures and fall foliage, then September to November is the perfect time to visit.
Here are some interesting places to visit for a summer in New England. Whether you head to one spot or you have multiple places on your New England summer road trip, I'm sure you'll enjoy these:
Mystic, CT named a top travel destination by USA Today!
Mystic, CT is a popular summer spot for many reasons. Firstly, it offers a picturesque coastal town with historic charm, including the well-known Mystic Seaport Museum.
Secondly, the Mystic Aquarium is a must-see attraction, featuring beluga whales, penguins, and other marine life. Finally, the area is home to beautiful beaches, including the popular Ocean Beach Park, providing visitors with the perfect spot to soak up the sun and enjoy the warm weather.
Rhode Island: Hot Spots for a New England Vacation
Rhode Island is a popular summer spot due to its stunning beaches, vibrant nightlife, and delicious seafood. The state boasts over 400 miles of coastline and some of the best beaches in the country, like Narragansett and Misquamicut. Additionally, the cities of Newport and Providence offer a range of activities, from historic mansions to trendy restaurants and bars.
Many cities now have bike share programs, where you can rent a bike for a few hours or a whole day to explore the city's sights and neighborhoods.
When traveling, you can also rent bikes to explore new destinations or bring your own bike with you if you're driving or flying to your destination.
Even if you don't have easy access to scenic bike routes, biking on a stationary exercise bike at home or at the gym can still provide a great workout.
Massachussetts: Cape Cod & Martha's Vineyard
Cape Cod and Martha's Vineyard are popular summer spots due to their stunning natural beauty, charming coastal towns, and abundance of outdoor activities. With miles of pristine beaches, rolling sand dunes, and picturesque harbors, these destinations offer endless opportunities for swimming, boating, and fishing. Visitors can also explore historic sites, art galleries, and quaint shops, and indulge in delicious seafood at local restaurants.
Conclusion for New England Bucket List: Summer Vacations to Plan
In conclusion, New England is an ideal vacation destination for those seeking a summer getaway. With its picturesque coastal towns, stunning beaches, and abundance of outdoor activities, visitors can enjoy a memorable and relaxing vacation in this beautiful region. It's also great in the spring and fall!
If you're planning trying out one of these ideas, I'd love to hear about it. Send me a message on Twitter @KarenCordaway. If you still find it a challenge to connect the dots, get a copy of The Everyday Bucket List Book by Karen Cordaway!
Subscribe on Apple Podcasts , Spotify or Stitcher today!
Links mentioned in this episode:
Links mentioned on the show:
Check out a 7 Day free trial with LingoPie
Links mentioned in this episode:
Check out a 7 Day free trial with LingoPie
Other Resources:
Related Episodes